Ebay Listing Creation
eBay listing at Team4eCom is done in an extremely professional and meticulous manner. Our multi-dexterous eBay listing expert is trained in every aspect of eBay listing management services, including eBay product listing, ebay bulk listing, eBay photo editing, order processing, customer support, eBay store design, eBay SEO, and more...
Highlights of Our eBay Listing Service:
Highly-skilled resources
Fast turnaround
Dedicated project manager
Regular reports (choose between daily, weekly, monthly reports)
Typically, our eBay listing service includes:
Single/Bulk Listing: Whether you want us to upload every single product manually or have all of your products uploaded at once, our eBay team has the expertise to assist you.
Category Management: Our professional listers exercise due diligence while carrying out online research on your products to ensure that the products are assigned to their categories/sub-categories accurately.
We make use of the following software for listing:
Vendio: It has an integrated eBay/Amazon order management and inventory management system
Auctiva: It has auction management tools, templates, image hosting and online scheduling capabilities to ensure your auctions are easier to set up, and more profitable!
Turbo Lister: It can create professional-looking eBay store listings and can be used to upload/edit multiple item specifics.
Blackthorne: It ensures easy eBay bulk listing, manages buyer feedback and effectively tracks sales.
Choosing the Right Price: The listing is perfect and ready to go, but if the price of your products is not competitive, there is every chance that your product will not sell. We, at Team4eCom, provide eBay price tracking services to assist in selecting the best price for your products to give them a competitive edge in the marketplace. You will get assistance in starting price and further price options such eBay Reserve Price and Buy It Now.
The scope of our eBay market research services also include:
Striking a balance between how much you want from your product and what a buyer may be ready to pay for
Assistance in the research of ending bids for similar products
Product Image Editing: Like most e-commerce websites, eBay, too, has strict guidelines pertaining to product images in terms of size, format, background, primary and secondary images, etc. The objective of our eBay photo editing services, is to meet these requirements and follow the best practices.
Avail our eBay image processing services to: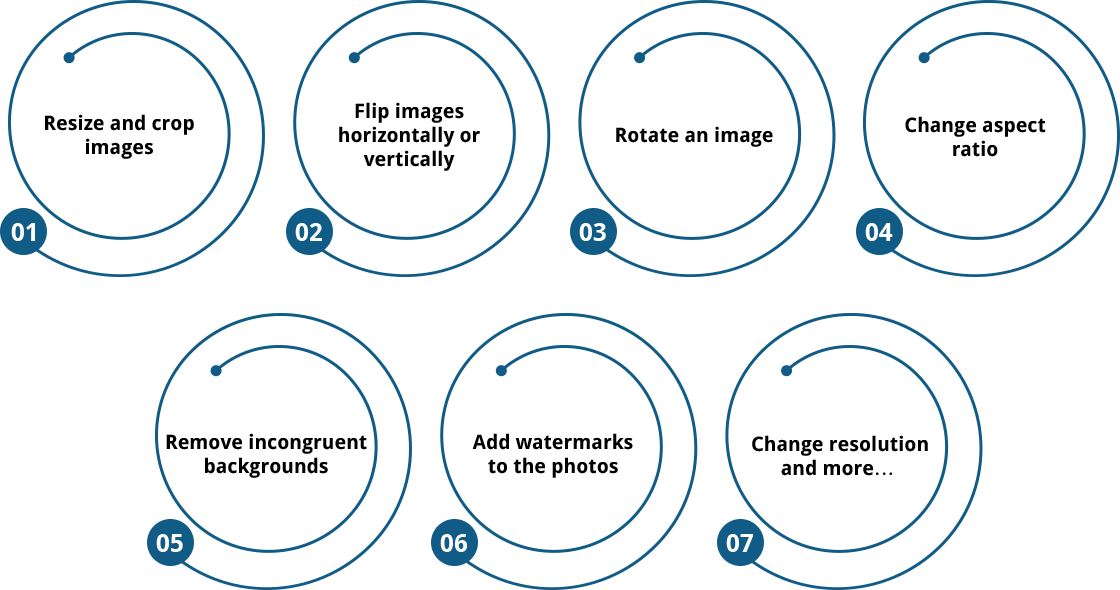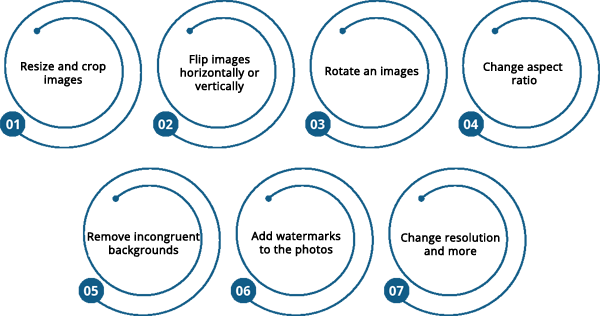 eBay Copywriting: A good description inspires more confidence in buyers than anything else. And it's a no-brainer that optimized descriptions have a better chance of conversion. Our team of proficient content writers and professional eBay listers write compelling copy adhering to the guidelines laid down by eBay.
Titles that make sense and work on eBay
Titles are created according to eBay's guidelines. The focus is on using the most-searched keywords/phrases to create a clear, complete, and descriptive eBay title. A comparative study of titles of top-selling items is also done.
While writing eBay descriptions, we ensure that:
They are thoroughly researched and written in a clear, lucid manner
They are informative, factually accurate, easy to read and understand
The descriptions clearly state why the product is appealing and different
The information is organized properly and similar information is grouped together
The vital information a buyer may need principally is given first preference
We use specific details such as shape, size, color, company/artist/author, and notable features or markings, manufacture date, etc.
Call to action is added in a subtle and smart way so it doesn't sound like a sales pitch
Listing Optimization
eBay SEO helps you not only increase your visibility but also boost your sale!
Why eBay Listing Optimization from Us?
Like Amazon optimization, eBay optimization is domain-specific and layered. The tricks that work on Goolge or other search engines may not work on eBay. You need a specialist in eBay SEO and eBay optimization with the right credentials and skills to give a push to your eBay business. We understand that a strategic approach on eBay can open new opportunities for your business.
Our objective is to:
Increase visibility of your products in search results
Improve product page clicks
Make users stay longer on your eBay page
Higher conversion rates
Our eBay optimization service is available for:
Title for instant recognition
Images for attracting potential buyers
Descriptions that describe how your products are different
Features for providing the right information
Reviews for creating credibility among the visitors
Team4eCom: a Professionally Managed eBay Listing Optimization Agency
As a professionally managed eBay listing consultant, we are adept at serving sellers and resellers of all categories. Our eBay professionals are equally adept at optimizing new listings as well existing listings that aren't performing well.
Through our eBay listing optimization, we give attention to:
Optimizing your eBay product listings to improve your products' standing in the search results
Ensuring that product titles, descriptions, images and tags are in accordance with eBay guidelines
Include as much information as possible in the product descriptions
Systematically research and incorporate the most relevant keywords
Evolving a long-term strategy to boost your sale on eBay
Monitor your competitors' listings and keep you strategically ahead in the competition