Our Product Content Services Comprise: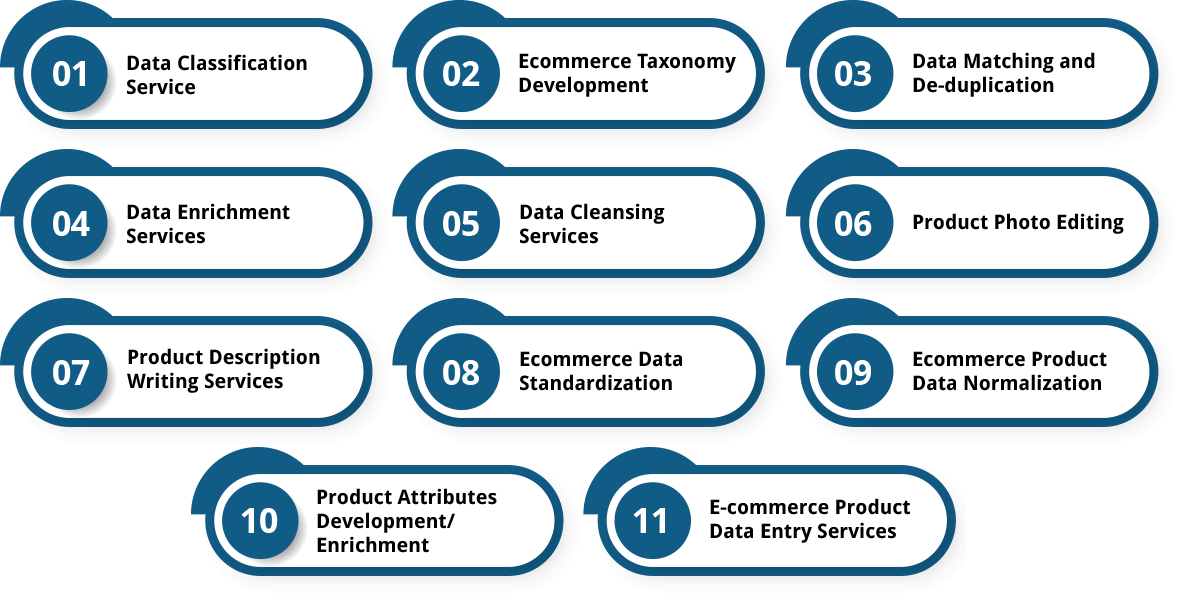 Data Classification Service
Data classification includes organizing data in different sections, which is important for buyers to understand the features of the product they are going to buy.
Ecommerce Taxonomy Development
Taxonomy development is about dividing products into proper categories and subcategories so that a buyer can quickly find products
Data Matching and De-duplication
We have a team of specialists with expertise in data matching and de-duplication. Data matching is a process where a unified product catalog is made to merge multi-dimensional product information into a single SKU. We identify the matching products or SKUs across different e-commerce catalogs to de-duplicate and reconcile with the master product list.
Data Enrichment Services
Data enrichment pertains to the process of enhancing product images, description, schematics, availability, and product warranty data to add more value to the product information. Product enrichment ecommerce gives more depth to your product data.
Data Cleansing Services
Our data cleaning services reduce inconsistencies and error in product data. The aim is to reduce bounce rates and boost revenue generation. So, remove incorrect, incomplete, redundant, and non-standard data from your website using our ecommerce data cleansing services.
Product Photo Editing
Product photo editing service is all about editing or tweaking images to make them appropriate for the platform they will be published on. You can have the images reshaped, resized and the resolution and background changed according to your specific needs. Our team of experienced photo editors can help you vastly improve the quality of your product images, which can potentially improve your sales.
Product Description Writing Services
Product descriptions play an important role in giving information about a particular product. Descriptions written by our team of e-commerce content specialists are thoroughly researched, SEO-friendly and easy to understand.
Ecommerce Data Standardization
Our data standardization team assists in cleaning and standardizing the data of a website to keep it consistent throughout. It helps improve your competence in building, importing, and managing information. It also ensures a higher level of data quality and consistency.
Ecommerce Product Data Normalization
With our data normalization services, we ensure that your product data is in the right format and in the correct fields. Besides, the category attribute values are standardized and made consistent.
Product Attributes Development/Enrichment
We help add product attributes that best describe your products. The product data is enriched so the buyer gets full information without being misled. We also provide data enrichment services by adding important details about the offerings.
E-commerce Product Data Entry Services
Our wide range of ecommerce data entry services largely includes graphic support, catalog indexing, catalog building, catalog updation/online store maintenance, etc. We are adept at working with information from sources such as printed or PDF catalogs, manufacturer's website, images or any other source.