Amazon Product Listing Optimization Services
A fully optimized listing is critical to stand out amongst the competition on Amazon. With our Amazon listing optimization services at your disposal, improve your product discoverability, boost your brand image, and secure better sales. Our professionals provide excellent support to drive your Amazon store towards higher traffic, conversions, and sales with dependable Amazon listing optimization services.
Join hands with our team today and gear up to scale new heights, grow your brand presence and enhance your bottom line.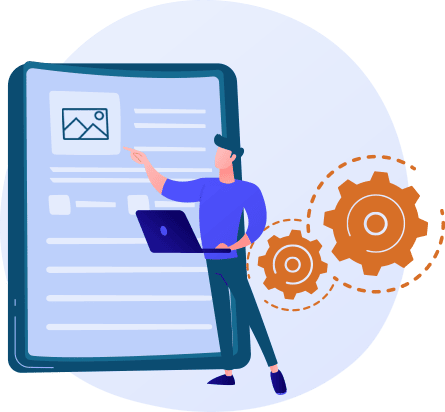 Amazon Product Listing Optimization: Your Key To Be Successful On Amazon
Stand out among competitors

Promote a positive customer experience

Boost sales & conversion rate

Get higher product visibility
request a free listing audit today!
Complete Spectrum Of Amazon Product Page Optimization Services
Competitor Research

Our Amazon listing optimization process starts with rigorous competitor research. It involves identifying and monitoring top-ranking sellers & listings in your niche. Our team closely analyzes their listings & identifies the factors that are leading them to rank higher for particular search terms.

Listing Audit

As a part of our Amazon product listing optimization services, we completely audit your current listings and find areas for improvement. Based on Amazon ranking factors, we identify the suppressed listings and device strategy to optimize your listings for better visibility and ranking.

Keyword research

Our Amazon store optimization team finds all the relevant primary and backend keywords. These keywords are chosen by using advanced keyword research tools based on their search volume and relevancy and further used in product listings- titles, descriptions, bullet points, etc.

Product Title Optimization

By complying with Amazon title creation rules, we optimize your product listing titles by writing compelling product titles that match user search queries & attract customer's attention. As a part of title optimization, we integrate keywords, add relevant information about products, and focus on user intent while writing product titles.

Product Image Optimization

We have skilled photo editing experts that are well-versed with Amazon product photo uploading requirements & can edit and retouch your photos to make them fit for uploading to your listings. Using the latest tools, our experts can transform dull-looking pictures into enticing and attractive images with the potential to boost sales.

Key Product Features Optimization

Writing valuable product features in bulleted points is an essential aspect of our overall Amazon store optimization services. Our copywriters carefully highlight all the essential product features, integrate relevant keywords, and point out product benefits that persuade shoppers to make a positive buying decision.

Product Description Optimization

Our product description optimization process involves writing compelling descriptions, elaborating each product's feature, integrating essential keywords, and producing a unique description copy. Using the best product description writing practices, our copywriters come up with enticing descriptions that inspire better sales and conversions.

Product Reviews & Ratings

Positive reviews and ratings play a vital role in determining your success on Amazon. Hence, as a part of Amazon product page optimization services, we help you collect positive product reviews by using tools like FeedbackExpress that help you request product reviews from your customers.
Elevate Your Product Listing Raking With Reliable Amazon Product Optimization Services
Optimized listing content is the foundation of running a successful Amazon business. This is where our professional Amazon support services help! Our team precisely evaluates your listings and finds opportunities to improve and enhance your bottom line by optimizing each aspect of your listing, to keep you one step ahead of the competitors.
Other than mainstream listing optimization practices, our Amazon experts also help sellers in the following activities:
Amazon A+ Content

Our experts write compelling A+ content (that features additional images and formatted content, for improved sales & conversions) for sellers with Brand Registry.

Product Videos

For brands enrolled with Brand Registry, we help in uploading high-quality product videos into a listing media gallery for better visibility & engagement.

Product categorization

We help sellers in categorizing products accurately to enable customers to easily locate your products and find the items they are looking for.

Review management

We help in moderating reviews and encourage buyers to leave detailed & positive reviews to give customers confidence in buying your products.
Boost Product Discoverability With Amazon listing Optimization Services
get started today!
Related Services
Benefits Of Outsourcing Amazon Listing Optimization Services

What Makes Team4eCom An Ideal Partner For Amazon Product Optimization Services?
20+ Years Of Experience
Access to skilled resources
Flexible team scaling
8K+ Global Clients
1200+ Employee Strength
Transparent communication
24*7 assured support
100% Client Satisfaction
98% Client Retention Rate
Cost-effective solutions
Skilled virtual assistants
Quick turnaround time
Outsource Amazon Optimization Services To Us
At Team4eCom, we have been offering premium Amazon product page optimization services to our global clientele for more than a decade now. Whether you want to list your products from scratch, fix your suppressed listing, or improve your listings on the marketplace for better performance, our Amazon listing optimization services come in handy for all your requirements.
Frequently Asked Questions
What is the importance of Amazon product optimization?

Optimizing product pages listed on Amazon is important as it boosts the products' visibility. Optimization improves your listing's ranking in Amazon's search results, thus improving the chances of them being noticed by potential customers, eventually enhancing the possibility of conversions.
How do you optimize a product title on Amazon?

Amazon product titles are one of the most important ranking factors for your listing. To optimize your title, we include the primary keyword, the biggest product USP, and other relevant details in the title. We periodically review Amazon's product listing guidelines and make sure the title is clear and concise, spelled correctly with no typos or symbols, and easier to comprehend.
How do you approach Amazon listing optimization?

When it comes to creating a successful product listing on Amazon, there are a few key elements that you need to take into consideration. Our team strictly follows these to attract high-quality traffic to a client's product pages.

Including all the necessary details about the product
Only making accurate and verified claims about the product
Showcasing real-life, high-quality photos or videos of the product and its features
What types of Amazon listing optimization services do you offer?

Our Amazon store optimization support includes competitor research, listing audit, keyword research, product title optimization, listing copywriting, and more. We create keyword-friendly product descriptions, highlight its USPs in bullets, edit product images, and insert long-term keywords in the backend search term section to increase listing visibility and boost sales.
What is the turnaround time for your Amazon product optimization services?

Turnaround times for Amazon product optimization vary depending on the project's complexity. For example, if you require a comprehensive review of your Amazon account as well as listing optimization, keyword research, and competitor analysis, the turnaround time can be long. However, our team generally strives to provide a quick turnaround for all services, and we always deliver on time.
Do you provide a sample for your Amazon listing optimization service?

Depending on your requirements and the type of service desired, we may provide free samples (for listing content) or an account audit. Call us today to discuss your specific needs and get started on improving your Amazon product's ranking.