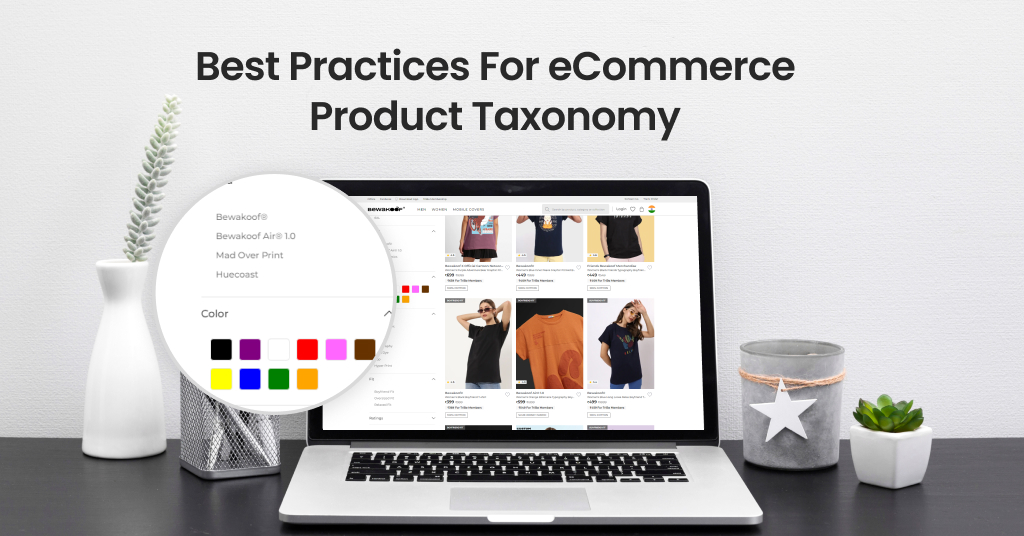 A common mistake most businesses do is sorting search results by attributes based on anything other than relevance, leading to low-quality results. While an optimized product categorization is the crux of a successful product discovery strategy, many businesses still don't know how to perform it correctly. Do you know that only 10% of eCommerce sites address this issue and optimize their product taxonomy to retain users? Organizing products in categories without relevance will lead you nowhere. To make product discovery quick and simple for users and enhance the chances of conversions, you must optimize your eCommerce product taxonomy. But how?
The answer is by following the best practices mentioned in this comprehensive guide on product taxonomy development. But before getting down to knowing how to do it best, let's first understand the basics.
What Is Product Taxonomy?
Also known as product categorization or hierarchy, product taxonomy is a classification structure to organize items by their relevance in categories and sub-categories. The categorization starts with a broader or primary category and then narrows down to more specific ones. Once items have been placed in relevant categories and sub-categories, attributes are assigned to them, as shown below: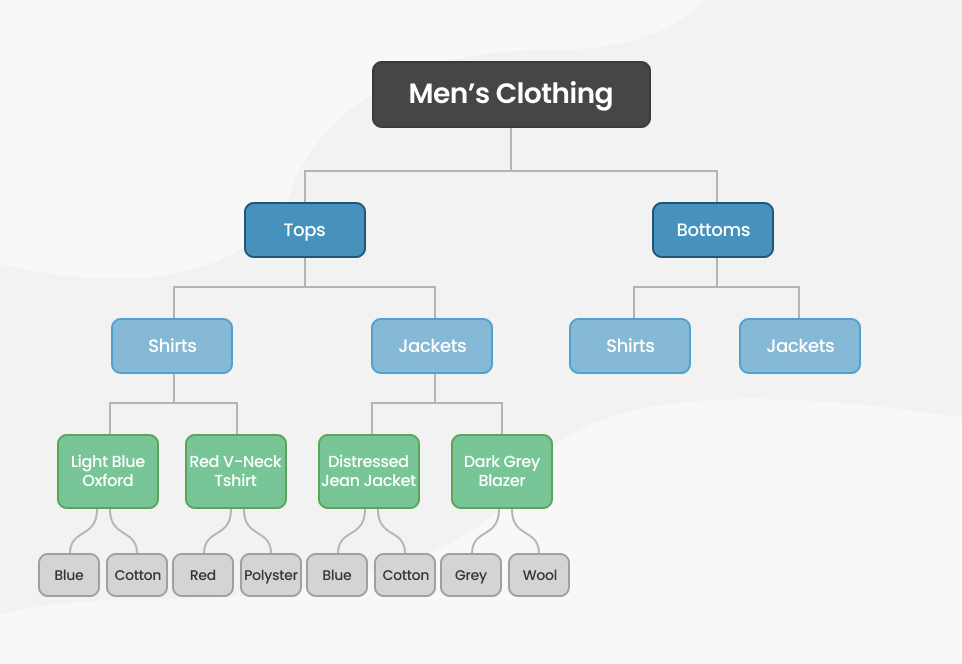 Why Is Product Taxonomy Important in eCommerce?
When shopping online, users want to discover desired items in a few seconds without struggling. If products are not in relevant categories, no matter how many filters a user selects, they won't find the product- resulting in a loss of potential sales. That is why developing effective product taxonomy is crucial for online businesses.
For example:
If someone is searching for a men's polo t-shirt and it is placed in the shirt category instead of the t-shirt section, then the person will come up empty-handed as the product was not placed in the right category.
There are several benefits of organizing items in relevant categories, such as:
Enhances Product Discovery and Filtering
The Nielsen Norman Group's research data reveals that the average time a user spends on a shopping website is 10-20 seconds. If they don't find what they are looking for within this timeframe, they most likely leave the site without making any purchases. This is where you can make a difference with a well-structured product taxonomy.
By organizing products into relevant categories, you can help users quickly filter and find desired items based on different criteria such as price, size, color, and other relevant attributes. This improves the user experience, saves time, and boosts the likelihood of finding the perfect product.
Product categorization has an impact on the website's architecture and SEO. When browsing products online to shop, users often use specific phrases or keywords. Items categorized according to user-searched phrases have more chances of being indexed by search engines. Once indexed, these products have a higher likelihood of appearing on SERP based on user queries.
Maintains Consistency in Product Information
Well-structured product taxonomy makes it easier to sell items across various countries with consistent information. When selling across different regions, currencies and terminologies can vary, creating confusion among buyers. When an organized framework is used for classifying products, it eliminates uncertainty, enabling users to get consistent information.
Increases Conversions and ROI
With clear navigation, enhanced user experience, and improved product search rankings, optimized product taxonomy drives more sales on your website. When people get a positive shopping experience on your site, it enhances their trust and loyalty in your brand, and they recommend it to other users – ultimately improving the ROI.
Tips to Make Product Taxonomy and On-site Search Work Together
Product taxonomy and on-site search are vital for boosting item visibility and conversions in eCommerce. Taxonomy helps users find products through categories, while on-site search enables them to search using keywords. When combined, they enhance the user's ability to quickly and easily discover desired products.
Here are a few tips for using on-site search and ecommerce product taxonomy together effectively:
Use clear and simple words in your product categories so that people can easily find what they're looking for.
Use facets and filters to narrow down search results based on various criteria like price, size, color, brand, and so on.
When creating your product categories and search function, look for user-searched keywords & phrases and incorporate them wisely.
Best Practices for Creating Product Taxonomy- The Do's and Don'ts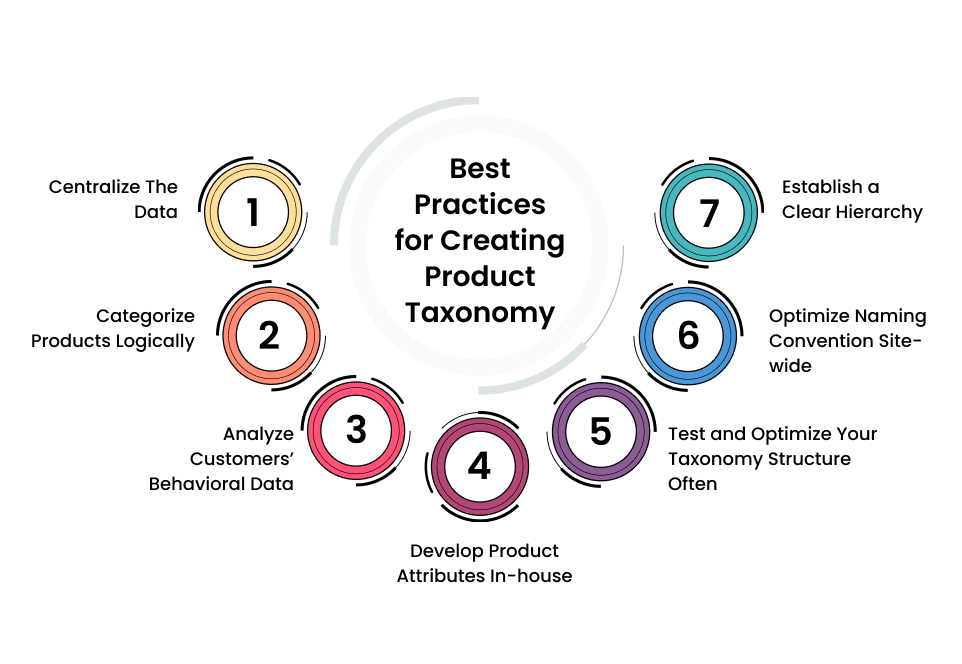 While product taxonomy seems a simple concept, many businesses fail to implement it accurately. To effectively develop product taxonomies, here are some do's and don'ts you must follow:
Do's
Start with identifying data sources containing product information (e.g., spreadsheets, catalogs, data fields, etc.) and consolidating them into a centralized database or PIM (Product Information Management) solution. Data centralization makes it easier to analyze the characteristics of each product and place them in relevant categories for establishing a taxonomy system.
Categorize Products Logically
When developing a product taxonomy, use simple and easy-to-understand terms (preferably keywords) for categories, and organize products based on relevance. If offering a large variety of products, think about product categories and sub-categories more strategically. Instead of using too many options to complicate the navigation menu, keep it concise with the primary category defining the basic purpose of the product.
Analyze Customers' Behavioral Data to Optimize Product Taxonomy
To build an effective product taxonomy, you must understand users' behavior on your site. Use heat maps to understand how users are navigating your eCommerce store in real-time, what type of product pages they are visiting the most, and the average time spent on the website. Based on this data, you can optimize your product taxonomy by adding categories like "most popular" or "best selling" to list your top-performing products.
Develop Product Attributes In-house or Outsource to Experts
Determine who will be responsible in your organization for product attribute development. Designate it to those having complete knowledge about your products and the type of queries the target audience searches.
Some common attributes you can include to simplify the navigation menu are:
Brand
Supplier information
Materials & sources
Warranty
Technical specifications
Design, color, weight, etc.
If you don't have the time and resources to do this task in-house, outsource product taxonomy development services to experts. They can perform competitor analysis and market research to create an effective taxonomy for your business.
Optimize Naming Convention Site-wide
Keep the naming convention and capitalization consistent across the site (including categories, sub-categories, product titles, etc.) to avoid confusion. Use simple and short tags (with only relevant details) for all products.
Establish a Clear Hierarchy
Build a user-friendly product hierarchy with clear and intuitive product categories and sub-categories. Start with broad categories for classifying your products like "Men," "Women," "Makeup," "Shoes," etc., and then branch them into a few sub-categories to simplify the user journey on your site.
Test and Optimize Your Taxonomy Structure Often
Keep your product taxonomy up-to-date by regularly reviewing it and making changes based on user data. Consider how users search for products when organizing your categories so your items are easy to find and buy.
Don'ts
Do not add too many sub-categories as it will overwhelm and confuse your users. A user-friendly hierarchy should usually have a maximum of 2-3 sub-categories. If you have a large product catalog to display, leverage filtering and faceted search options to increase the customer shopping experience and lower the bounce rate.
Manual Product Categorization
Do not develop product taxonomy manually for large product catalogs as it can lead to duplicate or missing categories along with other errors and inconsistencies. It is better to use a PIM solution or other automated tools, such as Data Harmony, PoolParty, etc., to simplify the process.
Add a Single Product in Multiple Categories
Don't add a single product in multiple categories as it will create confusion in product reporting and sales analysis. Having a few products in the SALE category is fine, but for feasibility, add badges to such products so that they can easily appear when appropriate filters are applied.
When building or optimizing product taxonomy, do not neglect the importance of SEO. Look for common user search terms and keywords to add to your categories or sub-categories logically.
Conclusion
An optimized and effective product taxonomy always helps users find their desired products on a particular site in a few clicks without any hassle. The more organized and simple your eCommerce product taxonomy, the better the shopping experience and conversions in your store. So, always keep them user-friendly, dynamic, and straightforward with these above-mentioned best practices for better customer engagement and competitive advantage.