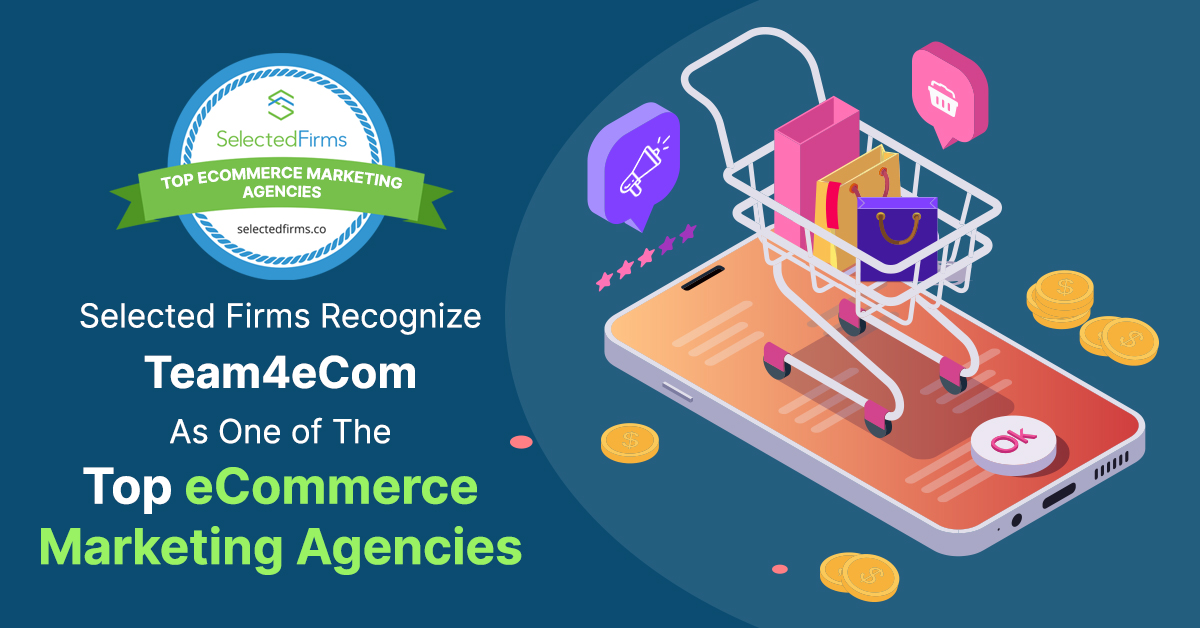 We are thrilled to inform our partners and peers about Team4eCom's recognition as one of the top eCommerce marketing agencies of 2022 by the most trusted B2B review and rating platform- Selected Firms.
Selected Firms is an acclaimed platform for B2B businesses that publishes reports on the top eCommerce, mobile, web, and digital marketing companies regularly and annually. Additionally, they assist service seekers in connecting with suitable service providers through helpful information on their service quality, reviews, portfolio, and credibility.
SelectedFirms compiles a list of high-potential companies based on their projects, experience, expertise, and outcomes. It selects the best companies in their respective fields based on extensive research. Team4eCom's ongoing efforts have earned them a place on the list of top eCommerce marketing agencies in 2022.
About Team4eCom
More than 1200 experienced Team4eCom employees work efficiently to deliver the promised results. Be it start-ups, SMEs, or enterprise-level businesses, we believe in providing superior quality eCommerce services by identifying customer needs and developing a strategy to achieve continued success.
Furthermore, we have gained experience from over 5100 commendable projects from over 4000 clients worldwide. Our company offers an array of services, including catalog processing, ecommerce product data entry, catalog building and indexing, catalog content management, and catalog updating and maintenance. We have also delivered solutions for various domains, including sanitary ware, automobile components, jewelry, toys, baby products, furniture, apparel, lighting, electronic goods, and consumer durables.
The Team4eCom team cares about the customer the most and focuses on smooth client interaction and communication. We are available 24*7 to provide our clients with the best possible experience and instant relief from their problems. It is an honor for us to have been named one of the top eCommerce marketing agencies by Selected Firms this year. Our dedication and perseverance have been rewarded, and we are thrilled to share this impressive accomplishment with you all!