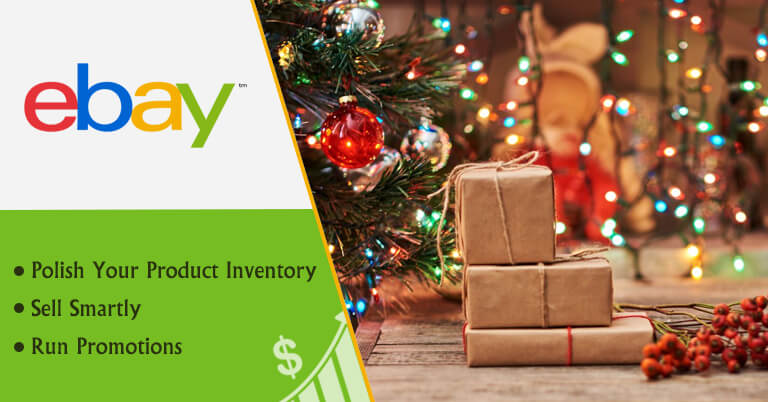 INTRODUCTION
Shoppers love the Holiday season; it's their favorite time of the year to grab the best deals and hottest discounts. That automatically makes it the perfect time for sellers to recenter their strategies and engage more consumers. 

With around 138 million active buyers searching through eBay for the best deals of the holiday season, sellers have a great chance to boost sales. However, the competition is only getting more challenging. To secure this opportunity and improve sales, sellers must work on eBay listing optimization, inventory restructuring,  and other methods to attract consumers.
To help eBay sellers achieve that goal, here is a list of essential tips for the eBay holiday season in 2022. 
Impact of the holiday season on sellers
The holiday season sales in 2021 recorded 16% growth over 2020. In 2022, this trend is expected to rise more (for more or less the same reasons that led to the 2021 holiday sales surge).
The two and half years spent amidst COVID has permanently altered consumer behavior to an extent where it is almost first nature to look for stuff online. On top of that, the holiday season fuels a sense of urgency among shoppers. Everyone wants the best deals. People buy for themselves and others (as gifting is a prevalent holiday tradition), so the projected sales volume also rises.
For eBay sellers, this translates into a need to strengthen their marketing plan and implementation. Make an effort to understand customer expectations around holiday-specific promotions and product pricing and prepare a strategy accordingly to get more sales.
How to create a holiday promotion strategy to boost sales & revenue?
You need an event calendar to make a sound, worthwhile plan for your eBay store during the holiday season. Make a note of the days when you anticipate a spike in sales. For this activity, you can use the previous year's holiday-season sales data and present-year sales predictions. After that, you can start preparing unique schedules (like ads, creatives, content, newsletters, etc.) for each date. Finally, execute your plan when the timing is appropriate.
Holiday promotions are a series of carefully thought-out events for every month or holiday you sell on, including Halloween, Cyber Week, Christmas, Black Friday, and Thanksgiving. If you move forward with the appropriate measures, you can tap into and leverage the boost in sales that eBay experiences throughout the holiday season.
Here's the event chart for 2022.
| Important Holiday Season Events Online Sellers Must Leverage | Dates |
| --- | --- |
| Halloween | Monday, 31st October |
| Thanksgiving | Thursday, 24th November |
| Black Friday | Friday, 25th November |
| Hanukkah | Sunday, 18th December – Monday, 26th December |
| Cyber Monday | Monday, 28th November |
| Christmas Eve and Day | Sunday, 24th-25th December |
| New Year's Eve | Sunday, 31st December |
Tips to increase your eBay holiday sales
#1 Polish your product inventory
When it comes to shopping for the holiday season, most people buy the same stuff every year. Be it Thanksgiving or Christmas, what's popular every year will be popular this year too. A quick way to boost sales for your eBay store is to polish up your product inventory by stocking up on popular holiday season items.
For example – if you were selling a lot of costumes and makeup on Halloween last year, it's smart to stock up on the same/similar products this year too.
To find out what's hot and popular among shoppers on eBay, sellers can also utilize tools like 'Trending on eBay' during the holiday season. If you can stock up on the best-selling products well ahead of the upcoming holidays, your audience won't have to face last-minute 'out-of-stock' messages.
Also, while you're at it, take some time out to work on your eBay listing optimization using the following ways –
Use keywords in your product listings that shoppers would use.
Popular keywords like 'Holiday Gifts', 'Cute Christmas Gifts', 'Scary Halloween Costumes' etc., are phrases people often use while searching for holiday deals on eBay. Use these in your product description, but don't overuse or stuff them blatantly.
Dress up your eBay product catalog in a Holiday theme.
Use creative banners for popular holidays like Thanksgiving, Halloween, BlackFriday, and Christmas. Online buyers are often attracted to festive themes and messaging, so it's an excellent time for sellers to join the festive spirit and convey the feeling that you're 100% ready for the holiday season.
Revamp your product photos with eye-catching images.
Online buyers are more likely to trust professional-looking product photos, and to give them confidence, make sure to add crisp, clear images of your product catalog. Good product photos will also help you rank higher on eBay search rankings and sell more. If photo editing and eBay listing optimization isn't your area of expertise, it's advisable to outsource eBay photo editing services to a professional company.
#2 Sell smartly
With more than 18.3 million sellers on eBay, boosting sales numbers this holiday season is no easy task. That said, sellers using smart tactics can easily attract buyers and ultimately close more sales.
The opportunity to sell is huge here, so use these suggestions to make the most of it.
Use more 'Buy Now' listings compared to auction-style product listings.
Remember – shoppers hate to wait during the holiday season, and sometimes, all it takes is a buy now button to convert them. Using fixed-price listings on your store is one of the easiest ways to increase your eBay holiday sales.
Entice buyers with free shipping and flexible return policies.
Make it easier for them to shop from your store. People love free goodies, and there's no better time than the holiday season to offer them. You can further allure them with an extended return window, making it easier for buyers to choose you over your competitor.
Try cross-selling and up-selling products to increase holiday sales.
Cross-selling means suggesting similar products or items related to the ones being considered by a buyer. For example – if a person is shopping for a Halloween costume, you can 'cross-sell' related products like – masks, makeup, and accessories. Cross-selling can help you sell excess inventory and encourage buyers to purchase more than one product.
On the other hand, up-selling suggests shoppers purchase a higher-value product than the one they're considering. This is a neat trick and can work in your favor. The key here is to suggest to shoppers that a significantly 'newer' product can better fulfill their needs and expectations. Sellers can easily use up-selling to sell high-margin products on eBay.
#3 Run promotions
The marketing world is crowded, and making your voice heard is tough. An easy way to do that is to start your eBay holiday promotions early.
Many sellers make the common mistake of running marketing campaigns a week before the holiday season kicks in. Don't be that seller – prepare and start marketing at the earliest.
Utilize eBay's 'Promoted Listings' tool to get your products and deals noticed by shoppers.
Sellers get to choose the commission amount for each sale, and you only pay once a buyer completes the purchase. With 'Promoted Listings,' sellers can quickly push forward hot-selling and popular products during the holiday season. The setup is easy, and you can easily monitor the demand and adjust your pricing strategy accordingly.
Start social media promotions and marketing well in advance.
If you already have a social presence, use it to your advantage by letting your audience know about the deals and offers they can expect. Deck up the pictures and banners of your social media profiles per the holiday theme. Sellers can also run contests and promotions to attract buyers and use social selling to promote eBay listings.
Use eBay's 'Promotions Manager' tool to attract deal-seeking consumers.
Incentivize shoppers hunting for bargains and great deals with the Promotions Manager. With this free tool, sellers can easily reward shoppers who shop more with higher discounts. This tool will also give you an idea about what products are selling well and what promotions are giving you maximum return on investment. Once you know about your fast-selling products, you can promote them further to attract more sales.
In conclusion
Selling on eBay is easy once you have a solid mix of – good deals, optimized product listings, and smart marketing strategies. But, on holidays, the landscape, consumer expectations, and competition transform in so many ways that it can become difficult for sellers to track it all.
We hope these simple ways to increase your eBay holiday sales help you have a successful holiday season. These tips are easy to implement and help you stand out from competitors.
You can also seek professional assistance to boost holiday sales on eBay
The holiday season is a great time for eBay sellers to improve their ROI. However, this additional load of holiday-specific marketing, planning, and execution can be troublesome on top of regular eStore activity. If you're running short on time, it is recommended to outsource eBay listing services. Hiring an eBay listing company can save costs and get you the expected results.
At Team4eCom, we offer 360-degree eCommerce data and marketing services. From eBay store design and listing optimization to competitor research and product photo editing, our team can offer wide-ranging support and ensure improved sales and success. Let's connect if you want to understand how we can help you sell more on eBay. Drop a mail at info@team4ecom.com today.