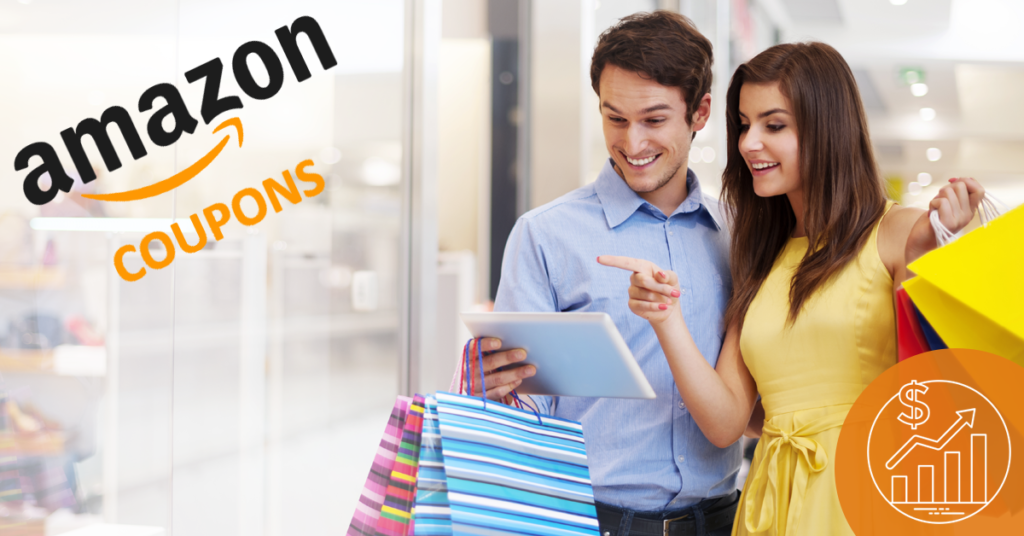 All Amazon sellers want to increase their sales. But most sellers look outwards and end up spending thousands of dollars to promote their product pages with little success. What if someone told you that you can actually grow your Amazon sales exponentially just by offering small discounts in the right way? Ever heard of Amazon coupons? No? Well, you have seriously missed out on a huge opportunity.

Many users on Amazon clip coupons to get great deals and discounts. But how does it benefit you as a seller? Are Amazon coupons just there to help customers and buyers avail great deals, or do they have something for the sellers as well? What are the different types of coupons, and how can sellers create coupons for their products? If you are an Amazon seller, just relax as you will soon know everything about Amazon Seller Central coupons.
Amazon allows its sellers to use digital coupons to encourage customers to buy their products while availing great deals. While the idea of using coupons on Amazon excites many customers, coupons are equally beneficial for Amazon sellers as well – if not more. So what exactly are Amazon coupons and how do they work? Read on to know everything about Amazon coupons.
What are Amazon seller central coupons?
Amazon Seller Central coupons are basically discounts offered by Amazon for customers for the products listed on their website. Many Amazon users use these codes to avail good discounts on their purchases. The discount is usually applied during check out. The discounts included in these coupons can be in terms of money or percentages, and multiple coupons can be combined during the end of a single session, at check out.
Users on Amazon clip coupons to avail discounts. When a coupon is applied or clipped, the discounted amount usually appears below the price listed by the seller. Amazon offers many universal coupons for particular types of products, but sellers also get the opportunity to choose which coupons they want to use for their products. Sellers can also create fresh coupons for one, many, or all of their products listed on Amazon.
Users can search for Amazon coupons and see them inside their cart, coupon page, or price box. The discoverability of Amazon coupons is a great benefit over promo codes on Amazon. Amazon sellers can increase their visibility and generate more sales by creating coupons on Seller Central. The best thing about Amazon coupons is that the budget of the discounts can be fixed, which enables sellers to sell off their remaining products at the full listed price.
1000+ Amazon Sellers Have Already Got Their Free First Coupon Added!
Benefits of Amazon Seller Central Coupons

Amazon Seller Central coupons offer many advantages to sellers. Sellers can increase their product visibility and sales, boost their brand marketing, create loyal customers, brand goodwill, and generate more leads for future sales by creating coupons for their products. Let us have a look at some awesome benefits sellers on Amazon are likely to avail.
1. Increase product visibility
Amazon coupons help sellers increase their product visibility on one of the world's biggest and most renowned eCommerce marketplaces. Since Amazon coupons are discoverable, many users get to know about the entire range of your products thanks to these coupons. Using coupons on Amazon helps sellers know more about their products as well as their brand.
2. Increase sales
As more and more Amazon users get to know about your discounts, you are likely to generate a decent amount of sales. If you have set a limit on the number (or monetary amount) of discounts you want to offer, there is a huge chance of selling off all the products worth your discount limit. Amazon coupons encourage bulk buying, and there is also a chance of selling off many units in a very short span of time. Adding coupons to Amazon is really beneficial for new sellers on the marketplace as well.
3. Create goodwill
The discounts you offer with the help of Amazon coupons helps establish your brand as a customer-centric one. Sellers that genuinely help customers are the ones that are likely to stick around for a longer duration amid a highly competitive marketplace. You should look to hire Amazon virtual assistants to create coupons to boost your sales.
4. Create loyal customers
Amazon coupons help create loyal customers that will buy from your store in the future as well. Once users avail discounts on your listed products using your codes, they will get to know more about your Amazon product listings. If your orders are handled well, your product quality is good and the shipping fee is reasonable – buyers will definitely come back to you for future purchases.
5. Generate new leads for the future
Not only do Amazon coupons help you create loyal customers that keep coming back to your store, they also help you generate new leads for the future. Amazon clip coupons also help word of mouth publicity for your store, and new customers get interested in buying your products with the passage of time.
6. Make profits without having to invest
Adding Amazon coupons is one of the cheapest marketing methods for your products which only results in profits. In fact, the investment is nearly zero as the money that will be deducted will only be from your own sales. With the option to choose your discount budget, you can sell products worth thousands of dollars while offering discounts totaling less than a hundred dollars.

This is much better than spending thousands of dollars on marketing first and then having to wait for results that might or might not be as per your requirements. Professional Amazon consultants can help you with specific requirements, which avoids the need to go for fixed packages.
Struggling To Create Winning Amazon Seller Central Coupons?
Types of Amazon Seller Central Coupons

Various types of Amazon Seller Central coupons are available for product manufacturers and sellers. Sellers can create money-off coupons, percentage-off coupons, one-time use, group claim, as well as buy-one-get-one coupons to help users and themselves.
1. Money-off coupons
Amazon Seller Central's money-off coupons mention the exact discount price in monetary terms. As the name suggests, they have a designated monetary amount that is discounted from the product's listed price. For example, if a product is available for $30, and the money-off coupon offers a discount of $3, the final price of the product to the customer would be $27. Whether the product is priced at $10 or $100, an exact amount of $3 would be deducted with the help of this coupon.
2. Percentage-off coupons
Percentage-off coupons offer discounts in the form of percentages. These discounts are especially helpful for expensive products, as users are able to save a decent amount of money. For example, a 8% discount on a $10 product would only reduce its price by 80 cents, while the same percentage discount can save the buyer $4 on a $50 purchase.
3. One-time use coupons
One-time coupons encourage users to buy multiple products during a single purchase. Amazon clip coupons are usually available on the Amazon coupons page for your country. Although each one-time coupon can be used for only a single purchase session, there is no real limit to the number of products added to the cart. Users can avail huge discounts by buying multiple products at once, since the discount is added to each of the products. Sellers can also benefit a lot from these coupons, as multiple products are sold to a single buyer in a single session.
4. Group claim coupons
While group claim coupons can be availed by multiple users, each user can avail the discount only once. Many sellers create such discounts for a group of followers, subscribers, or contest winners to encourage them to buy products on Amazon. Many brands add such coupons to Amazon to create loyalty towards their organization and to create a sense of community as well.
5. Buy-one get-one coupons
Buy-one get-one coupons on Seller Central encourage users to buy multiple units of a similar product. This encourages siblings, couples, and other pairs with similar requirements to buy products with similar sizes and features. It also helps individual users buy two or more similar products for usage and backup.
10 Steps to Create Coupons on Amazon Effectively
Sellers can add coupons to amazon by using their respective Seller Central accounts. These coupons can be created for a variety of categories such as Health & Personal Care, Beauty, Subscribe & Save, etc. Buyers can 'clip' these coupons using a 'clip button' available under the product listing, and also on the 'Amazon Coupons' page.

Besides the discounts you offer, Amazon charges you an additional $0.60 for every coupon clipped from your listed products. But how exactly do you create coupons using your Seller Central account? Here is a look at the step-by-step process to create coupons on Amazon for one or all of your product listings available on Amazon:

Login to your Amazon Seller Central account and go to the advertising dropdown menu and select coupons. You will be redirected to the 'Coupons' page.
Click on 'Create your first coupon' on the top right corner of the 'Coupons' page.
Choose the Amazon product listing you want to apply the coupon(s) to. You can search specific products by entering the respective ASIN number or Stock Keeping Unit (SKU) number.
After finding the product you want to add the coupon for, click on the 'Add to coupon' product. Do this for all the products you want to add the coupon to.
For each product, set the discount amount in terms of percentages or in terms of dollars by choosing the radio button. You can choose a discount value between 5% and 80% of your listed price.
Set a budget for your discounts. Choose a discount budget that encourages enough unit sales, but doesn't rip you off your marketing budgets or probable profits.
Give your coupon(s) title(s) that are easy to remember for one and all, and make some sense. For example, you can add a title such as 'WINTER SALE' for your winter wear products. You can also go through the 'Title Guidelines' to get better ideas for your titles.
Choose the validity period of your coupon. Although the period you can choose can be anywhere between 1 and 90 days, we would recommend you to choose a period of anywhere between 15 to 30 days to begin with. Most seasonal and pre-seasonal sales last for these many days, and this time period will also give you an idea of whether or not your coupons are helping your sales.
You can also choose the audience for your coupon. You can include all Prime members, Amazon Mom members, Amazon Student members, customers who have purchased specific Amazon Standard Identification Numbers (ASINs), and customers who have viewed specific ASINs.
Plan your coupons and discounts while keeping your budget as well as your inventory management in mind. Don't mention a huge discount time period or discount budget unless you have enough inventory and unless your stock is regularly updated.
Amazon Seller Central coupons are not that difficult to set up, but require a little bit of planning. You will learn how to use your coupons better with time. Whatever the final result, you need to remember that each coupon clipped off of your listings is creating at least one happy customer who is buying your product and loving the fact that a discount is being offered.
Amazon Seller Central Coupons Will Help You, Just Go For It!
Using coupons on Amazon certainly helps sellers establish their brand by providing the price advantage to their buyers. As mentioned above, these coupons also help the seller in many more ways – creating a win-win situation for the buyer, for the seller as well as for the service provider – that is Amazon. Coupons on Seller Central are easy to set up and the overall return of investment is as high as any Amazon marketing technique you might already know.
If you are a new seller who is facing any difficulties in adding coupons, you should consider outsourcing Amazon marketplace management services. Team4eCom helps sellers with multiple products add Amazon Seller Central coupons in no time and at affordable prices. With 20+ years of Amazon marketplace management services for 1000+ companies in over thirty countries, the company offers 360-degree Amazon management and consultancy services. You can get a free quote by emailing all your requirements to info@team4ecom.com.
FAQs
1. How better are Amazon Seller Central coupons than other marketing strategies?
Amazon Seller Central coupons have several benefits for sellers over other marketing strategies, such as increasing product visibility, increased revenues, brand establishment, creating loyal customers and new leads, and creating profits without investing any extra marketing capital. Since the discounts are chosen by the sellers, they can fix their own sales budgets without getting controlled by external agents or marketing experts.

2. Which Amazon Seller Central coupons are better – money-off or percentage-off?
Each Amazon Seller Central coupon has its own set of advantages, and the choice depends totally on the sellers. If you have a fixed discount budget in monetary terms, you can offer money-off coupons. Percentage-off coupons encourage customers to buy bigger and more expensive products, as well as products in bulk. Many sellers also offer both types of coupons, and you should also try each of the coupon types at least once to see the one which works the best for you.

3. What are the different options to create Amazon Seller Central coupons?
Amazon Seller Central provides many options to create coupons. Sellers can choose specific products for which they want to create coupons, or can offer coupons for all their products listed on Amazon. Sellers can choose their coupon titles, discount budgets, validity periods, and their target audience.