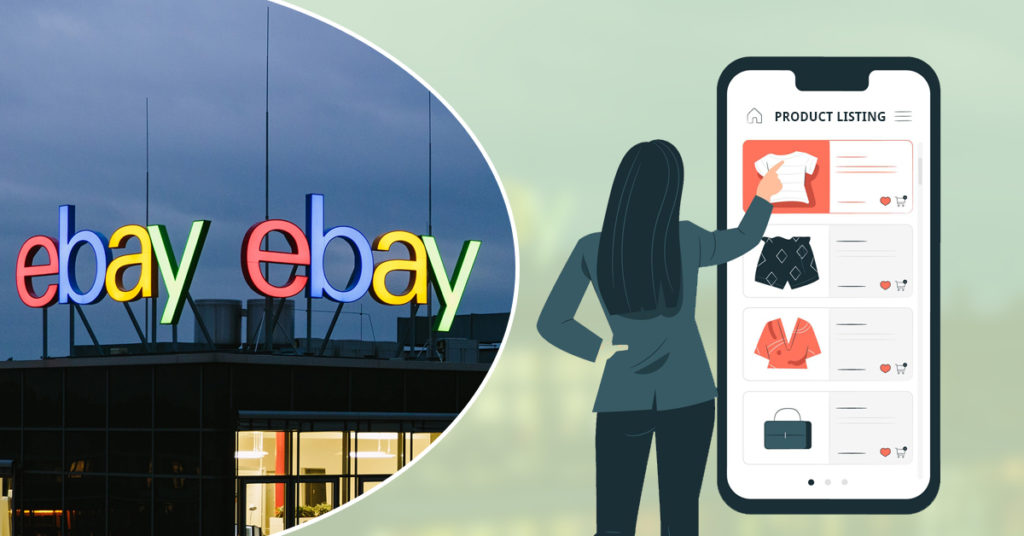 There's no use of having an eBay store without a good product listing. With ever-increasing competition on the eBay marketplace, more and more businesses are choosing to outsource eBay product listing services to streamline their work processes and level up their sales game through effective eBay listing creation and management. By outsourcing the job, most sellers have witnessed a significant rise in sales by approximately 155%.

We are here to make it a lot easier for eBay sellers intending to not just keep their online business afloat but also increase the growth potential of their eStore by throwing light on the various aspects of outsourcing eBay product listing. Let us get started!

Benefits of Outsourcing eBay Product Listing
As per Oberlo, there has been a significant rise in live listings and was accounted for 1.7 billion as recorded in 2021.
This has made the competition for eBay sales quite high. By outsourcing the listing job to a reliable service provider, eBay sellers can leverage the following benefits:
Cost-effectiveness: One of the benefits of outsourcing eBay listing is cost-effectiveness. By outsourcing, you get to spend much less than what you'll pay to an in-house team.
Time-saving: eBay listing is a time-taxing job requiring the accomplishment of a lot of tasks such as description writing, image editing, title creation, etc. Outsourcing eBay product listing tasks will help you save significant time and utilize it to carry out other crucial tasks.
Expert assistance and support: Since the work is done by a team of experienced listing experts that specializes in managing complex listing processes, you definitely know that your assignment is in the right hands.
High level of accuracy: Among other benefits of outsourcing eBay listing, one is that an outsourcing partner will take care of even the minutest details and ensure that all the items are listed with 100% accuracy.
Right categorization: Categorizing the items to be sold under the right categories and subcategories is half the battle won. An eBay virtual assistant can take charge and place the products under appropriate categories to make your offerings easily found by your potential audience.
Improved conversion rates: If done the right way, your outsourcing partner can create and optimize your eBay listings more effectively and bring in more sales and conversions to your kitty.
Take note of these key benefits of outsourcing eBay listing and leverage the same by outsourcing the job to a reliable offshore partner.

Tasks You Wish To Accomplish With Your eBay Listing Outsourcing Partner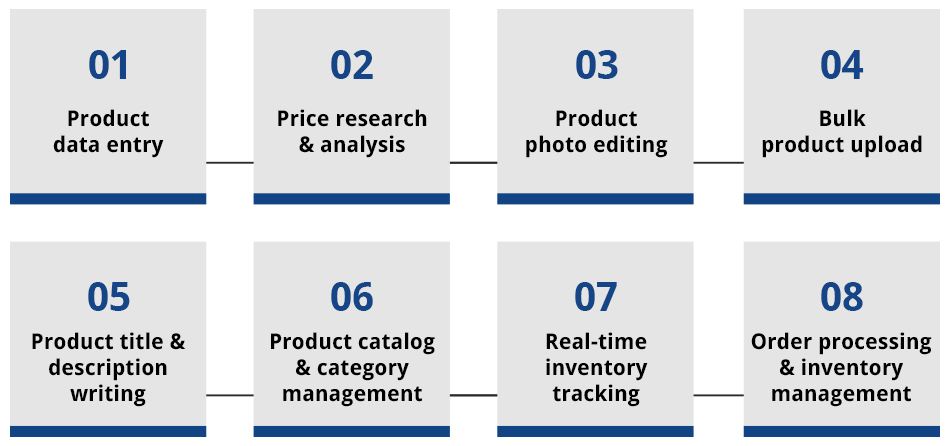 Not every seller on eBay is well-versed with the selling tactics and processes. And so, it becomes imperative that they outsource some, or maybe all the aspects of eBay listing creation, optimization, and management depending on their eStore's requirements.

For instance, if you are adept at copywriting or have someone in your team who can take care of the copywriting task pertaining to your eBay store, then you don't really have to hire an offshore copywriter to craft engaging copies for you. Instead, you might want to look for an outsourcing partner who can fulfill the other tasks that you intend to accomplish. So, depending upon your requirements, you can outsource the jobs that you or your team doesn't possess the skillset for.

Even if you have the requisite skills to carry out the tasks, you might still want to outsource. Why? Simply because handling an eBay store all by yourself can be quite overwhelming.

After you come to a decision as to how much budget you are ready to allocate to a particular task that needs outsourcing, you must figure out how you'll go about managing your routine tasks pertaining to your ever-growing eBay store.

Decide whether you want to continue doing what you already do, and outsource the other aspects to an outsourcing company. Thereafter, choose an outsourcing company that has the relevant experience and skills to accomplish the assigned job in optimal time. Once you are aware of what skills you lack, outsourcing is a viable option to consider.

There is a myriad of tasks that you can outsource. Here are some of the most common and critical ones you must take note of:

Product data entry: Entering product information accurately and precisely to get a clear idea about the products to be sold
Price research & analysis: Conducting in-depth research of competitors' prices for similar products and pricing your own products optimally
Product photo editing: Accentuating the beauty of product photos with requisite editing and enhancements
Bulk product upload: Uploading products in bulk with all the relevant details
Product title & description writing: Crafting compelling title tags and descriptions and enrich them with relevant keywords and phrases
Product catalog & category management: Placing the products under appropriate categories and subcategories for better searchability
Real-time inventory tracking: Monitoring the stock in real-time and making adjustments accordingly
Order processing & inventory management: Taking care of the orders from order placement till the delivery phase
Decide on the services you intend to outsource to your outsourcing partner and state them clearly to them for better outcomes.

Outsourcing Bulk eBay Listing
If you find the task of entering product data in bulk and uploading a large number of items on your eBay store overwhelming, then Outsourcing bulk eBay listing is a viable thing to do. A reliable eBay listing outsourcing partner will help you with accurate data entry and bulk product upload by employing various advanced tools and software. The team will not only save the time spent on accomplishing the product data entry and bulk upload, but also prove to be cost-efficient for your online business. All you need to do is hire an eBay listing specialist and get the work done in optimal time and budget.

eBay Listing Best Practices That Your Outsourcing Partner Must Follow

For better searchability and visibility, don't forget to keep the following listing best practices on eBay.com in mind:

Craft well-structured product titles with relevant keywords and phrases, and avoid the usage of acronyms
Include all the necessary recommended item specifics for your listings and be as accurate as possible
Incorporate high-quality, captivating product photos to engage the audience
Right pricing is the key. Make sure you price the products competitively
Create clear and detailed product descriptions to highlight key features and benefits
Whom Should You Outsource eBay Product Listing?
Deciding on whom to outsource the complex and tedious task of eBay listing creation and submission is a challenge in itself. eBay sellers intending to outsource the job have majorly three options to consider:

There exist a plethora of freelancer platforms that sellers can outsource eBay product listing jobs on. The simple procedure involves the creation of a job, listing all the requirements, screening the candidates who have applied for the job based on their portfolio, previous projects undertaken, experience, etc., and selecting the suitable one from the applications received. You get to manage the freelancer all by yourself with all the work tracking tools and all.

Infact, you might as well have to spend more as the cost of hiring a freelancer is more than that of hiring an offshore service provider. Some of the well-known freelance platforms that eBay sellers can leverage include PeoplePerHour, Freelancer, Guru, Upwork, Credo, etc.

Hiring an eBay listing agency
Hiring an agency will definitely save you from the hassles of finding a suitable freelancer for your eBay tasks, but, as an eBay seller, you might end up paying a hefty fee for locating and managing the hired resource. In addition, you will have to conduct regular follow-ups to make sure that the work process is aligned to your business requirements and that they accomplish the job in the stipulated time frame.

Hiring a remote listing creation specialist
Onboarding offshore listing creation experts can help you with the various eBay tasks you intend to accomplish. They will dedicate their working hours from a remote location, deal with the time zone differences, thereby helping you accomplish the job within the agreed-upon time frame.

Here are a few advantages of outsourcing eBay product listing to a remote listing expert:

A dedicated project manager to handle your project
Flexible working hours to deal with time zone differences
Round-the-clock support and assistance
Employment of cost-efficient processes
Time-saving
A quick turnaround time
Make Your Listings Stand Out With Our Reliable And Cost-Effective eBay Listing Solutions.
Top 10 Questions To Ask Your eBay Outsourcing Partner
An outsourcing partner can support your business in streamlining your product listings and bringing in more conversions in your kitty. Here are a few questions to ask an eBay outsourcing partner before actually hiring them for your specific requirements:

1. Will you assign a dedicated team who will work on my project?
A dedicated team of project managers will be able to help you better and work more efficiently when assigned one single project at a particular point in time.

2. How much experience do you have in eBay listing creation?
An outsourcing company having rich and varied eBay listing creation experience can be an added advantage for you to leverage their services to accomplish your job in a more swift and seamless manner.

3. What are the previous assignments undertaken similar to my project?
It is better to gain knowledge about their previous assignments and how efficient they were in accomplishing them. Don't hesitate to ask about the company's profile and other crucial details making sure their eBay product listing services perfectly fit your business objectives.

4. Are your pricing plans flexible?
Since your main intent is to minimize your business costs, make sure that the remote service provider you are hiring offers prices that are in line with your budget. It would be even better if they offer a flexible pricing model to suit your project requirements.

5. How often do you provide progress reports?
It is better if you make it clear with your outsourcing partner about how often they'll be sending project progress reports – daily, weekly, or monthly.

6. Have you catered to a similar project before?
You may ask whether they have undertaken a similar project before or not.

7. Do you comply with the data security standards?
Sharing of data is inevitable when the nature of work is remote. However, there's no harm in asking how they plan to secure their clients' data and what measures they take to ensure data security and confidentiality.

8. Are there any hidden costs involved?
Gain clarity whether there are any costs involved that are not explicitly specified or stated.

9. How flexible are you to undertake additional tasks?
It is better to know whether they are comfortable with any additional tasks assigned to them during or after the completion of the assigned task. Ask them about the costs involved, if any.

10. What are your views about scaling your team?
Ask if they can offer support in scaling up or down their teams based on the project requirements.

Create top-selling eBay listings with Team4eCom
Make your every move count by outsourcing eBay product listing to Team4eCom. We possess a dedicated team of listing experts working diligently to create effective product listings on eBay and help you increase your eStore's visibility and boost ROI. Connect with us at info@team4ecom.com to take things forward.

FAQs
1. How to create a profitable product listing on eBay?
When listing an item on eBay, you must render accurate and relevant information about the item. An eBay product listing involves a compelling title, a detailed photo, an engaging description, an optimal price, shipping information, payment options, etc. eBay's 'Sell Your Item' form comes in handy to steer you through the process of creation and submission of a product listing. If you are still having a tough time selling on eBay, we have discussed various eBay selling tips that you can take note of to outperform your competitors and garner more sales.

2. How to rank higher and get your listings seen in eBay search?
A few things that you can take care of to get your product listings on top of eBay search results include the use of high-resolution images, leveraging SEO to boost the visibility of listings, promoting with eBay's paid advertising programs, maintaining higher seller ratings, rendering free shipping and returns, creating custom listing templates to give a professional feel, listing items using eBay catalog, including relevant item specifics, ensuring your listings are legally compliant, to name a few.

3. What is the fee for listing an item on eBay?
Sellers on eBay are free to list their offerings. However, if you have over 250 items to be listed every month, then you will have to pay an insertion fee of $0.35 per listing created. But, there are a few exclusions applicable for specific product categories. Connect with our experts to clear your doubts.

4. How many photos are you allowed to upload on eBay?
You are allowed to upload up to 12 product photos on your eBay store. If not 12, you must add at least one photo that will be the main photo of the item you intend to sell. However, sellers must keep in mind eBay's guidelines and best practices while uploading the photos.