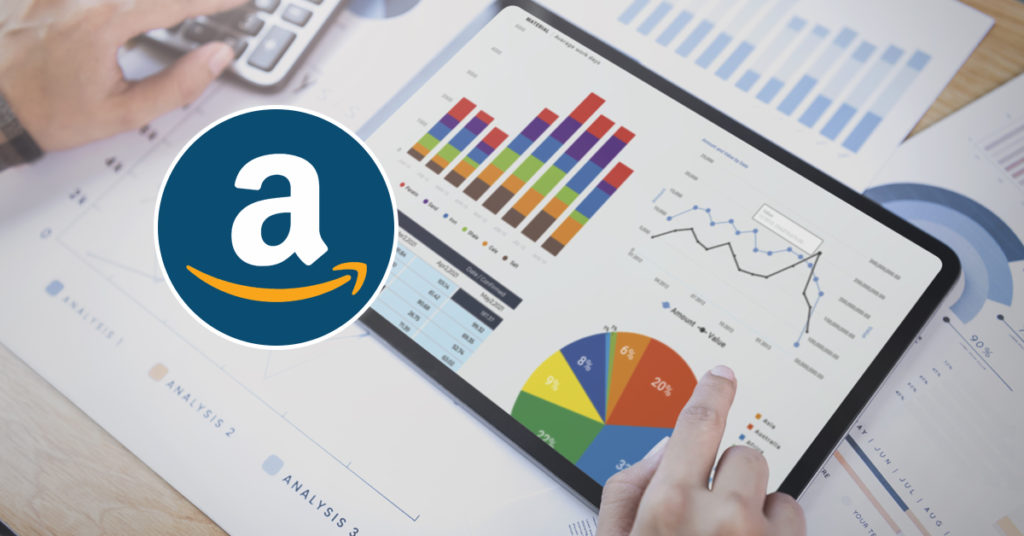 What are Amazon Seller Business Reports?
Amazon is home to around a million sellers, with each trying to make the most of the website. Most Amazon sellers spend a lot of money on marketing and store management to ensure high sales. But what if we tell you that Amazon has a great tool that provides sellers with enough value to plan and strategize ahead in the right direction.

Amazon Seller sales reports are great resources to help sellers know about their performance on one of the world's largest eCommerce marketplaces – Amazon. These reports contain data of a seller's performance and contain enough insights to help you analyze your efforts. The reports contain all necessary information, such as total sales revenue, conversion rates, and inventory information. Even if you have not manually kept a track of all these things, you don't need to worry as all the information is already present in your Amazon Seller Central account.

There are many Amazon Seller Central reports present on the dashboard, such as Amazon Business reports, advertising reports, FBA fulfillment reports and return reports. All these reports contained detailed information, helping you keep track of your past performance and also plan the future. All your purchases are recorded here and statistics are available not only in terms of money, but in terms of percentages as well.
These reports also provide you an idea of page views and the number of people who are discovering your products on Amazon, or your Amazon traffic. Having such data at your disposal can instantly help you arrive at the areas where you are performing well or lagging behind, helping you identify the gaps and opportunities – eventually helping you design a robust strategy to boost your Amazon sales. Amazon seller reports have several other advantages, and knowing them would certainly encourage you to take interest in the same.
Why Do Sellers Need To Focus On Amazon Seller Reports?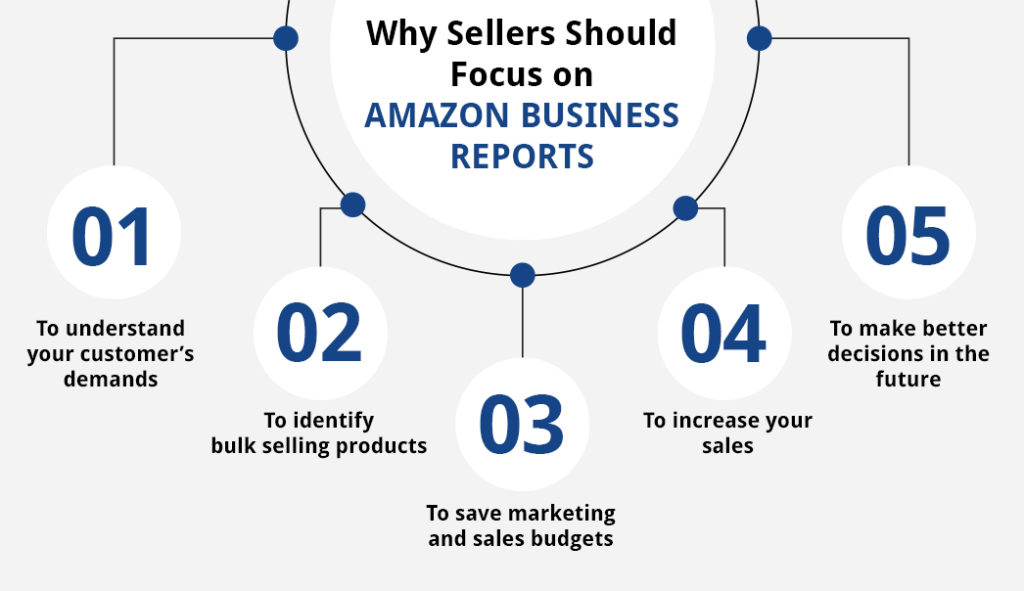 As mentioned above, Amazon Seller sales reports provide a lot of valuable information that can be used in many different ways. The biggest advantage of these reports is they provide you with a first-hand performance evaluation, which very clearly explains which of your strategies are working and which ones aren't. By analyzing these business reports properly, sellers can work on new strategies to implement to drive their sales and generate profits.
Besides, Amazon Seller reports are valuable resources that can save you a lot of time and money. They can be used to analyze your past performance and make future decisions accordingly. The number of insights that one can get using Amazon Seller reports is phenomenal. All you need to do is to gain a better understanding of how these reports work and the various metrics that you need to pay attention to.

Here are a few reasons why sellers should focus on your Amazon Seller Central reports:
1. To understand your customer's demands
As a seller, you might have listed a dozen or more products on your Amazon store. But are you aware whether the products you have listed are fulfilling your customer's demands or not? Amazon Seller Central reports give you an idea of the demands for all your products and different product categories by providing you with figures of your page traffic, total sales, and conversion rates. If your page traffic is high and the conversion rates are low, that means that working on your listings and content (and product quality) can help you improve your Amazon sales.
Conversion rates provide sellers with a great idea of their customer's demands. If the customers are visiting a particular store, product or page – and not coming back to buy – it tells you a lot about their demands. They are probably looking for the kind of products you have listed on your store, but are perhaps not happy with the way you have presented them.

They might have issues with the price, look, or descriptions. Working on these areas might just help your conversion rates. Hire Amazon virtual assistants to help you derive the best actionable insights from your Amazon Seller Central reports.
2. To identify bulk selling products
Getting an idea of your products that sell the most helps you strategize better. Investing more energy in this area of your Amazon business reports would lead to more bulk sales. You can introduce discounts to your top selling products and increase their stock to increase bulk sales which can help your store's overall fortunes.
Bulk selling products are a win-win for sellers as well as buyers. While sellers make more money with more units sold, buyers benefit from the bulk discounts they avail by ordering large volumes of a particular product. Knowing your bulk products or high volume products would help you as well as your customers. By ensuring enough stocks and regular inventory storage for the future, you can avoid any delays in the delivery chain.
3. To save marketing and sales budgets
The reason many Amazon sellers spend enormous amounts of money on marketing and sales is because they just don't know how to access basic data. The data available in reports helps you know so much about whether you are going right or wrong, that you can increase your sales just by working on these aspects. Amazon seller reports save your promotional budget to a large extent, as data helps you promote your products for free – just by making the best of insights.
You won't need to spend massive amounts of money on advertising campaigns, PPC, social media marketing, or other offline marketing once you get first-hand insights from your own data. Amazon Seller Central reports provide you with enough information to modify your store and listings, better your content strategy, and target customers in a more systematic and organized manner – ensuring you save enough to maximize your profits for the season.
4. To increase your sales
Now that you have so much valuable data at your disposal, all you need to do is create a strategy on the basis of insights and implement it. Your sales are bound to go up once you have actionable data at your disposal. Amazon Seller Central business reports help sellers increase their sales by providing them with data points that suggest action which leads to results.
Getting first hand data and insights from these reports would help you derive actionable points and strategies to drive your sales. Amazon reports have many powerful metrics which tell you your strong areas and the areas where you are just lacking. At the end of the day, you want to increase your sales – and that is exactly what Amazon reports help you in achieving. So just spend more time focusing on your reports and taking notes from every valuable insight you have at your disposal.
5. To make better decisions in the future
Amazon seller reports provide data points not only for immediate action but future planning as well. Sellers can strategize for periods of six months to a year or more on the basis of past performances over similar periods of time.

Confused with Amazon Seller reports and how to drive sales using them?
The Most Useful Types of Amazon Business Reports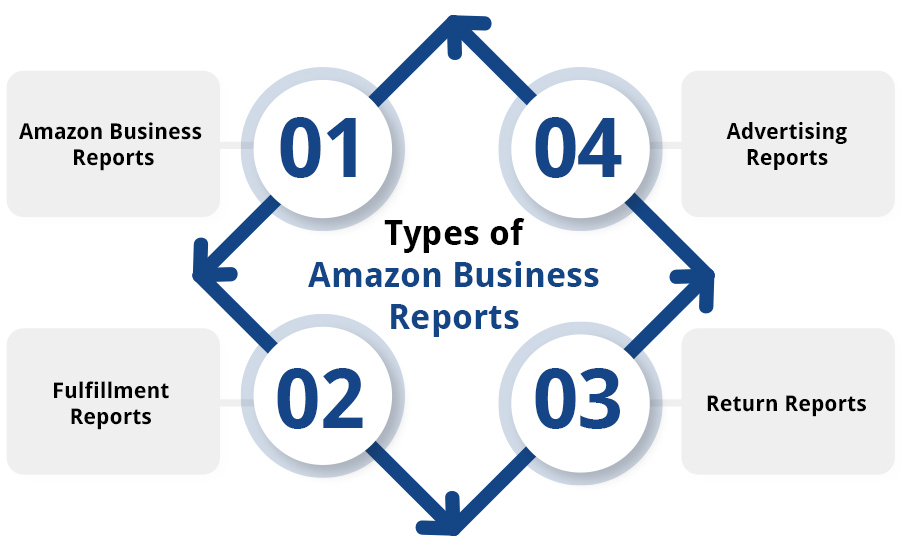 Amazon has several reports available for its sellers. All these reports can be easily accessed using the Amazon Seller Central account. As mentioned above, these reports are highly helpful and contain a lot of valuable insights. But knowing about these reports in detail and knowing how the metrics work is key for you to strategize properly and plan for the future.

Some of the most useful types of Amazon Seller Central reports are Business Reports, Fulfillment Reports or FBA Business Reports, Return Reports, and Advertising Reports. All reports can be found under the 'Reports' tab available in the Amazon Seller Central account.
1. Amazon Business Reports
Amazon Business Reports provide great data insights for sellers on Amazon. There are three basic types of Amazon Business Reports: Sales Dashboard, Amazon Selling Coach, and Business Reports by Date and by ASIN. All these reports have different advantages and functionalities, and it is great to know about each of them in detail.
Sales Dashboard: As the name suggests, Sales Dashboard is the most basic Amazon seller report that shows orders and sales data, such as units sold and historical sales. Data of different days, weeks, and years can be compared using Amazon's Sales Dashboard.
Your sales dashboard presents you with the most useful data – all at a glance. Sales dashboard contains data in terms of money, percentages, graphs, and tables – which can all be easily interpreted. Just by having a look at your sales dashboard, you can get an idea about your recent performance. Comparing your sales dashboard over weeks and months is a great idea. You should always download this data or take a screenshot – as it helps you during future reference.

Amazon Selling Coach: Amazon Selling Coach is a great resource to get personalized recommendations from Amazon. The system suggests actions on the basis of your listings and data available to Amazon. The best thing about Amazon Selling Coach is that suggestions come straight from the service provider Amazon, and sellers are free to follow them the way they want.

Amazon Selling Coach is a great automated resource – but it works just as well as a human or a virtual assistant. You can learn a lot just by going through the Amazon Selling Coach and exploring the various insights it has to offer. The best thing about this resource is that it acts like a virtual trainer, and guides you at every step of your journey as an Amazon seller, while giving you an idea about the requirements of many of your potential customers.
Amazon Business Reports by Date and by ASIN: This helps study data of different dates and products. To study the data of a particular date, all you need to do is choose the date range. To study individual product performance, just enter its Amazon Standard Identification Number (ASIN).

The facility to find business reports by date and ASIN is of great use – especially to sellers who have been dealing with multiple products on Amazon for a long time. Getting reports of individual products and specific date ranges helps a lot in comparison and tells a lot about the strengths and weaknesses of your store. So better work on your strengths for now and rectify your weaknesses over the long term.
2. Fulfillment Reports
Fulfillment Reports are FBA business reports, which provide sellers detailed information about their inventory. Many reports are available under Fulfillment Reports, such as Stranded Inventory, Returns, Promotions Performance, Inventory Age & Health, Subscribe & Save Performance and Long-Term Storage Fee reports.
Fulfillment reports, or Amazon Seller Central inventory reports help sellers understand about the fulfillment of their orders as handled by Amazon. Data of the packing, shipping, and delivery of all Amazon products is provided here. This helps sellers resolve any stocking and inventory issues which might be leading to delays or products running out of stock.
3. Return Reports
Return Reports provide detailed information about the products that have been returned by your buyers. All returns for a particular time period are listed here, along with the reasons the customers have entered for returning your products. This information is important, as you want to avoid returns to ensure more profits and establish your business's credibility.

Reducing the number of returns should be your ultimate priority. Buyers might be returning your orders if they are not happy with the product's quality or performance. You will notice as you improve your product's quality and fulfillment, your returns will reduce with time. All these changes can be noticed in the Return Reports. The data present in Return Reports is as extensive as that mentioned in Amazon business reports.
4. Advertising Reports
If you have run sponsored ads or PPC campaigns on Amazon, Advertising Reports will provide you with detailed information about the performance of your promotions. With the help of Advertising Reports, Amazon sellers get detailed data about their best performing keywords and campaigns, best time of the year to run campaigns, and the return of investment after running ads.

With such Amazon Business Reports, like Advertising reports present detailed information that can help you run better performing ad campaigns in the future. You can also get an idea about which type of advertisement suits your business best – Sponsored Brands, Product Display Ads or Sponsored Product Ads.
Optimize your ads and increase your sales with the help of the insights from Amazon's Advertising Reports. Avail Amazon PPC management services to promote your product pages to the right target audience at the lowest costs. 
Metrics Seller Need To Be Tracking in Amazon Seller Reports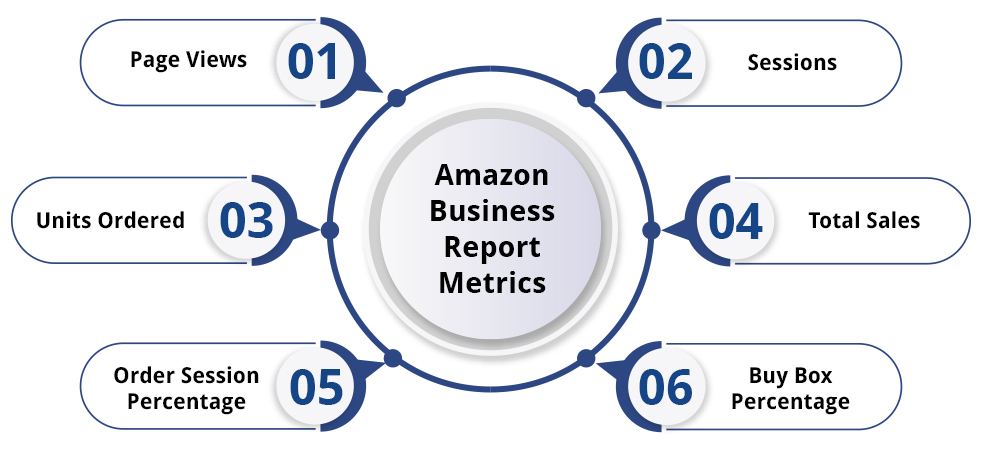 Amazon Seller Central reports have several metrics that can help sellers with their business strategies. From the most simple to the most complex metrics, you get an idea of your performance, reasons for failure, and achievable goals for the future. Some of the most important report metrics for Amazon sellers are Page Views, Sessions, Units Ordered, Total Sales, Order Session Percentage and Buy Box Percentage.
1. Page Views
Page Views is an important report metrics that provide sellers with data about the number of visits to their Amazon store. It gives sellers an idea of the total number of page views for either of their product pages. If your page views are not as high as expected, that means users simply are not discovering your products on Amazon.

It is important to optimize your listings, enter relevant keywords, optimize the content by adding USPs of your products and upload high-quality and well edited images. Entering the exact product category is also necessary, and Amazon's Browse Tree Guide (BTG) is a great resource for arriving at the exact category of your product. Avail Amazon SEO services to make your pages rank on top for relevant keyword searches.
2. Sessions
Sessions provide you an overall idea of the traffic of your store at a particular time. Sessions are unique customer views as a single customer can visit multiple pages of your store on Amazon. The number of sessions will always be less than or equal to the total number of page views.

However, if the numbers are close, it means that users are just visiting either of your pages and are not showing much interest in the rest of your products. The main reason for this could be the lack of quality, bad or inadequate reviews, unattractive text and image content, and unreasonable prices.

Working on all these aspects one by one will soon help your Amazon store, and you will witness more Page Views compared to the number of Sessions. Avail copywriting services from experts to create attractive descriptions that make your products sell.
3. Units Ordered
This simply tells the number of products that customers ordered from your Amazon store. Study your Units Ordered data over a period of a few months or a full year to determine the periods of your best and worst performance. The more orders you get, the better your products rank. So ensure your 'Units Ordered' are high more often than nought by conducting competitor pricing analysis and working on all aspects of your product listings as mentioned above.
4. Total Sales
The total number of sales are also mentioned in your Amazon Seller sales report. While ordered product sales includes the exact price of the products sold, gross product sales includes additional costs as well. This includes the costs paid by the customer, such as the cost of gift wraps and shipping costs. Total sales provide you with a good idea of your business's profitability. You also get deep insights such as how your products are performing outside your state – by studying the shipping costs.
5. Order Session Percentage
Order Session Percentage provides you with a percentage of the number of orders over the number of sessions for your Amazon store. While high order session percentages indicate good product or seller ratings, low percentages indicate a lack thereof. Increasing your product quality, managing reviews and better customer management can help your product rankings, and also your Order Session Percentage.
6. Buy Box Percentage
Before understanding Buy Box Percentage, it is important to understand what the Buy Box is. A product on Amazon might have multiple sellers, and the best sellers get featured on the Buy Box. You must have noticed the fact that the users have the options to choose their sellers.

Sellers that are considered good by Amazon are chosen by default if the buyer chooses to click on the buy button. The Buy Box percentage is indicative of the recurrence of your product(s) appearing in your customer's Buy Box. Amazon usually features sellers that manage their inventory well, offer reasonable prices, offer good customer service and help the credibility of their website.
Leverage Our Advantage To Get The Most Out Of Your Amazon Seller Central Reports
Amazon Seller Central reports offer so much information, it is hard to rule out their importance and impact on the marketplace. Sellers that study these reports regularly and take required actions are most likely to succeed on Amazon. Analyzing Amazon reports and implementing changes requires application of mind over money. Thankfully, you can outsource end-to-end Amazon services to make the best of your report insights.
Team4eCom provides expert assistance with Amazon Seller sales reports. Having helped thousands of clients from over thirty countries over the past two decades, Team4eCom offers affordable, high quality services with minimum turnaround time. Team4eCom offers end-to-end Amazon marketplace management services for all your Amazon-related needs. You can get a free quote by emailing all your business requirements to info@team4ecom.com.

Related Questions To Discuss
1. Where can I find reports in my Amazon Seller Central account?
Sellers on Amazon can find all their reports under the 'Reports' tab available in the Amazon Seller Central account. Note that these reports are not available to general customers and one must have registered to an Amazon Seller Central account to view these reports. The more active a seller has remained, the more insights they can gain through these reports.

2. What are the various types of Amazon Seller Central reports?
Some of the types of Amazon Seller Central reports are Business Reports, Return Reports, Fulfillment Reports, and Advertising Reports. There are three types of Amazon Business Reports: Business Reports by Date and by ASIN, Sales Dashboard, and Amazon Selling Coach.
3. Which metrics matter the most while studying Amazon Seller Central reports?
Some of the most useful metrics among Amazon Seller Central reports are Page Views, Total Sales, Order Session Percentage, Sessions, Units Ordered, and Buy Box Percentage. All metrics have their own use. Interpreting these metrics correctly and making necessary changes helps sellers increase their sales on Amazon.

4. How do I download a report from Amazon Seller Central?
To download a report from Amazon Seller Central, go to 'Inventory'. Select 'Inventory Reports'. From the drop-down menu, select the report type. Click on the 'Request Report' button. Check the report status under 'Check Report Status & Download'. Click on download, when the status is 'Ready'.

5. How do I create a custom report on Amazon Seller Central?
To create a custom report on Amazon Seller Central, select 'Inventory' and then 'Inventory reports'. Click on 'Customize the columns for this report'. Click 'Add' for the columns you want to select and remove unwanted columns by clicking on 'Remove'. Save the settings by clicking on 'Save'. Click on 'Request Report' from 'Inventory Reports' to retrieve the customized report.