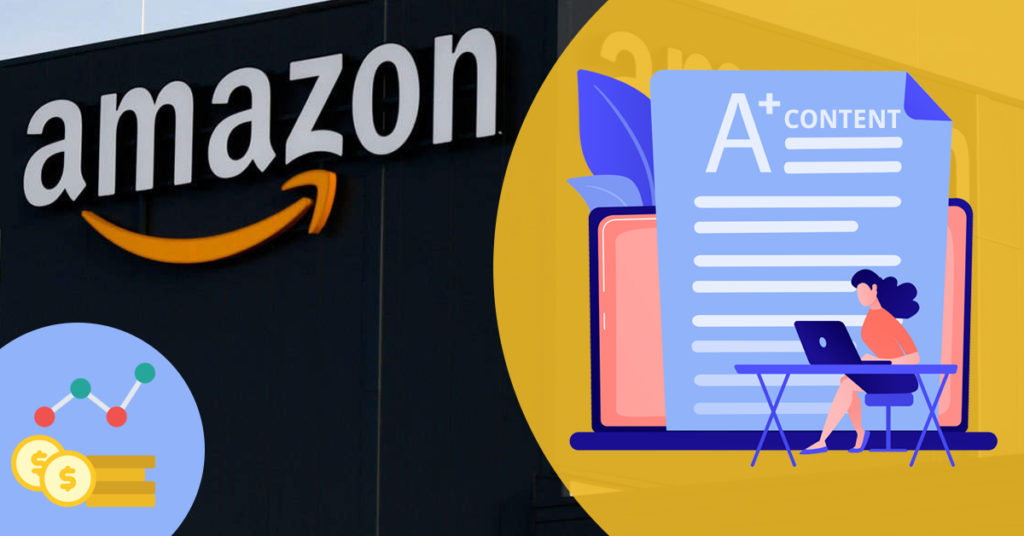 Amazon is a leading online marketplace offering a dynamic platform to sellers for promoting their online store by showcasing their products to a global audience, thereby increasing the growth potential. The marketplace facilitates a great potential opportunity for sellers to leverage enhanced brand content to each and everyone who visits the product pages. This is where Amazon A+ content comes into the picture.

Creating Amazon A+ content the right way is extremely important to bring in more visitors and compel them to make a purchase. However, sellers must abide by the guidelines explicitly laid down by Amazon to maximize the returns.

While some sellers are already creating engaging Amazon A+ content, others are still trying to figure out ways to craft A+ content that helps them sell better. A few of them have opted for professional services for reaping the Amazon A plus content advantages and improving sales consequently.

There are a plethora of hindrances a seller faces over the course of selling on the Amazon marketplace. These include:

Being apprised of Amazon's guidelines on A+ content writing and abiding by them religiously to avoid any potential penalties or ban
Collating high-quality, accurate, and relevant product data to be included in the allocated space designed for crucial product details as well as images
Putting A+ page layouts to good use and following the best practices
Figuring out the pricing plans to get help and support from Amazon
Making changes and optimizing the various elements that impact the Amazon A+ product listings as a whole
Apart from the above-mentioned challenges, there are many other obstacles that sellers need to overcome to make a powerful presence online and bring in more sales and conversions. Are you ready to make a difference with engaging A+ content writing? If yes, then just go ahead and give this a read to know everything about Amazon A+ content before you dive in!

Amazon A+ content writing is not just another product description writing. It is more than including product information and adding images. Amazon A+ content involves creating a product page just like a web page right from the designing to the content publishing. Amazon allows its sellers to create compelling A+ content pages for the visitors and ensure more traffic and sales. So, there are many Amazon A plus content advantages that you can leverage as an ardent seller on the marketplace. In order to make things work in your favor, you must follow the guidelines laid down by Amazon without manipulating or disobeying. In addition, you must also play around with the layout and design to make the content and product page more attractive and unique. As an ardent Amazon seller, you must incorporate visually enticing elements that drive the attention of your potential buying audience and make them click on the 'buy' button quicker than ever! The prime intent should be to keep the content short, crisp, and unique in every sense to prevent the audience from going to your competing counterparts.

Now let us discuss all about Amazon A plus content, but first, here's a quick overview.

What is Amazon A+ Content?
To give you a quick overview, A+ content is the perfect potential opportunity for sellers to leverage for growing their online business exponentially. Sellers can easily boost their product listings on Amazon by making the most of A+ content. All that a seller can do is make the required modifications or enhancements in the content to outshine the competitors. Some modifications include changing the product descriptions as per the needs and preferences of the prospective buyers, placing content in the description in the most unique and captivating way, incorporating high-resolution, well-optimized product photos, and so much more
Amazon A+ content is all you need to promote your products as well as your brand in the most effective way possible. Rather than going for the usual Amazon product catalog, sellers can opt for the creation of Amazon A+ content pages to lure visitors into buying your products. Giving an enticing look to your product pages, sellers get to reach out to their potential buying audience better with perfectly created and positioned product content strategically placed with appealing images along with compelling descriptions. A majority of sellers have been leveraging Amazon A+ content pages for better positioning of their brands and giving a boost to their product sales and conversion rates.

Now, the question remains – is it really worth the effort? Let us find out!

Does A+ Content Really Work?
Now that you are aware of what Amazon A plus content is all about, you must now know whether it is worth trying or not.

To be honest, there isn't any surety that A+ content will be beneficial for every kind of business, or render higher sales or conversions. However, as Amazon puts it, A+ content can simply boost visibility if done the right way. With the right approach, brands intending to sell products successfully on the Amazon marketplace can leverage Amazon A+ content writing to promote their offerings and attain more visitors in the long run. So, although there's no guarantee of a higher conversion rate or more sales, there's still always a scope of presenting the products in the most captivating way to give a boost to the product listings.

There is no proven study that demonstrates an evident increase in conversions, but, A+ content can surely exhibit products in the best way and enhance customer shopping experiences thereof. So, who doesn't want to leverage the advantages of Amazon A plus content?!

What is Amazon Premium A+ Content?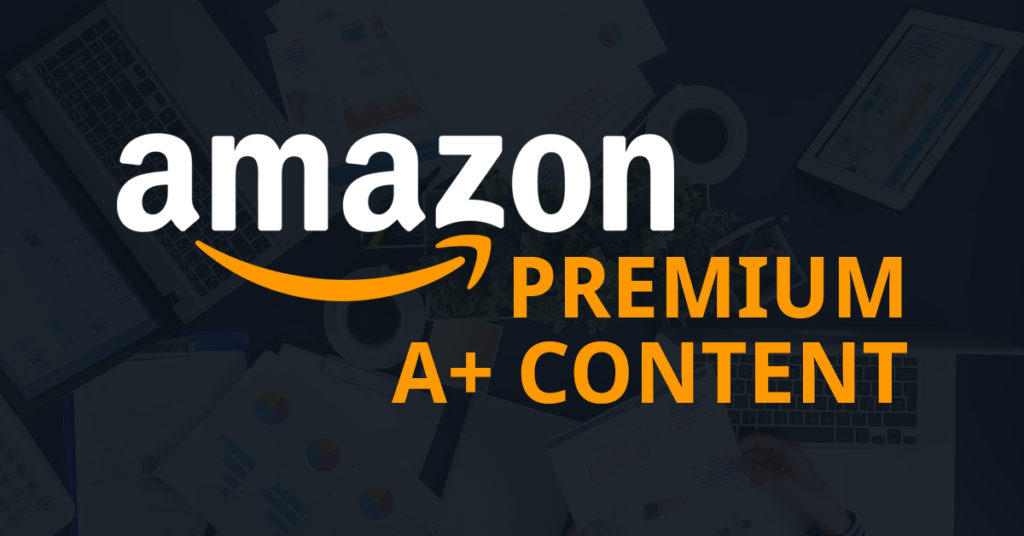 Amazon Premium A+ content is alternatively referred to as A++ content. While the Amazon A+ content is very basic, premium A+ content or A++ content is an advanced form of content to get an edge over your competing counterparts and, at the same time, improve the overall shopping experience for your customers. As it is an expensive affair, the Amazon premium A+ content feature is being widely leveraged by big brands or major vendors. It is basically an invite-only program that can be availed in addition to the basic A+ content. Apart from the features of Amazon A+ content, sellers also get 16 more modules supported with many other selling machinery to make the customer experiences more impactful. With such a feature, vendors get to incorporate all the necessary product details that might have been omitted if it would have been the basic A+ content. So, the potential customer will be able to fetch all the information he/she would need to make a well-informed purchase decision.

Precisely, a perfectly-optimized Amazon premium A+ content page would include the following things:

Captivating product photos and visuals in addition to 7 more modules for showcasing high-definition photos
Appealing video demonstration of products in high-resolution (720p) with a 3-minute time duration
Including a list of FAQs for addressing the most common pain points of customers and solving the problems they might face beforehand, thereby creating a sense of trust & credibility for your brand
Leveraging Amazon's Alexa System to build voice-friendly as well as mobile-friendly product pages for the prospective buyers
Rendering an interactive buying experience to the shoppers with features like hotspot and carousel modules, enabling them to scroll through seamlessly
How To Determine Whether The Amazon A+ Content Is Impacting Product Sales?
So, how can you actually tell that your crafted Amazon A plus content is positively affecting your sales? Well, as you know, the prime intent of writing A+ content is to grab the attention of the potential buying audience towards your offerings as well as your brand. If you are able to do so successfully, then the chances are your product sales figures are going to shoot up and your conversions will eventually get a great boost. With a well-executed plan, a seller can easily drive more visitors to the product pages and bring in more sales to their kitty. If leveraged the correct way, A+ content has the power to bring your potential buyers closer to your products and your brand, and also convince them to make a purchase.
Create visually-captivating A+ content pages with us to accomplish more sales and grow your online business on Amazon.
Who Can Create Amazon A+ or A++ Content?
So, who is exactly eligible for Amazon A+ content? Well, all the sellers and vendors who are approved by Amazon for Brand Registry. Once Amazon approves your business and you become a brand-registered seller, you can avail the A+ content feature for only those products that have been approved. However, if you have opted for any Amazon Exclusive program or Launchpad, then also you are eligible to use A+ content for your catalog. Once you get a green signal, you can start adding ASINs and make the most of the additionally available modules such as text formatting, testimonials, videos, brand stories, and so much more. At present, there isn't any fee charged by Amazon for A+ content.
How Much Does It Cost To Create A+ Content For A Listing?
The good news is that there is no Amazon A+ content cost involved!

Previously, vendors were charged for A+ content under Amazon's Brand Registry program. But, as of now, Amazon's A+ content is absolutely free for every brand-registered vendor and seller. However, A++ content or A+ premium content can be availed through invite-only, and vendors need to pay a hefty price to avail it, which clearly means that only major vendors or big brands can go for this pay-for program.

How Much Time Does It Take To Get A+ Content Approved?
It depends on a lot of factors actually. The approval process of A+ content can take a couple of hours, but, sometimes, it might even take seven long days! As an ardent seller, you must stay informed about the status and for that, don't forget to keep tabs on your Seller Central account from time to time.

Your Amazon A+ content can sometimes get rejected due to a violation of Amazon's content policies. What you can do in this regard is to avoid giving any false claims or using any promotional word or phrase, for instance, "free", "best", etc. Also, you need to be careful while you enlist the features. Say, you mention "paraben free" instead of "paraben-free", it can also make a huge difference and you might end up getting your content rejected with just a minor mistake.

How To Create A+ Content?
First of all, you must be a brand-registered vendor or seller under Amazon's Brand Registry program.
Once you have enrolled in the program, you will get access to A+ Content Manager which you will find in your Seller Central account under the Advertising panel.
Head to the Advertising menu and click on "Start creating A+ Content" which you'll find at the top right corner of the page. Alternatively, you can click on the "Create A+" button to start with a specific product on your mind.
Once you click on it, you will see a complete template with all the necessary fields to be filled accurately and precisely for your prospects to get a detailed idea about your product.
Once you are done adding all the vital information, you must then select the ASINs for each product and send the A+ content for approval. However, if you are still working on the information and need time to incorporate more details, then you have the option to save the template in the draft form and edit it later whenever you intend to.
The entire process is quite simple and won't be much of a hassle, even for a new seller. But, if you are struggling to put everything together, you can go ahead and take the help of an experienced Amazon Virtual Assistant to take things forward.
Hire an expert from us to create enticing A+ content pages in minimum time and without any hassles.
Amazon A+ Content Benefits That Makes A Difference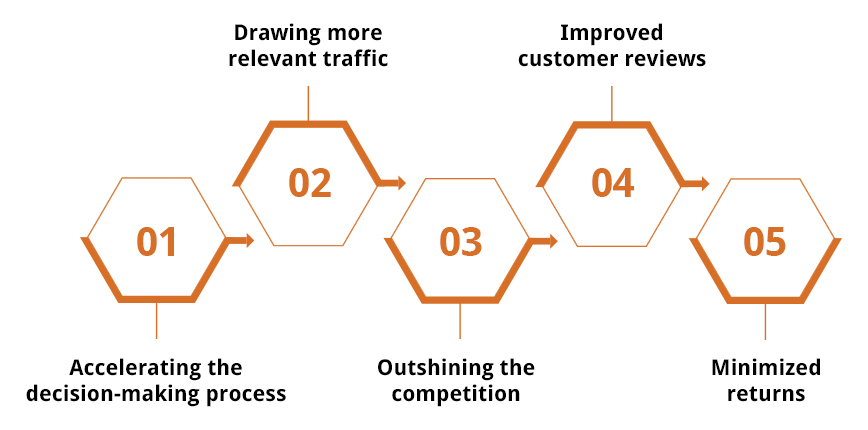 Amazon has its own way to help sellers increase traffic on their product pages and bring in more conversions with impactful A+ content writing skills. Here are a few Amazon A+ content benefits that you must take note of while you leverage Amazon's A+ content to your benefit:

Accelerating the decision-making process
As it becomes easier to skim and scan the content on A+ content pages, it gives your potential buying audience more reasons to choose you over your competitors. When your prospects find every information they need to decide on a purchase, they would head straight to the checkout page and order the product instead of exploring similar products offered by your competing counterparts.

Drawing more relevant traffic
This is one of the most useful Amazon A+ content benefits that sellers look for. Amazon A plus content can really benefit a seller in garnering a prospective buyer's attention. How? By simply presenting the content in the most appealing way. Well-formatted text, high-definition, professionally-edited images with clearly-visible product details, an elaborative video showing proper use of the product – all these things contribute to driving more attention and effectively convincing the target audience to make a prompt purchase decision.

Outshining the competition
With more and more interactive elements incorporated in the content, the customers are more likely to get impressed with the amount of effort you have put in as a seller to showcase your offerings in the true light. The main intent of A+ content is to help sellers make their products stand out from the rest. Eye-catchy product photos and perfectly highlighted features and benefits can do wonders for your brand and help you attain more sales and conversions going forward.

Improved customer reviews
This is one of the key Amazon A+ content benefits to leverage. When the shoppers have all the information they seek to know before purchasing a product, it gives them a better idea of the products and helps them make a decision faster. A+ content can benefit sellers in rendering an incredible shopping experience and enable the shoppers to leave positive reviews for your products as much as possible. A higher customer satisfaction level can contribute to more positive reviews.

When the customers are satisfied with the purchase, there are fewer chances of returning the products bought by them. For this, it is extremely pivotal that you include correct information and make sure that you provide every intricate detail about the product including size and color options.

With a host of Amazon A+ content benefits to make the most of, sellers can surely boost their online presence and bring in more conversions in their kitty.

Wrapping Up
Amazon A+ content is the perfect solution for sellers to drive more traffic towards their product pages and consequently achieve higher sales and conversions. Connect with one of our experts on call or simply reach out to us at info@team4ecom.com to cut down the Amazon A+ content costs and increase the growth potential of your online store.

FAQs
1. What is the new 'Manage Your Experiments' feature all about?
Recently, Amazon initiated a 'Manage your experiments' feature for both vendors as well as sellers to validate their A+ content pages through A/B testing. This is indeed an incredible feature launched by Amazon to allow retail merchants to figure out what information is working in their favor and what information or images need to be changed to make the most of their A+ content.

2. Does A+ content get indexed on Amazon?
As such, there is no such update about Amazon indexing the A+ content. But, the information you add in the content along with the product photos is capable of getting indexed on Google and can be shown in Google's search results.

3. How many modules are in A+ content?
There are 15 modules in total. Sellers can use different combinations of text and images to get the desired look. Consider them as the building blocks for creating a perfect A+ content design to engage your visitors.