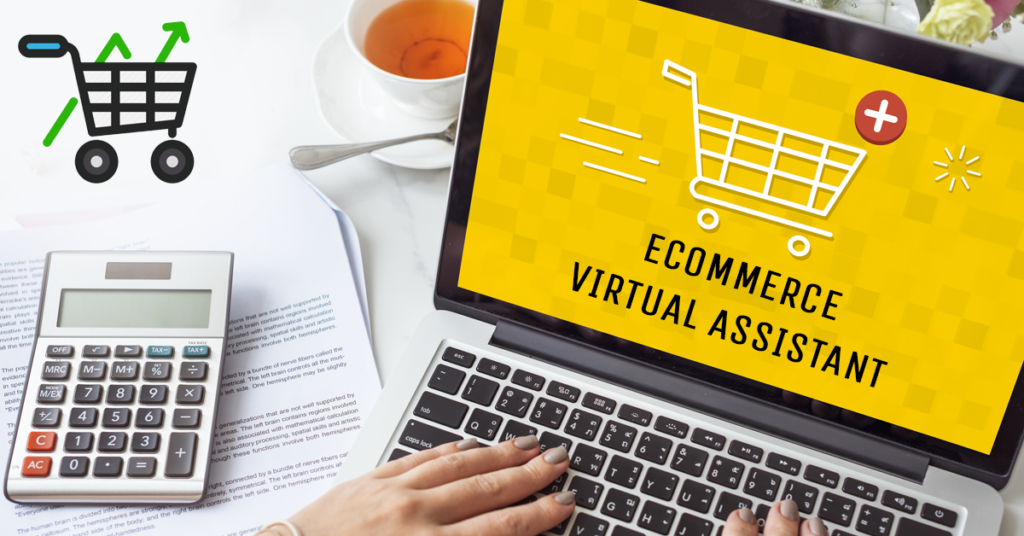 An eCommerce marketplace is an opportunity for small and medium scale businesses like no other. For the first time in history, sellers can reach out to millions of potential customers at once right from the start. They only require minimal investment compared to the entire setup that is required for traditional selling, such as getting an own store, experiencing low ROI for marketing on the limited scale possible, etc. It is little wonder that e-retail sales exceed 4.2 Trillion USD in 2020.
The availability of automation to conduct the many functions involved in running a business in eCommerce is a true game changer as well. But automation can only go so far, and as an eCommerce seller, you need to manage a lot of the processes yourself, which will cascade into mismanagement with scaling and time. The solution is to hire an eCommerce virtual assistant who can perform those tasks for you. 
Who Is An eCommerce Virtual Assistant?
In a nutshell, an eCommerce Virtual Assistant is a person who's hired by an eCommerce business to perform support functions that are crucial to it. They operate remotely and provide support through a preferred online medium of communication.
It is a common misconception to consider these assistants with virtual assistants like Alexa, Siri, etc. but the two are different. The familiar ones named above are strictly virtual, as in computer operated. eCommerce VA's on the other hand, could be either bots or human responders. The term "virtual" in this case refers to the medium used by the assistant to provide the support, which is online as their location is remote.
They function by gathering valuable data about your business and website/seller site on a marketplace and apply the latest management techniques to extract information that is valuable to devise a prosperous business strategy and operation protocols that increase efficiency and savings by reducing redundancies and overheads.

All of those functions require these assistants to be well qualified and experienced to execute them successfully. In the case of bots, they must be developed by astute engineers who are well versed with the demands of the portfolio. Thus, hiring a VA means you get to hire eCommerce experts that are well versed in multiple verticals related to an eCommerce business.
For an eCommerce entrepreneur, their hiring means fewer responsibilities to be concerned with. You would only need to determine the policy that will guide their actions, policies they'll help you create with their inputs and data analysis. You could avail continuous management of your business' peripheral operations even when you're resting for the day, thus boosting market-readiness and customer satisfaction.
The Many Functions Of eCommerce Virtual Assistant Services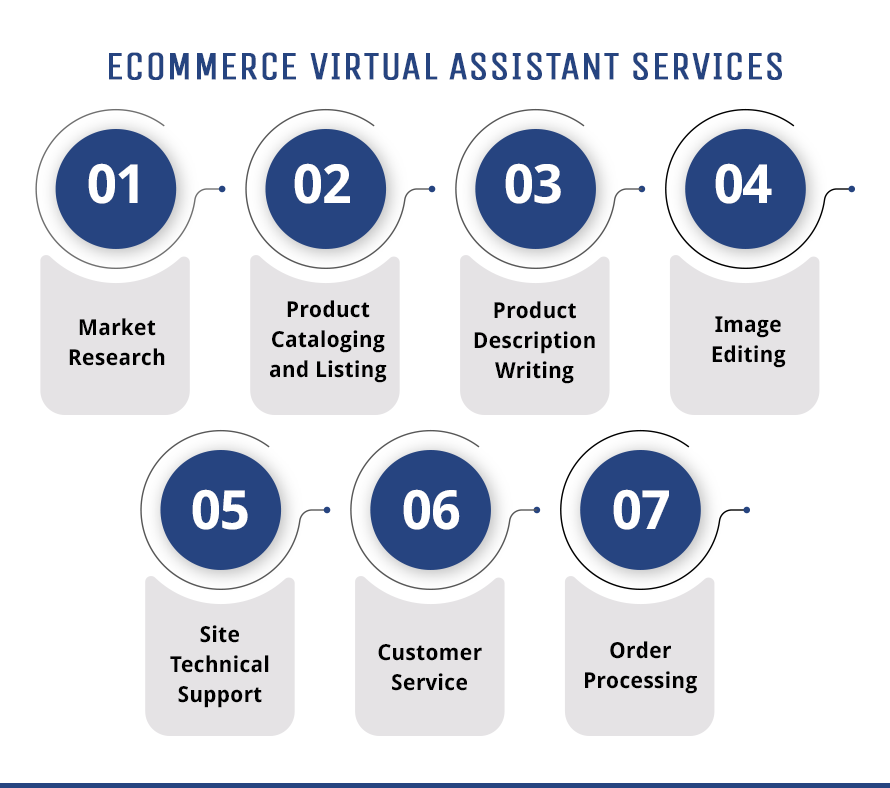 Running an eCommerce business is no small feat, even if the business is. Depending on the scale and type of products being sold, the list could contain inventory management, warehouse management, HR and Payroll management, operational process management, web/seller site management, etc. The initial stages may be easy on the entrepreneur in terms of their capability to handle these various aspects, but with scale comes complexity and quantity that simply can't be handled by a single person.

Hiring individuals for the many functions means taking a hit on the profit margin and time. Hiring an eCommerce VA will relieve you of that problem as they are capable of managing multiple business-related functions like:
1. Market Research
You are enthusiastic about launching your eCommerce business and running it successfully. You have a general idea of what you want to sell and how much. But to match that idea with reality, you need to have raw data about your target demographic. Otherwise, it will all be for nothing as you'll not gather the market share you require.

An eCommerce virtual assistant can remove that blind spot by conducting well-thought out market research on the target market. They will identify the present purchase behaviors and predict future ones so that you can better position your brand and products to cater to it. They'll do this by gathering data from many sources, including but not limited to, social media, competitors, news, and surveys. 
2. Product Cataloging and Listing
If your eCommerce business sells products of multiple categories, then it's absolutely crucial that they are classified and cataloged in the appropriate sections. Otherwise, customers will end up on the wrong product page when they look for another. That mistake will cost you their trust and interest, ultimately stymying business growth.

eCommerce virtual assistant services will catalog your products correctly to prevent such erroneous search results. They'll categorize the available data into the appropriate sections, and see to it that the respective content is provided there. They'll even suggest newer, trendier products to be added to further boost sales.
3. Product Description Writing
Content sells is the universal truth. You need to have a robust marketing strategy to go with your top-grade products, otherwise, you won't get the conversions you are seeking. For eCommerce, product descriptions serve as the primary marketing content. They serve to inform the potential customer about the product they are viewing, so they know what they will be getting when they click on the "Buy/Purchase" button.

Hire eCommerce experts and never go wrong with your product description writings again. They will learn about the product in detail by gathering data about it from various sources and mention them on the correct product page in a clear, precise, and eloquent manner. They will also follow the best SEO practices to ensure that the content shows up at the top of search rankings, no matter the search engine or platform used.
4. Image Editing
Product images play an important role in letting the customer know what they are buying. Statistics even back that up, with 75% of customers deciding on a purchase based on the product image. Besides that, the look and feel of the website/ seller site also influences attention relativity and customer engagement. When images have such an impact on your business, you need to be on top of your photo usage game.
eCommerce VA's are skilled at image editing jobs as well and can give you attractive photo that sells products. Your seller page/website will also be adorned with the most appropriate and appealing images of your products, enticing your customers to buy them at first glance. The eCommerce VA's will perform numerous photo editing processes like light and color balancing, background removal/change, image cutouts, HDR enhancement, etc., and bring out the finest details of your products.
5. Site Technical Support
eCommerce is all about technology, and the one used for your seller page/ website will have as much of a bearing on its performance as every other assistance that an eCommerce virtual assistant provides.
The fundamental elements that they will operate on to enhance your website/page are the programming language, site hosting platform, data security, data segregation and categorization, cloud service management, etc. Technical SEO is also a part of the site tech support they provide to better boost rankings.
6. Customer Service
Customer-seller interaction is at the heart of a successful business strategy as it is fundamental to cultivating trust among them. That trust in turn leads to better traffic and conversions, further expanding brand visibility and brand value. It is imperative that an eCommerce business be quick and accurate in its responses to the feedback received by it, while being supportive and friendly at the same time.

Hire eCommerce experts for customer support and let them handle your customer's queries, doubts, reactions, reviews, comments, etc. They will be trained to deal with all sorts of customer-facing situations and will resolve every negative response with aplomb. They will be available round-the-clock to serve your customers across time-zones. They will even process the data to understand what can be done to improve the positive ratings and reviews while reducing the negatives.
7. Order Processing
The busier the eCommerce business, the more the number of orders that require processing. Products will keep flying off the virtual shelves, and some will be coming back via returns. You will need the order processing services of an eCommerce VA to manage such a chaotic situation successfully.
The VA will log all order activity for the business and generate reports on the time scale set by the owner. This helps showcase the direction the business is heading in and its present state. The information also helps develop a strategy for growth. But most of all, it prevents the error from affecting the processing due to the information overload you would experience if handled by yourself.

Besides these, you could hire eCommerce experts for data entry and management, inventory management, and as a general, personal assistant. The multi-role capability of VAs make them a truly versatile companion for every type of eCommerce entrepreneur and veteran alike. 
Elevate Your eCommerce Business Potential By Delegating Tasks To eCommerce Virtual Assistants
Outsourcing eCommerce Virtual Assistant Services For Maximum Benefits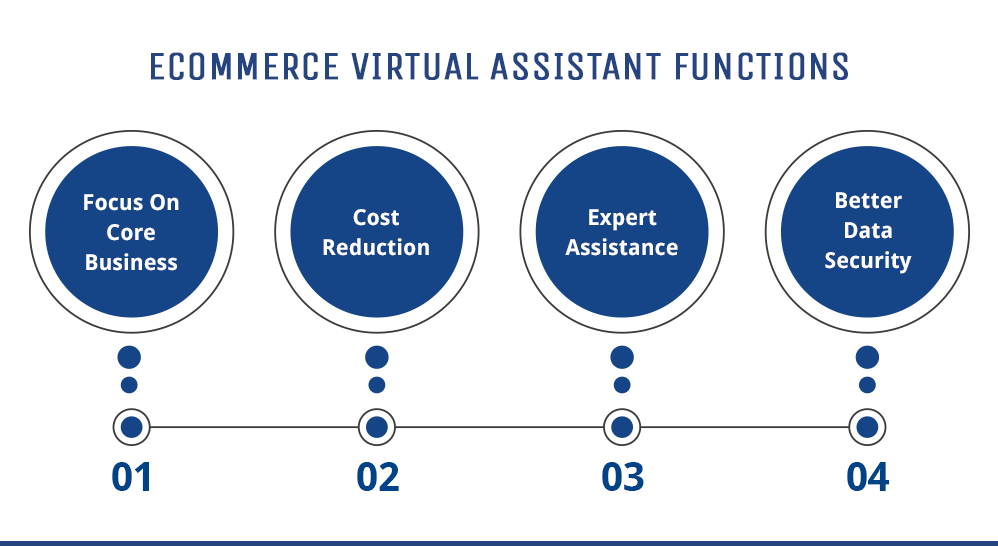 eCommerce virtual assistants just like Amazon virtual assistants are available as freelancers or can be hired from an outsourcing agency. While personal preference plays a significant role in that decision-making process, there are some undeniable benefits to taking the outsourcing route, such as:
1. Focus On Core Business
If you hire eCommerce experts of your own, they will become a part of your organization. While they may assist you with your responsibilities, they will still be under your business' umbrella.
Managing these experts will be your responsibility then, over and above the ones you already have. When you outsource their services, you only need to sign a contract with the agency you're outsourcing to. The agency will manage the minutiae of the VAs, relieving you of that responsibility and letting you focus on your core ones instead.
2. Cost Reduction
Outsourcing can give you plentiful cost reductions thanks to economies of scale. The outsourcing agency will have the infrastructure and talent in place, as well as systems to manage them efficiently due to their experience. That leads to enhanced efficiency, further reducing costs.

Thus, outsourcing eCommerce virtual assistant services will leave you with more in your pocket for investing in your business while getting benefits similar to hiring them yourself.
3. Expert Assistance
A newcomer in the field of eCommerce selling could use all the help they can get to kickstart and thrive against strong competition. eCommerce Virtual Assistants, with their proficiency in the many functions of the business, can be the ideal guide towards success. Their inputs can give you a heads up about your strategy and its intricacies, and you can use their experience to fine tune it to better suit your business objectives.
4. Better Data Security
Enterprise data is everything to a business, which is why the threat to it is increasing by the day. You must be wary about how your data is used and stored, and by whom. Data security may get left out as a priority when starting an eCommerce business, and that may continue as such too. The lax data security measures will make your enterprise data vulnerable to attacks, compromising not just your business's data but also that of your employees' and customers.

eCommerce virtual assistant services, on the other hand, know fully well about the problems caused by negligence towards data security. They therefore incorporate the best security practices from the start and deliver uncompromising data security at every step. The latest security software and protocols will be used to protect your data, so you can rest easy knowing that your data is protected well.
Outsource eCommerce Virtual Assistant requirements and you'll experience the difference of a successful business that is supported completely while you give your best at the things that matter. 
Get Expert Virtual Assistant Services For The Best Seller Experience
Multitasking when running an eCommerce business is inevitable, but it can overwhelm you such that you'll start making mistakes that could bring down your business altogether. Virtual assistant services can alleviate most of those responsibilities causing the overload, leaving you free to run your business. Reaching out to an outsourcing company for it will add the bonus of cost and other resource savings as well.

Team4eCom is an eCommerce Virtual Assistant services provider. Our expert services and customer-centric approach has propelled us into being one of the top of the industry players. We hire, train, and maintain the best personnel in the field to give our clients the best assistance possible. And we have done so for decades, bringing all those years of experience to each of our customers.

We adapt to and adopt the latest technologies and practices in the industry constantly so that you can stay ahead of the game always. Outsource eCommerce Virtual Assistant services to us and experience the boost in your eCommerce business that you deserve. We also offer a complete eCommerce data entry solution tailored to boost your Amazon seller performance.
FAQ
1. What services are offered by eCommerce Virtual Assistants?
eCommerce VAs are one of the most versatile professionals on the planet. They are capable of catering to nearly every need of an eCommerce seller. They may act as a full time personal assistant to the owner, or perform one or many of the several support functions like customer service, product listing, and description writing, image editing, data entry and management, order processing, market research, competitor analysis, etc.

2. How to hire quality eCommerce VAs?
eCommerce experts are found on many job sites and freelancing portals. But the best source of eCommerce virtual assistant is an outsourcing agency that's dedicated to providing eCommerce support services. The reason being they will know how to hire, keep, and train the best talent in the business, leaving you free to focus on your core business. They can offer cost reductions and expert assistance alongside their support functions.

3. How to get the maximum out of an eCommerce Virtual Assistant?
eCommerce VAs are professionals who know to give their best to help you stay ahead of the competition. You can continue to get the best from them by hiring from a reputed outsourcing agency, clearly stating the functions you want them to perform, conducting regular reviews of their performance, providing them with some clear information to prevent ambiguity, considering their recommendations on how best to develop a robust business strategy, and many more of such peripheral activities.

4. Are chatbots virtual assistants?

Chatbots have gained traction in the customer service space, but they are not substitutes for VAs, especially a human one. Chatbots may be considered a part of an AI VA, and may assist a human customer service agent. However, they are not a replacement for a VA as they can't handle the multitude of functions that human eCommerce VAs perform, especially when it comes to managing customer emotions.