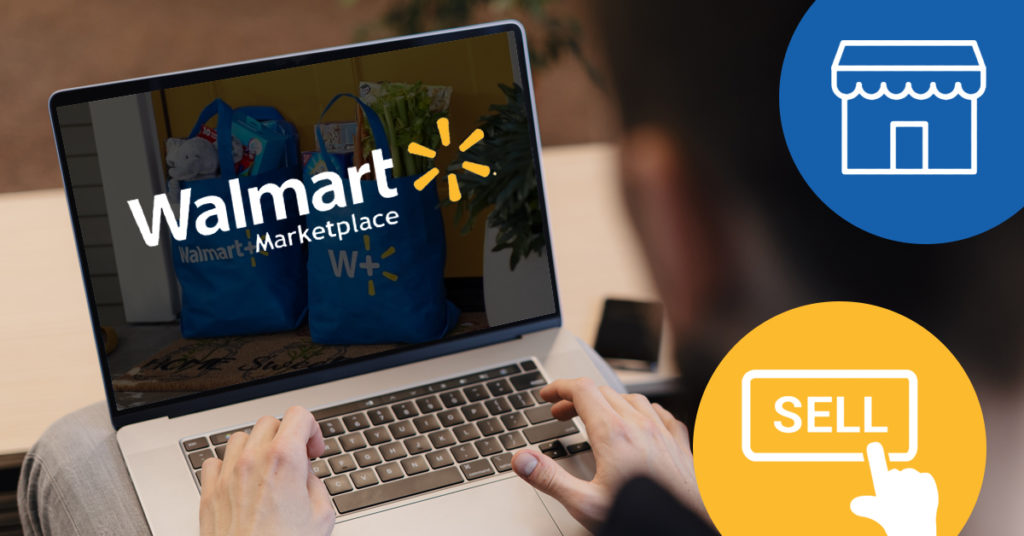 Walmart may not be the no. 1 eCommerce marketplace in the world, but it is indeed a company that has come a long way in a very short time. Similarly, selling on the Walmart marketplace will multiply your sales in a short time. As Walmart has now expanded its marketplace on an international level, you get another big reason to start selling on Walmart. Your eCommerce company's growth rate will indeed increase after this.
The basic criteria of attracting and holding back your potential buyers on Walmart are the same as for other eCommerce platforms, quality products, fast shipping, and satisfactory customer service. But, there are many things that you should be knowing about the Walmart marketplace such as how much it costs, how to get approved for selling on Walmart, and more. In this detailed Walmart marketplace seller guide, we will answer all the answers to your questions to help you sell on Walmart more than your competitors.
Table of contents

Learn How You Can Access & Use Your Walmart Seller Center?
In the complete process of signing up with a Walmart seller center account, you will be required only 10 to 15 minutes.

Go through the steps mentioned below and implement the same log-in to your Walmart account successfully. Post this, you can easily start selling your products on Walmart.com.

Note: To get approved to sell on Walmart, one needs to be ready with the following documents while filling the application form.
Official Name
Permanent Address of home.
Address of your US eCommerce business.
US Business Tax ID.
Letter of EIN Verification.
Product details including categories, sub-categories, usage, catalog size, and more.
Once the documents are ready, implement the following steps and log into your Walmart account.

Step 1: Visit the official website of Walmart that is www.walmart.com
Step 2: Navigate towards the upper-right corner of the screen and click on the three horizontal lines
Step 3: Scroll down the options and click on the 'Request to sell'
Step 4: On a new page, click on the 'Start Application' and redirect to the 'Company Registration' page
Step 5: Enter the 'First Name', 'Last Name', 'Email Address', and other required details then hit the Next button.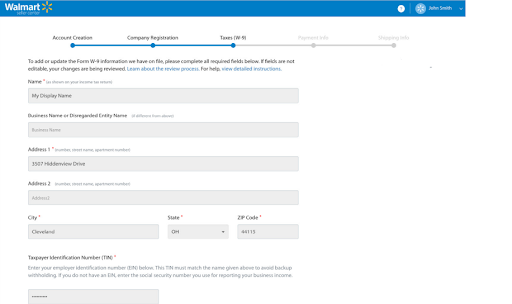 Step 6: Afterwards, you will be taken to the next page that is 'Product and Integration'
Step 7: This section is for those who want to deal with the international marketplace. Confirm whether you want to transport or deliver your goods to another country or not
Step 8: Now, select the product categories and the rest of the information asked on the page then, click on the Next button at the bottom of the page.
Step 9: In the third phase, you will have to fill out the Payment Info and then click on the 'Continue to the Next step'.
Step 10: You will be taken to the fourth phase of the process i.e Shipping Operations. On this page, you will have to select a Method of Shipping that you have been using or want to use to deliver your products to the customer's desired address.
Step 11: Now, this step will decide whether you are eligible for selling on the Walmart marketplace or not. So, navigate towards the 'Why would you be a good fit for the Walmart Marketplace?' question and answer it carefully.
Step 12: Then, arrive on the 'Shipping Info' page, select shipping method and regions. Refer to the following image.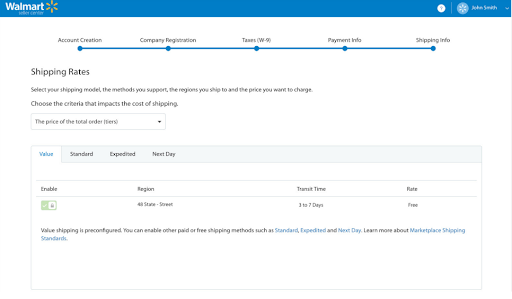 Step 13: Once the Shipping Info: Transit and Time Zones have been selected, click on the 'Review' button and verify whether all the entered details are correct or not.
Step 14: At last, click on the 'Submit Form' and you will receive a notification of a successful attempt.
After you end up signing up for selling on the Walmart marketplace, wait a few times to hear from them.
Let Us Help You Create Your Walmart Seller Account & Start Selling Today!
How to Create a Seller Account on the Walmart Marketplace?

Before you start selling on Walmart, ensure that your products are trendy and top-selling in the marketplace and you are keeping the price lower than your competitor. After requesting for selling on the Walmart marketplace, you will now have to create a seller account.

Follow the six enlisted steps to create a Walmart seller account and become a seller in no time.

Step 1: Open the email message that you have received from the Walmart marketplace and visit the account creation page by clicking on the mentioned link.
Step 2: On the new webpage, hit the 'Register as a Seller' tab and get driven to the Account Creation – Seller Center Registration' page.
Step 3: Here, confirm your email address and set a password that you will use for future logins.
Step 4: Select a strong 'Security Question' and answer the same.
Step 5: Now, 'Retailer Agreement' will appear on your screen, go through it once then click on the 'Submit and Continue' then, hit the 'Create Account'.
Step 6: You will be directed to the 'Company Registration' page, here providing the business information of your business managers, executives, customer service providers, and clerks
Step 7: Here, you will have to enter the additional tax details in the blank space and click on the 'Continue button'.
Step 8: Then, hit the 'Activate' button when the verification is received in your email ID or another contact, click on the 'Continue to the next step'.
Step 9: At the end select the 'Shipping Info' and complete your account creation process.
After a few days, you will receive an email confirmation from Walmart Marketplace regarding the approval of your account. Wondering how to get approved to sell on the Walmart marketplace? Well, then check the best practices or stepwise preparation of getting approved!

Get Approved for Selling on the Walmart Marketplace

Walmart marketplace is no less than an eCommerce paradise but to compete with about 8000 sellers or even more, you need to prove yourself better than others and get approved at the very first request.

Let's learn how to get approved to sell on Walmart.

Follow the seven steps mentioned below and get the approval for selling on the Walmart marketplace in no time.

1. Establish an eCommerce business on other sites as well

Unlike other eCommerce platforms, Walmart does not mind you selling on other eCommerce platforms such as Amazon, eBay, and more. In fact, in the process to create a Walmart seller account, they ask for experience selling products online.

On the Market Application of Walmart, there is a column of 'eCommerce and Marketplace Experience'. There you will have to select the web stores you have been selling your products on. You will also be required to fill out other important information about your eCommerce business such as Business tax information, Social security number, Business address, and Annual online revenue.

Once you are ready with the aforementioned and other required information to create a Walmart seller account, proceed to the next important step.

2. Show you are capable of fulfilling all the customer service requirements

While selling products online, no matter on whichever platform it is, keeping your customers happy and satisfied is the only thing you should swear by. There are certain parameters that Walmart will use to measure how satisfying customer service you can provide. Below are some of the requirements you need to fulfill for selling on the Walmart marketplace:

Provide customer support in multiple languages and firstly in English. Also, provide the option to send voicemail in case the customers cannot reach you.
Provide them an instant response to their doubts and queries. Try to write back to them within 48 hours.
Create professional space for customer service. Do not provide personal contact numbers, email addresses, or addresses. It's against Walmart's selling policies.
There are some questions you will be asked regarding the customer service representative's availability.

3. Sell valid products
On Walmart, a seller can get approved to sell on Walmart and keep surviving only by selling trendy and useful products. Walmart does not deal with the sellers who sell underperforming items. If a seller's entire product catalog has a lower ability to increase sales, then Walmart will better remove it. So, before launching your products on the Walmart marketplace, ask yourself the following questions:
Are customers interested in my items or is my product line just going to be taken down?
Do I have unique products to sell on Amazon?
Are the costs of my items better and cheaper than other sellers on Walmart?
Make sure all the answers to the above-mentioned questions are 'Yes' so that you can finally get approved for selling on the Walmart marketplace. If any of the answers are 'No' switch your products that Walmart needs you to sell.

After you create a Walmart seller account, make sure the below-mentioned products are not part of your eCommerce business. These products are not allowed to sell at Walmart Marketplace and hence, your seller account can be suspended from selling them.

Baby products.
Dietary supplements.
Food products.
Alcohol.
Autographs and collectibles.
Hazardous items.
Digital Goods.
Currency and precious metals.
Motor Vehicles.
Funeral products.
Drugs Paraphernalia.
Electronics.
Plants.
Recalled products.
Halloween items.
Tobacco products.
Weapons such as knives and firearm accessories.
There are more products listed in the prohibited items and additionally restricted products.
Some of them are offensive and some of them are just not valid, if you wish to sell any one of these products you need to take pre-approval for the same. Moreover, it's always better to sell legitimate products. Once you are ready with products, learn how to sell on the Walmart marketplace.
4. Offer customer-friendly prices

Earlier the tagline of the Walmart marketplace was Always low prices and after 19 years of the eCommerce platform, the tagline changed into Save Money, Live Better. So, it's clear that Walmart's first priority is customers and second is its sellers. So, as a seller, you should keep this in mind that you are here to make the customers' life better by selling good products at fair prices.

Below, we have mentioned how you can set the pricing of your products while selling on the Walmart marketplace.

Don't keep much difference in the price of a product selling on Walmart comparatively on Amazon or eBay. Walmart anyway performs competitive price analysis to check if you are selling a product at a fair price or not.
If you are selling a product at a 25% higher price than your competitors then Walmart may consider your price listing too high and stop you from selling it.
You should be trying to sell used, renewed, or old products as new.
Keep your price listing closer to the competitors, even cheaper if you want to sell more than them.
Once the aforementioned requirements are cleared from your end, you should be ready with your inventory for selling on the Walmart marketplace.
Unable to Get your Walmart Marketplace Account Approved?
How much time does it take to get approved to sell on Walmart?

To start selling on the Walmart marketplace, you need to send an application. After sending an application, Walmart is going to review and approve it soon. The status of your request will be released within 2 to 4 weeks. You may also get quite a few verification calls from Walmart and the representatives may seek additional information regarding your application
Moreover, you should patiently wait for the time to hear from Walmart's representatives. Avoid calling them multiple times to know the status of your application.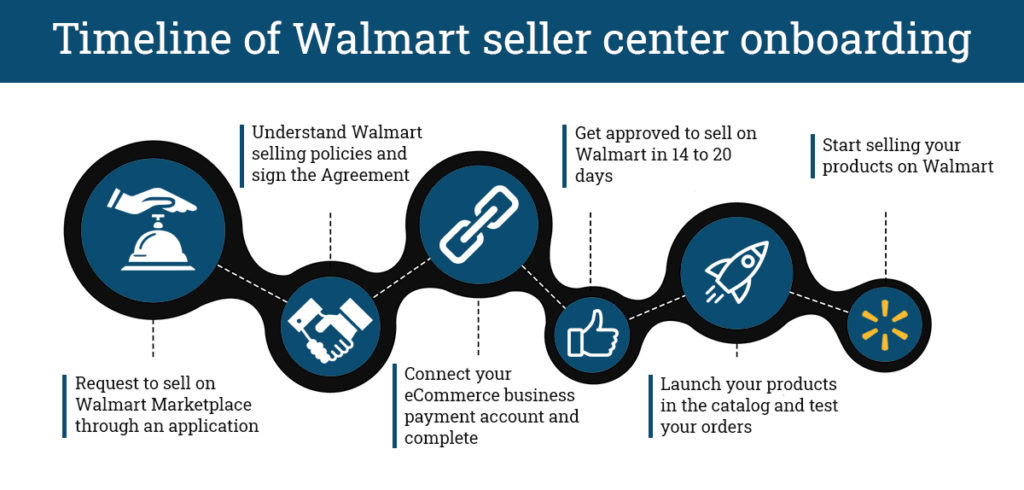 What is the cost of selling on the Walmart marketplace?

Many of you must be thinking selling on the Walmart marketplace costs you an arm. But, not really! Although you indeed need to pay a referral fee as per Walmart selling policies still, the amount is very fair. Not all the products have the same referral fees, the amount depends on the different types of products you are selling on Walmart. Walmart has set the referral fee as per the product categories, the same is tabulated below.

Go through the same and find how much you need to pay as per your product category:
Products
Walmart's fee percentage
Apparel & Accessories
15%
Phone
8% of your item costs less than or equal to $10
15% of your item costs more than $10
Consumer Electronics
8%
Sporting Goods
15%
Luggage & Travel Accessories
15%
Home & Garden
15%
Electronics Accessories
15% of your item costs less than or equal to $100
8% of your item costs more than $100
Camera & Photo
8%
Baby products
8% of your item costs less than or equal to $10
15%if your item costs more than $10
Health & Personal Care
8% of your item costs less than or equal to $10
15% of your item costs more than $10
Industrial & Scientific
12%
Automotive & Powersports
12%
Major Appliances
8%
Books
15%
Musical Instruments
12%
Shoes, Handbags & Sunglasses
15%
Grocery
8% of your item costs less than or equal to $10
15% of your item costs more than $10
Plumbing Heating Cooling & Ventilation
10%
Personal Computers
6%
Tools & Home Improvement
15%
Kitchen
15%
Software & Computer Video Games
15%
Music
15%
Jewelry
20% of your item costs less than or equal to $250
5% of your item is more than $250
Video Game Consoles
8%
Cell Phones
8%
Outdoors
15%
Pet Supplies
15%
Toys & Games
15%
Watches
15% of your item costs less than or equal to $1,500
3% of your item costs more than $1,500
Video & DVD
15%
Furniture & Decor
15%
Gourmet Food
15%
Tires & Wheels
10%
Video Games
15%
Office Products
15%
Everything else
15%
So, this is the cost to sell on Walmart Marketplace as per your concerned product category. By now, you must have learned how to sell on the Walmart marketplace. Moreover, there are more important factors that you should take care of while selling your products at Walmart. Let's learn what they are from the next section.

Best Practices for selling on the Walmart marketplace

The growth of your Walmart store is dependent on how your store appears in the front-end. Go through the best practices we have mentioned below and get the answer of how to sell on the Walmart marketplace.

1. Create a clear and concise product listing

As per Walmart selling policies, product listing includes title, description, price, and images. One can use 50 to 75 characters to write a product title and 1000 to 4000 characters can be used in writing a product description. Improving the product description writing is another way for selling on the Walmart marketplace better. Keep the enlisted things in mind while writing a product title and its description.

Incorporate a highly ranked keyword in the tile.
Keep the title concise and clear.
Include the brand name, the capacity of the product, product size, and benefits in the description.
Give your product a unique name.
Use bullet points in the product description to engage customers.
Upload multiple product images to convey all the aspects of products.
Note: To improve the customer's shopping experience and your product value, follow the requirements and guidelines set by Walmart for product listing images and then upload images.

To keep up with the aforementioned things, you may consider availing of Walmart listing services from experts. Experts will do thorough research before writing product details so that customers find your product whenever they are looking for it
2. Provide fast and free shipping

When you become a vendor or a seller on the Walmart marketplace, you work as a third party. Hence, the matter of shipment and return is your responsibility. Follow the enlisted tips and learn how to sell on the Walmart marketplace better by improving customer experience.

Create easy and quick return policies.
Provide access to the customers to track shipment details.
Provide free shipping for delivering products within two-day shipping.
Offer more than two shipping options.
Solve complications that customers are facing on prior notice.
Provide multiple channels for customers to connect with you.
Handling one-to-one customer relation is not easy with looking after a big eCommerce business on Walmart. Hence, hire Walmart customer service providers and offer end-to-end satisfied customer services to retain them. This will also help you in handling customers and selling on the Walmart marketplace easily.

3. Walmart marketplace management

Walmart is developing day by day. Earlier it used to allow only US vendors to sell their products on its marketplace but, now it is expanded for the international sellers. Hence, the competition has increased. Learn how to sell on the Walmart marketplace better by maintaining your store's standards.
Perform product listing quality check and optimize the listing for better visibility.
Perform competitor and Walmart market analysis to offer better deals than your competitors.
Perform customer review analysis and resolve the negative reviews.
Manage Walmart store inventory including packaging and shipping.
These best practices will assist you in selling on the Walmart marketplace better and at last, you will see the larger crowd on your online store, attain more new customers and your brand impression will be increased in the entire marketplace. To make it happen, avail Walmart marketplace management services and watch yourself meeting the goals like never before.
Let Our Experts Manage Your Walmart Account & Increase Your Sales!
Conclusion

Walmart marketplace is an eCommerce platform that offers many perks and benefits with a very minimum investment. Another reason why you should learn how to sell on the Walmart marketplace is you will get very little competition. The less competition you get on the market, the more you will be able to sell. Hence, for becoming a Walmart seller all you need is to register and apply. We hope this guide helped you to learn how to apply and how to get approved to sell at Walmart. Implement the best practices as mentioned in the blog and we are sure that you will meet your business goals in no time. If you are looking for any further information regarding how to set up a Walmart store, connect with us via email. Write to us at info@team4ecom and hear from us at our earliest convenience.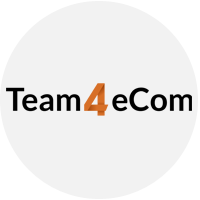 Brought to you by the Marketing & Communications Team at Team4eCom. Stay updated with the latest trends in eCommerce Product Data Management & Support Services along with informed articles, opinions, and interesting bits on the same.