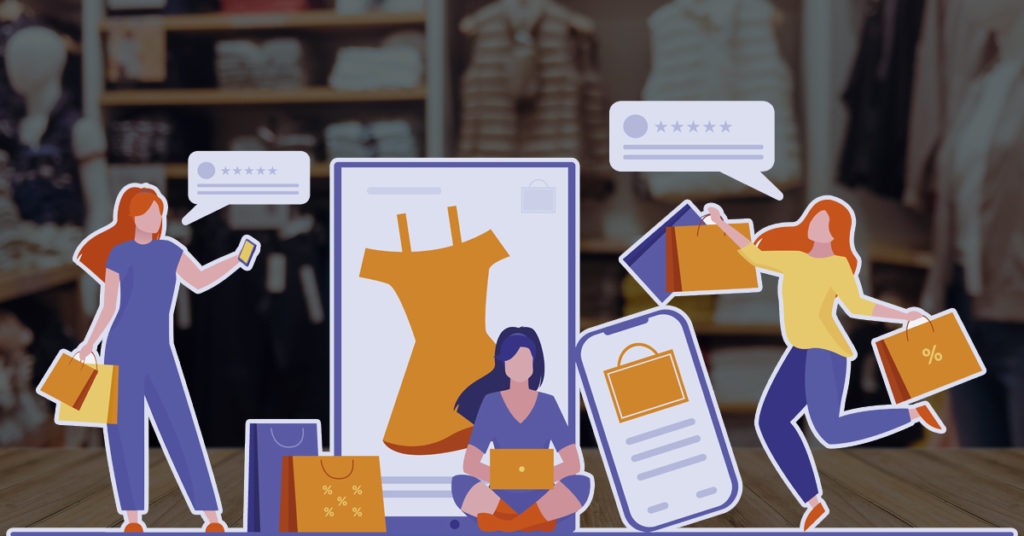 The last few years have witnessed a substantial shift from in-store shopping to online store shopping. What we mean is, eCommerce has become a consequential part of the global retail framework. Thanks to the ongoing digitization and advent of the internet, the retail industry has undergone a significant evolution where consumers, around the globe, benefit from the perks of online shopping.

The pandemic has further added fuel to the fire by pushing businesses to go digital and consumers to buy digitally. Estimations show that businesses will completely switch over to online stores in the next 20 years. Don't just take our word for it, have a look at the stats below, and see what we mean.

Well, it wouldn't be wrong to say that eCommerce is the future, and having an online presence isn't optional anymore but essential.

However, nothing comes without its set of challenges and so does eCommerce – with catalog management topping the list.

Any business, who sells online, must deal with eCommerce product data. Keep the product data updated at all times – catalogs could vary from hundreds to thousands of products (SKUs) – depending upon your business size.
Facilitate consistent, efficient catalog management and processing system to avoid incomplete information, poorly-managed listings, never returning customers, and low conversion rates.
Identify, pack and ship every product as soon as possible while taking care of any customizations or special demands made by the buyer.
Manage multiple sales channels and marketplaces.
Besides these, eCommerce catalog management involves a set of challenges that must be resolved and addressed for seamless business functioning.

In this blog, we will not only get you acquainted with the common challenges of catalog processing and management but address them. However, before getting down to it, let's discuss what eCommerce catalog management is and why it is important.

eCommerce Catalog Management: Introduction and Importance

In layman's language, an eCommerce product catalog resembles a marketing copy that lists a product's essential details to educate buyers and help them make a purchase decision. This includes:

Title
Category/Group
Dimensions
Images
Brand Name
Quantity
Price
Material
Description
Reviews and more.
Providing complete, reliable, and relevant product information engages customers and entices them to buy from your brand while optimizing their shopping experience. Excellent catalog management also results in:

Enhanced customer satisfaction since they can easily search the products they are willing to buy with adequate product information. This can also help you with product recommendations.
Higher rankings as well-optimized catalogs help search engines in navigating your site as well as products. More potential buyers can locate you this way.
Better product suggestions for cross-selling and upselling.
Accurate financial reporting including better inventory management, brand communication, and timely stock ordering.
Attain desired business growth, outsell the products, improve revenue generation and gain loyal customers.
Enhanced brand recognition and reputation.
However, to gain such benefits, you must overcome certain obstacles in the form of challenges.

Maintaining and managing the product catalog isn't a cakewalk. eCommerce businesses face challenges while feeding their product catalog with new items, perhaps the reason why more and more businesses, now, opt for eCommerce catalog management services.

Let's discuss some common eCommerce catalog management challenges faced by every online merchant.

Common eCommerce Product Catalog Management Challenges

1. Updating Products Constantly
Trends change every minute, every hour, every day, thanks to the fast-paced retail industry. This, in turn, impacts buyers' demands and ultimately requires businesses to update their eCommerce product data.
Depending on the products you sell, you must constantly update SKUs for various reasons including changes in prices, adding new products as per changing demands, or new launches among others. However, this can be cumbersome and time-consuming. You have got to fine-tune your products now and then to list them carefully, without any scope for errors. This, in turn, leaves you with less time to focus on other productive tasks such as marketing, sales, or customer support.

2. Multiple Channels Selling
To gain a competitive advantage, eCommerce businesses have to sell across multiple channels. While this helps them in serving better, it also means listing products simultaneously on different platforms. Whether it is Amazon, eBay, or any other platform, each has its own algorithms and regulations for product listing.
Your listings should not only be tailored as per the channel's norms but include accurate, updated product information to customers for maximum gains and zero losses. Unfortunately, most merchants struggle with creating relevant listings and end up incurring huge losses including lower conversion rates, slower time-to-market, or never-returning customers.

3. Supplier Data

Yet another common eCommerce catalog management challenge is dealing with supplier data. Merchants are often handed over incomplete or inaccurate product data by suppliers. From missing product attributes to spelling errors to the wrong format, the product data can have several inconsistencies. For instance, you might spell the color black as "BLK", but the supplier might spell it as "BLCK".
Since suppliers do not deal with consumers directly, it is your responsibility to provide appropriate, accurate product descriptions to your customers. These inconsistencies must be fixed before your listing goes on your website, which eats up a lot of time and slows down the entire selling process.

4. Maintaining Data Consistency

No wonder, your eCommerce product data must be updated at all times. In other words, it's essentially important to maintain data consistency across your site or any other channels you are selling on. Errors such as wrongly spelled words, inadequate information, data discrepancies or missing attributes, etc. are bound to happen due to manual intervention involved in the eCommerce cataloging process. In order to deliver a pleasant shopping experience to the buyers, your product listing must be rich and consistent.
Also, elements such as discounts, payment options, or delivery are defined differently across different channels, which is why standardization and data quality are quintessential and challenging at the same time. Whether you are managing large amounts of SKUs in Excel or your eCommerce platform, it can be overwhelming to establish and maintain consistency at all times.

5. Improper Customisation

Needless to say, different audiences have different requirements and businesses must fulfill them to succeed. For instance, you might have to customize your catalog demographically or region-wise. At the same time, you want to help your customers in making quick buying decisions while delivering a seamless shopping experience. This means your content won't be relevant forever, and you must customize your catalog frequently for it to stay relevant. In addition to this, catalog management should be flexible enough to immediately consider any changes in the layout of industry standards.
However, the process of customizing, redesigning, or content creation is neither hassle-free nor easy. It requires both time and skills, which makes it challenging for merchants and increases the chances of manual errors. It becomes even more tedious when you don't have any automated tools handy to enhance the catalog management workflow.

Addressing the Problem:

How to Improve your eCommerce Catalog Management?
The above-mentioned challenges clearly signify that catalog management is a tricky job. Not only does it pose serious threats, if mishandled, but can make or break your business. The real question is: how to overcome these challenges and improvise the process catalog management? While small-scale businesses might simply use Excel, this isn't a reliable solution when you have larger catalogs. Further, it also relies on human input, thus increasing the chances of errors.

Now, before you find yourself surrounded by tonnes of questions, let's jump straight to the solution.

1. Hire In-House Team
One way to manage your catalog well while overcoming the challenges is to hire skilled resources. You can look for eCommerce catalog specialists with appropriate skills, relevant experience, and well-acquainted with the latest tools or techniques. However, hiring requires a considerable amount of time, effort, and money, so it's up to you to decide whether it's worth it.

2. ERP Platforms
Several eCommerce platforms offer SKU management including ERP or enterprise resource planning (ERP) platforms. Popular among larger companies, they work closely with your financial reporting sector to handle inventory management, price changes, or publishing to new markets to give your growth and standing.

3. Invest in a PIM
Yet another solution is to invest in a PIM (product information management) platform. It streamlines the entire process of uploading, standardizing, and publishing data to multiple sales channels. Nevertheless, this can be an expensive option for enterprises so think wisely.

4. Outsource Catalog Processing Services to Experts
Partner with a third-party catalog management services provider with relevant experience, and skillset. Catalog management outsourcing helps you create a centralized product data warehouse where eCommerce product data is standardized with fixed product attributes. Experts work as an extension to your in-house team while helping you gather data from credible resources and updating relevant fields. Further, you get best-in-class services at minimal prices and effort.
Final Takeaway
The changing landscape of eCommerce requires retailers, merchants, and other business owners to tighten their seatbelts and take on the ride to catalog management. Keeping your catalog updated across multiple sales channels is critical to enhanced growth, high revenue, satisfied customers, and better conversion rates.
Let our seasoned eCommerce catalog management team assist you with top-notch catalog processing solutions. Get in touch with us at info@team4ecom.com to get started.