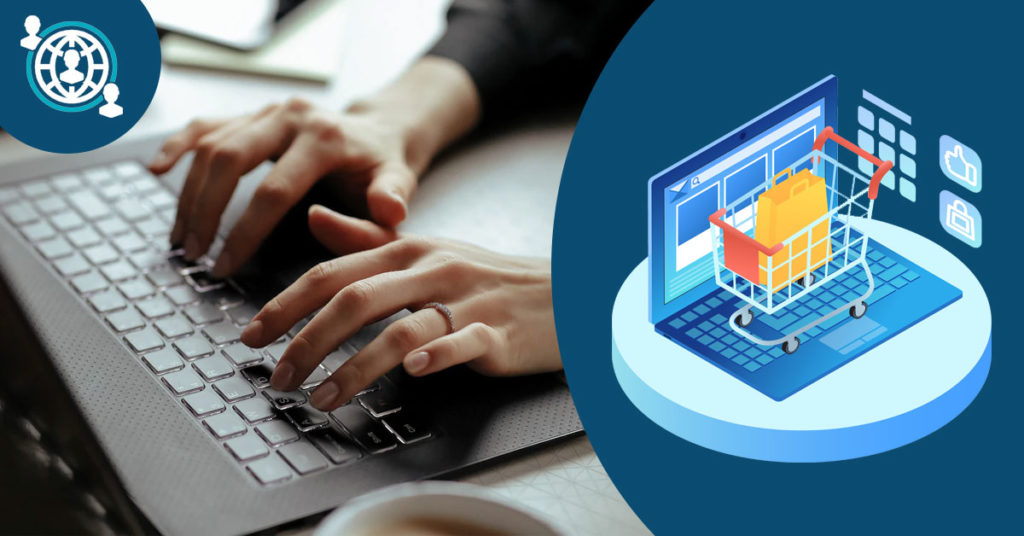 Effective data management is a critical market differentiator for eCommerce businesses. With reliable data & strategic implementation, you can-
Increase listing visibility
Recognize customer behavior
Acquire meaningful insights
Gain a competitive advantage
Maximize eStore ROI
Ideally, every eCommerce business should have a system to record, update, manage, and protect their data. But, doing so calls for many complex and time-consuming tasks. That includes bulk product upload, accurate data entry, product description writing, inventory management, categorization, cataloging, SEO, up-selling and cross-selling, etc.
The prime purpose of outsourcing eCommerce data entry services is the time-effective management of all these activities.
Let's discuss the benefits of outsourcing data entry services and the best way to select and hire eCommerce data entry service providers.
Why Opt For An eCommerce Data Entry Outsourcing Partner?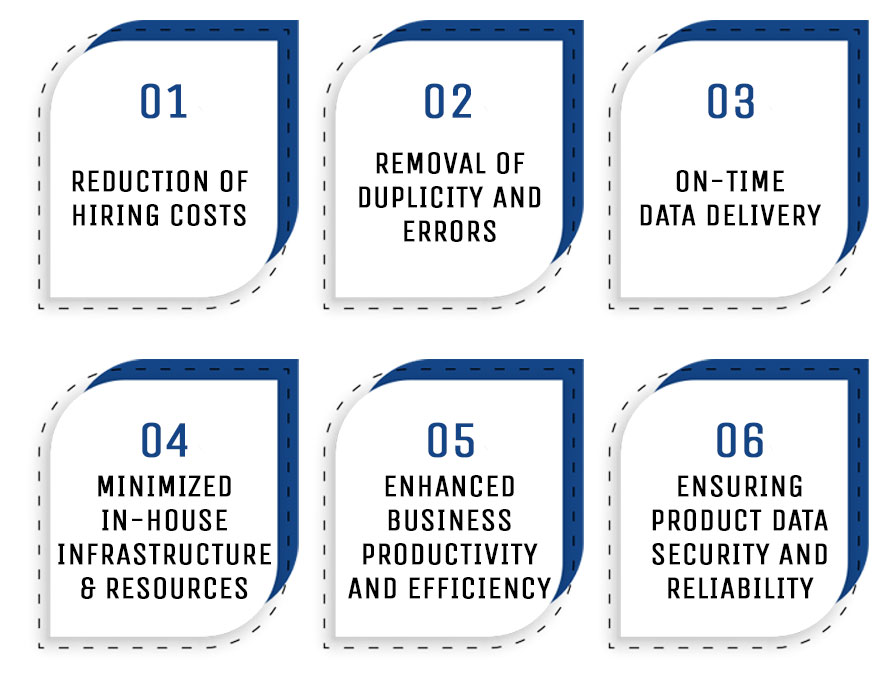 There are several reasons to choose a remote/offshore partner for outsourcing data entry services.
They allow you to focus on the core business activities. Simultaneously, they also propel eStore growth, minimize errors, and reduce operational costs. By outsourcing data entry services, you can focus on your core competencies and manage other in-house requirements with excellent efficacy and ease.
Here are some of the major benefits of outsourcing eCommerce data entry services to an experienced partner:
Reduction of hiring costs
Since you don't need to hire in-house staff, you can save a lot of money by outsourcing your data entry needs to well-trained and specialized eCommerce data entry experts.
Removal of duplicity and errors
eCommerce data entry executives are trained to proofread the content and product listings very carefully and remove any mistakes or duplicity associated with the content, ensuring high-quality data for all your listings.
On-time data delivery
One of the biggest advantages of outsourcing eCommerce data entry services is on-time data delivery. The data is finalized within the stipulated time, increasing business efficiency and helping streamline further processes.
Minimized in-house infrastructure & resources
There are many real and hidden costs involved with hiring in-house eCommerce data entry specialists. This includes salaries, insurance benefits, training costs, office and infrastructure costs, and more. All this is eliminated thanks to outsourcing.
Enhanced business productivity and efficiency
Expert eCommerce data entry service providers ensure that your business productivity is high and your efficiency only increases with time. If the data is entered correctly, you can utilize it in multiple ways (designing customer journeys, promoting products, targeting audiences, etc.), and your sales will go up.
Ensuring product data security and reliability
eCommerce data entry companies provide data security and minimize the chances of data loss, leakage, or tampering. However, it is always advisable to sign a Non-Disclosure Agreement (NDA) with the company handling your eCommerce data.
Not yet on top of your eCommerce data game? Get expert help;
How To Pick A Befitting Offshore eCommerce Data Entry Company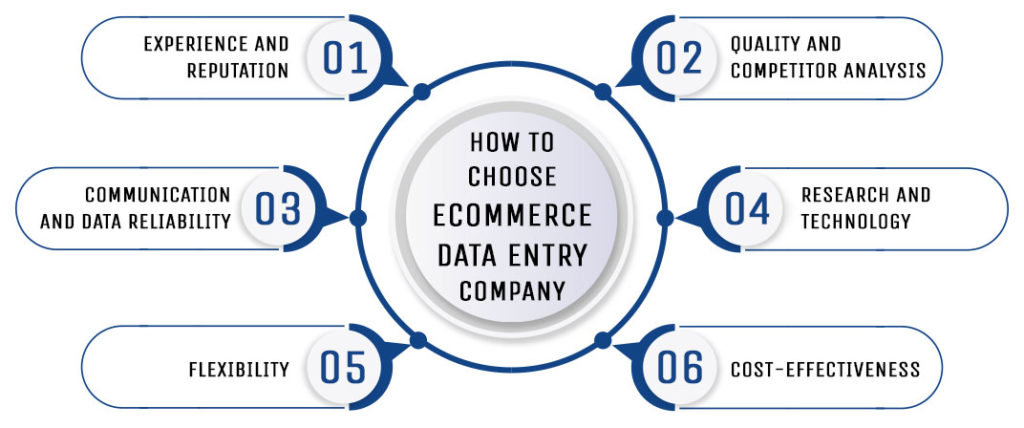 Now that you know the various benefits of outsourcing, let's move on to the next subject.
How to select an eCommerce data entry company to carry out data entry for your online business.
Here's what you need to look for.
Experience and reputation
Select a renowned eCommerce data entry service provider with experience and credibility. Review their clientele, backing, portfolio, and market reputation.
Quality and competitor analysis
You must ensure that the chosen service provider can analyze the competition and execute product data entry across all your eCommerce ventures with high-quality outcomes. Conduct a sample project to verify this aspect.
Communication and data reliability
The communication between your business and an eCommerce data entry company must be seamless and transparent. Validate communication channels, like phone, messaging, video conferencing, or emails. Also, make sure the offshore partner you choose abides by the NDA (Non-Disclosure Agreement) to ensure the safety of your data.
Research and technology
Make sure that the eCommerce data entry company you choose uses an up-to-date technology infrastructure, has access to high-speed internet, owns backup options, and can ensure appropriate data security measures.
Flexibility
When outsourcing eCommerce data entry services, look for flexibility in terms of pricing (prefer companies offering customized packages), communication, timelines, and course correction (changing strategies as per results or updates).
Cost-effectiveness
Money is a significant factor when choosing a third-party vendor for any task. You should compare the pricing of an eCommerce data entry company with its competitors and your in-house expenses for the same activity. Factor in multiple pricing aspects and choose the most cost-effective package.
Points To Be Kept In Mind Before Outsourcing
How do you choose the best eCommerce data entry service provider among so many options?
Just keep the following points in mind, and you shall sail through your outsourcing journey:
Study their data security approach
Review the vendor's market reputation in terms of data security policies and client confidentiality. Make sure they offer an NDA and adhere to the latest data compliances and protection measures.
Go for the outsourcing company that offers complete data security and takes care of all the maintenance costs as well.
Schedule virtual interviews with eCommerce data entry experts.
If the outsourcing partner you intend to hire is backed by a professional team of well-qualified, experienced data entry experts rendering high-quality, accurate, and reliable data entry, then you should definitely go for them.
To verify that, conduct virtual interviews and test their skills.
Sample eCommerce data entry work matters
Another thing you must consider before finalizing your outsourcing partner is their process and quality. You can ask them to share their best sample work or quotation. Furthermore, review it thoroughly and only seal a deal with them if you are satisfied with the sample job.
What Tasks To Expect From Your eCommerce Data Entry Outsourcing Partner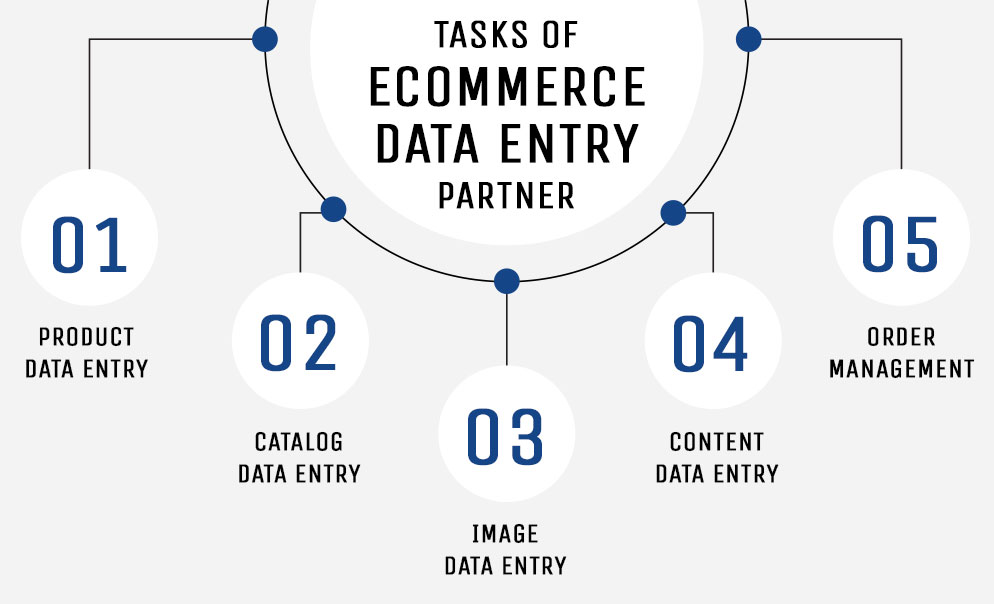 There is an array of tasks to be outsourced as part of eCommerce data entry services. They include the following, among others.
1. Product Data Entry
It includes adding and updating SKU codes, product prices, classification, shipping dates, product specifications, and so on.
2. Catalog Data Entry
It involves making the listings easier to discover through appropriate product categorization and subcategorization to simplify a customer's browsing experience.
3. Image Data Entry
It includes adding well-optimized images of high resolution to the listing. The vendor should edit product images with proper image data tagging to enable a quick and accurate appearance in search results.
4. Content Data Entry
It includes adding keyword-rich product titles, concise product descriptions, search-oriented metadata, and relevant keywords to a listing for better visibility. The intent is to describe the products, benefits, and usage clearly.
5. Order Management
It involves taking care of the entire order and fulfillment process, plus managing the end-to-end delivery process from ordering to completion.
Final Words
When it comes to outsourcing eCommerce data entry services, efficient, timely, and budget-friendly product data management is all that matters!
By outsourcing, you can better connect with the relevant buyers, reach out to a broader customer base, and simultaneously save your time, money, and effort.
We Can Help!
Team4eCom is is your go-to eCommerce solutions provider, offering tailored solutions and end-to-end support to meet unique business needs. Drawing on 20+ years of experience- with 1000+ satisfied clients across 30+ countries -we are committed to delivering fast and efficient results. Contact us at info@team4ecom.com to take your eCommerce business to the next level.

Pro Tips: How To Keep Up With Your Designated Project Manager
Use cloud-based tools to track your outsourcing partner and monitor their records.
Request progress reports at frequent intervals.
Ensure transparency and accountability through regular interaction.
FAQs:
1. How can outsourcing eCommerce data entry services benefit my business?
Outsourcing helps businesses get expert assistance from experienced professionals, high-quality results, timely delivery, data security, accuracy, & reliability, technical expertise, and support at reasonable prices.
2. How can I search for eCommerce data entry services companies?
You can look for decent eCommerce data entry companies using online and offline methods. Search Google, local directories, online directories (for example – Yelp), social media (Facebook, Instagram, etc.), and video portals (such as YouTube). Study the reviews and ratings of all the companies, and contact multiple companies to get an idea of the market before finalizing.
3. How is Team4eCom better than other eCommerce data entry companies?
Team4eCom is a renowned and established eCommerce data entry company with 1000+ clients, operating in 30+ countries. The company offers high-quality eCommerce data entry services with flexible engagement models and scalable resources. At Team4eCom, you can also get assured process transparency, data security guarantee, 24*7 support, and 360-degree data entry services.