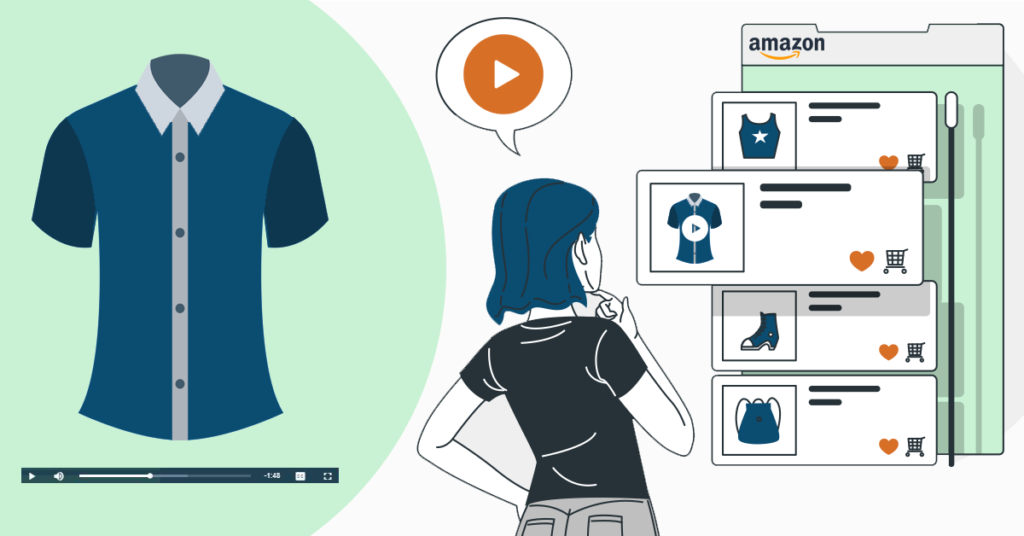 Summary
Amazon product videos can prove to be great marketing tools. Here's how you can upload videos to Amazon and increase listing engagement, traffic, and conversions.
Videos have always been a critical part of SEO strategies. However, their efficacy multiplies on Amazon, posing enormous potential benefits for a seller.
62% of marketers link videos to higher engagement rates. 
92% of marketers have reported a positive impact of videos on product understanding 
81% of marketers connect videos to improving sales. 
Undoubtedly, an Amazon product video is a great resource. You need to know the best ways to implement it for better outcomes. We are about to tell you how to upload videos to Amazon listings, critical Amazon product video format, guidelines, types, and tricks.
What are Amazon Product Videos?
Just like images, Amazon product videos are a listing element. They add another dimension to the listing, allow sellers to highlight the product's best features, and create an engaging experience for buyers.
A piece of text that takes a few minutes to read can be expressed in seconds using videos. They also help the user visualize and create a better first impression.
Adding videos to Amazon listings can help you boost visibility, traffic, and conversions.
Why Upload Videos To Amazon Listings?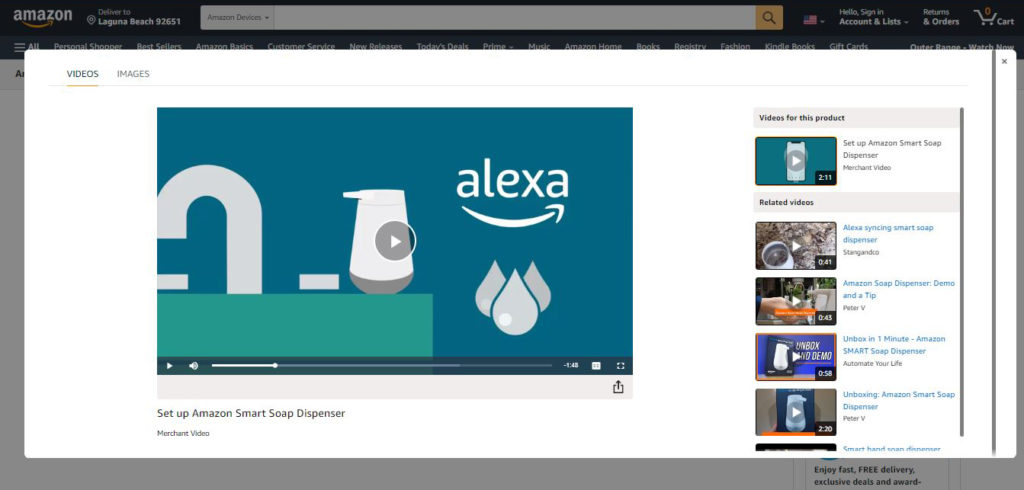 Videos create more avenues of engagement. They showcase a product in the most detailed way possible and quickly attract a user's attention.
Here are some of the significant benefits of Amazon product videos.
1. Show your product from all angles.
The product can be shown from all angles at once.
For example, if you are selling a computer table, you can show the front, back, and top view, drawers, height, and width ratio (by comparing the table to another object), etc., in a single video.
It helps solve most buyer queries immediately and increase the chances of conversion.
2. Explain product usage.
A product's usage can be easily explained using Amazon product videos.
For example, if you are selling a printer, you can create a how-to video and explain the mechanics of the machine, i.e., how to switch it on and off, add paper, print, change cartridges, scan, and make copies, etc.
3. Increase the shareability of your Amazon product links.
Videos help the shareability aspect of Amazon products. A good, meaningful video stays with a viewer for a long time. It helps buyers make informed decisions. Also, when users benefit from a product video, they are likely to share it with an interested acquaintance.
Indirectly, that process will bring traffic (and likely, good leads) to your listing.
Struggling to create awesome Amazon product videos?
Common Amazon Video Guidelines
You can find Amazon video requirements on the community guidelines page of the website.
We suggest reading the entire page carefully. We are simply highlighting some critical Amazon video guidelines that you must not miss.
Don't use offensive or objectionable content.
Avoid ambiguity or video plagiarism.
Use region-specific language.
Avoid unnecessary codes or scripting.
Use Amazon's Browse Tree Guide (BTG) to add appropriate categories for listings.
Some other guidelines for uploading videos to Amazon-
You can add a maximum of six videos per listing (if you add only six images)
Keep your videos short (ideally, less than a minute)
Do not add CTAs, URLs, or web links of any other source in the videos
Avoid misleading information.
The maximum size of a video file can be 5 GB.
Currently, Amazon accepts .mov and .mp4 file formats. Check your local Amazon website to determine if they allow any other formats.

Four Types Of Amazon Product Videos
Before you upload videos to Amazon, make sure they fall in any of the following categories.
1. Lifestyle videos
Lifestyle videos are laid-back and freestyle. They show the impact a product has on the quality of life of the individuals who use them.
For example, a lifestyle video of a television or similar device will contain more than just the features.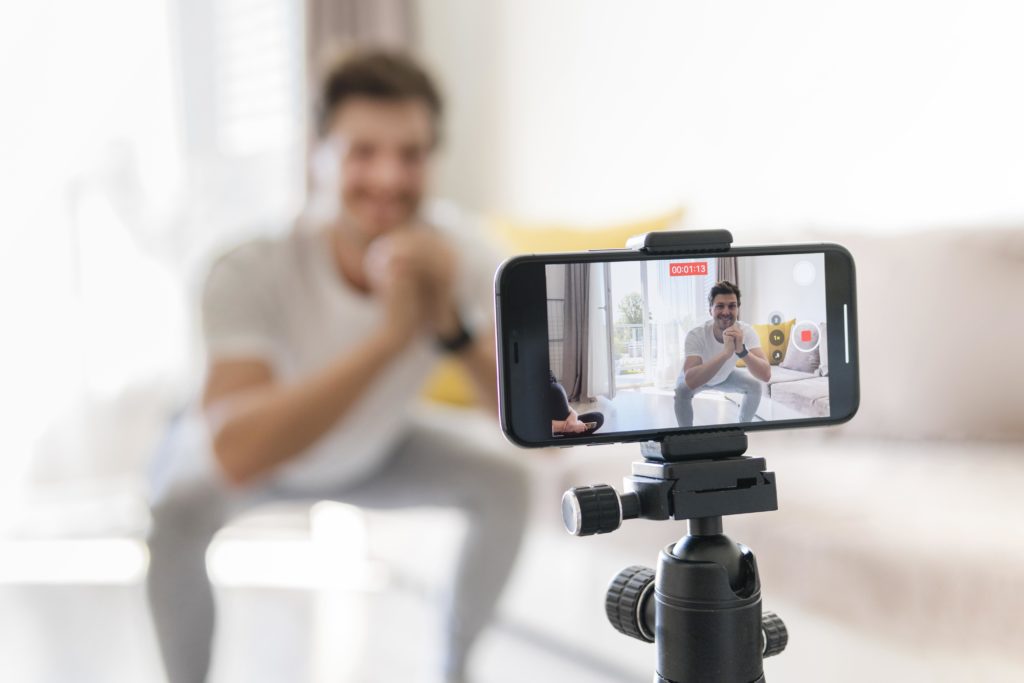 A television lifestyle video can showcase how the device adds value to the buyer's life. The video can star a happy family, with members of many generations watching and listening to the device. It won't show product specifications, rather delighted customers, and highlight aspects like-
A resolution that can be seen from any corner of the room
Sound bars that deliver high-quality music across the room
Colors that don't tire out eyes (so kids and elders can also enjoy the product)
Of course, creating such a video requires a well-designed setup, script, and shoot. Then, you'll need to edit those videos to create the intended effect. You can minimize the cost, time, and effort involved in this process by outsourcing amazon product listing to an experienced vendor.
2. Product highlight videos
These videos are product-oriented, wherein sellers usually talk about the product specifications, features, functionality, design, and usage.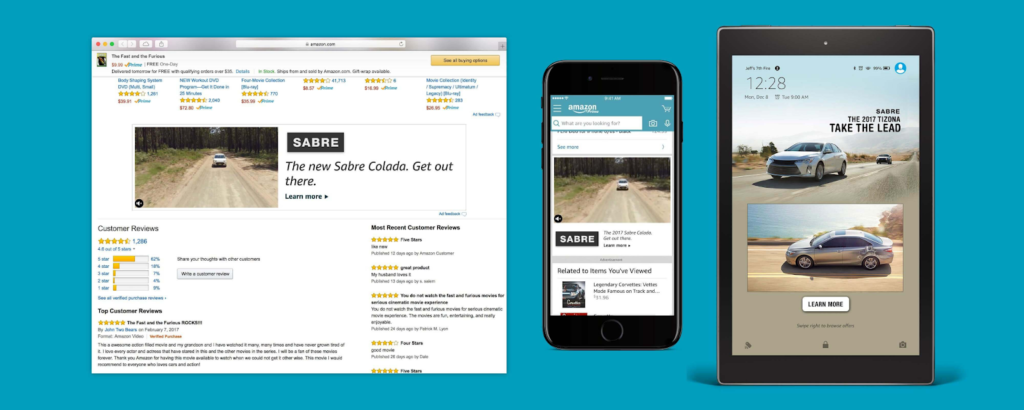 This video should offer a 360-degree view of the product and dedicate screen-time to every feature.
For example, a video of a musical keyboard can include close-up shots of its keys, stand, presets, battery, and adapter settings.
Use a plain background to shoot product highlight videos
The video may or may not include audio, depending on your expected outlook.
Short and crisp product highlight videos are always helpful.
3. Comparison videos
Comparison video is another useful Amazon product video format.
Comparison videos can be used to compare your products with those of your competitors. Please note that your approach should be ethical while comparing two products on Amazon. Refrain from defaming your competitor's products and read Amazon's guidelines for comparison videos.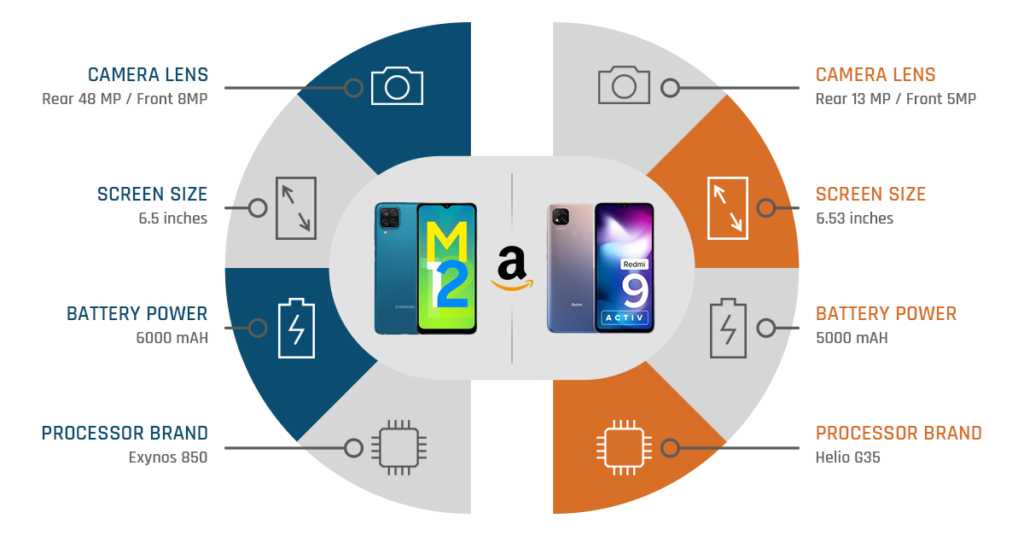 Let your customers know what extra features and values your products have in comparison to those used by your competitors. You can also tell how your products benefit your customers greatly, which is something most other products of similar nature fail to do.
Need help with Amazon product videos? Contact now for 360-degree services!
4. Explainer videos
Explainer videos are beneficial in the case of those products wherein the qualities and final effect of the product are more important than their appearance.
For example, explainer videos of health supplements would include information about their ingredients, health benefits, use, precautions, and the amount of time one must use them for maximum impact.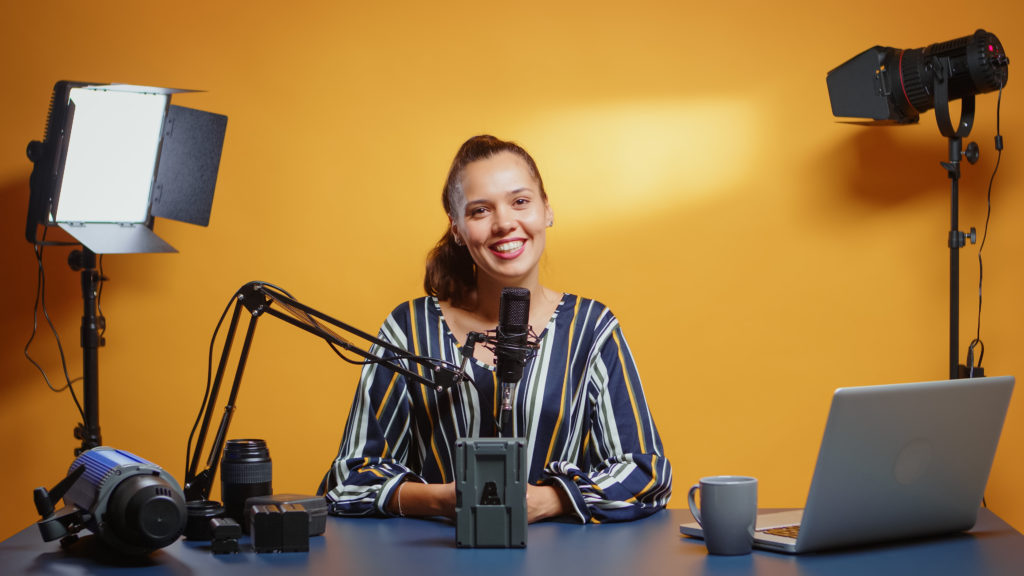 Keep this information accurate. Use data to prove the figures you're showcasing in the video. Do not overestimate the product's impact on the user because if that doesn't come true, your listing will be subject to negative reviews and poor ratings.
You can simplify that process by hiring an Amazon marketing service provider. They will know how to promote your products with the right intent while keeping your brand reputation safe.
Step-By-Step Guide to Upload Video To Amazon Listings
You can upload videos to Amazon in a matter of a few minutes using the following steps.
Log in to Amazon Seller Central.
Hover over 'Inventory' from the top menu tab. Choose 'Upload & Manage Videos' from the list.
Load your video and click 'Upload Video'
Create and enter an appropriate Video title

Keep it within 60 characters
Use keywords
Keep it easily understandable
Don't stuff it with keywords or features
Follow product listing title creation guidelines to create an apt video title

Choose a video thumbnail

Upload an image of your choice
Choose one from the auto-generated options

Select the Product ASIN for which you have uploaded the video

You can add more than one ASIN (for related products)

Click on Submit.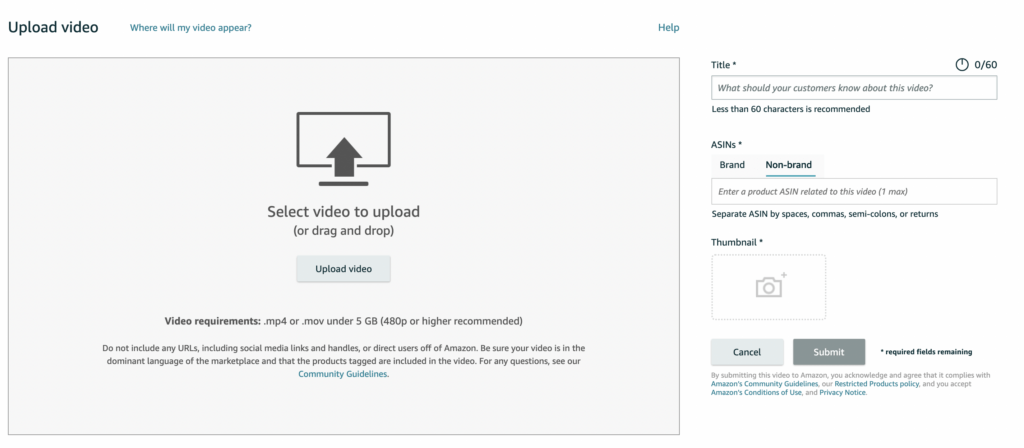 Both- Amazon photo editing and video editing -are time taking activities. If you want to achieve the best results while saving your time investment, you can hire an Amazon virtual assistant. They will help you with the creatives and handle some other aspects of your store simultaneously.
A Cost-Effective Way To Quickly Add Videos To Amazon Listings
Uploading videos to Amazon is not all that difficult.
The tricky part comes with video conceptualization, creation, and editing.
That's Where A Professional Partner Comes In Handy.
Team4eCom creates and edits customized Amazon product videos for all product types. We also help sellers with their listings, inventory, and response management. With two decades of experience in the industry as an end-to-end eCommerce company, Team4eCom specializes in offering Amazon services and related resources at competitive rates and with a 100% satisfaction guarantee.
If you want to know how we can help you add videos to Amazon, share your requirements at info@team4ecom.com.
More on Topic..
1. How can I create Amazon product videos that help my sales?
Divide your Amazon product video creation process into three phases – writing, shooting, and editing.
Writing – Create an effective concept and write a detailed script for your product video. Plan the script in a way so that your final video is not more than two minutes long.
Shooting – Shoot your video using a high-quality camera, and edit using appropriate software.
Editing – You don't need to add any major effects but make sure the sound and visuals are clear, and you include text and other necessary fonts that you are allowed to according to the guidelines.

2. How will outsourcing Amazon product video uploading help my brand?
Outsourcing product video uploading services helps sellers in many ways. Experienced professionals and copywriters help you develop a good brand story while the video is recorded with sophisticated equipment. The latest editing tools are used and operated by specialists to create finalized versions of great quality.

3. What are the size limits and format specifications for Amazon product videos?
The maximum file size for any Amazon product video should not exceed 5 GB. You can use .mov and .mp4 video formats. Check the video guidelines page of your specific country for more details on the accepted formats.