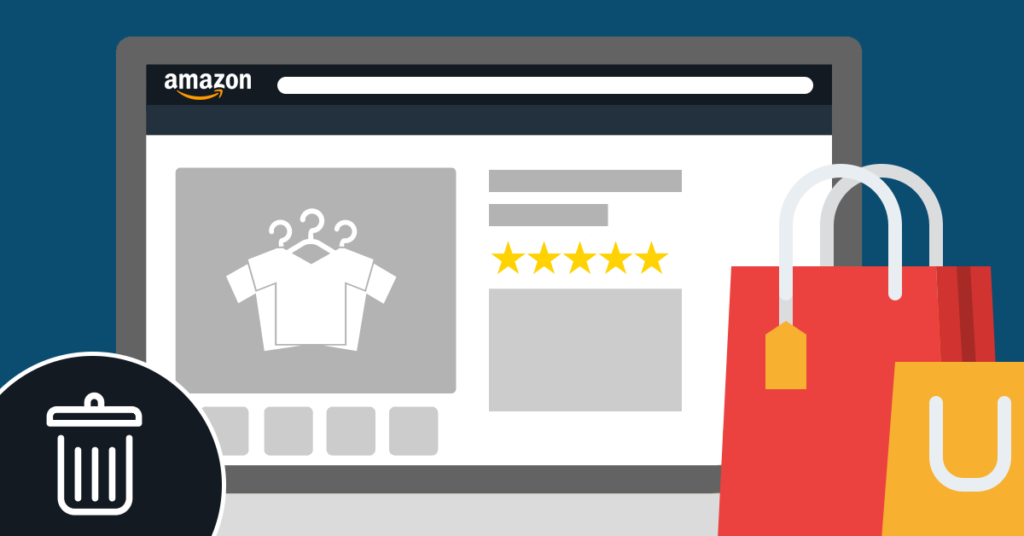 Summary
Amazon provides a very interactive and user-friendly platform – Amazon Central, for merchants worldwide. Still, it's quite normal for sellers to get perplexed while trying to delete or close a listing on the marketplace. The write-up here aims to solve all your confusion regarding Amazon listing and its management.
Being a merchant or manufacturer has become a lot easier with the emergence of the globalized online market. Amazon is one of the leaders of this marketplace, trading your products efficiently on it can be a game-changer. Amazon seller central provides a simple yet detailed platform for retailers to connect with consumers around the world.

When it comes to managing a 'Seller Central Account', vendors struggle to get the know-how of – Listing, Closing Product Listing, Deleting Listing, etc. In simple words 'closing an Amazon listing' means removing a product from your Amazon storefront, however, the product remains in your inventory (say – warehouse). While, once you exercise the option of 'Delete product and listing', it permanently removes the product from the storefront as well as the inventory.

In case you are struggling with the right way to delete or close Amazon listings, we have got a step-by-step explanation.
Difference between Deleting or Closing Amazon Listing

Now, the question is who should close the listing and who needs to delete an amazon listing on seller central?
| CLOSING AN AMAZON LISTING | DELETING AN AMAZON LISTING |
| --- | --- |
| The vendors who plan to temporarily stop selling a product, since it's out-of-stock or not in trend anymore, or even for the sake of some developing market strategy; closing an Amazon listing is the way to go. | While the vendors who do not wish to deal in any particular product/products can choose the option of deleting the respective listing. |
| Whenever a listing is closed the respective product is marked as 'Unavailable' on amazon. The sales history and other data are saved. | Deleting an Amazon listing will remove all relevant data from your seller account. Product details, sales data, and SKU are removed from the account permanently. |
| If you close an Amazon listing you have the option to reactivate it, with the same SKU. Such a vendor need not start from scratch. | Later, if you want to relist that product, you will have to again make a fresh start with a new SKU. |
| Closing a listing does not require any confirmation and the buffer time to find the listing closed is 24 hours. | Deleting a listing will require confirmation, the buffer time is 24 hours to relist respective products. |
The process to close an Amazon listing

As a Vendor, it is important for you to keep a tab on the inventory and marketing strategy of a product. Amazon provides a very clear interface to help sellers satisfy their buyers. Smart use of the 'close an Amazon listing' function can win you not just loyal customers but also kudos from the platform. Here's how you can do it:
Open 'Manage Inventory' section in Amazon seller central
In 'Manage Inventory Page' use the 'Edit' button for the respective product listing which you wish to close
Select 'Close' from 'Edit' option
To close Amazon listings in bulk, select the number of products you wish to close in 'Manage Inventory Page' and close the listings using the 'Edit' button.
The Process To Delete A Listing On Amazon Seller Central: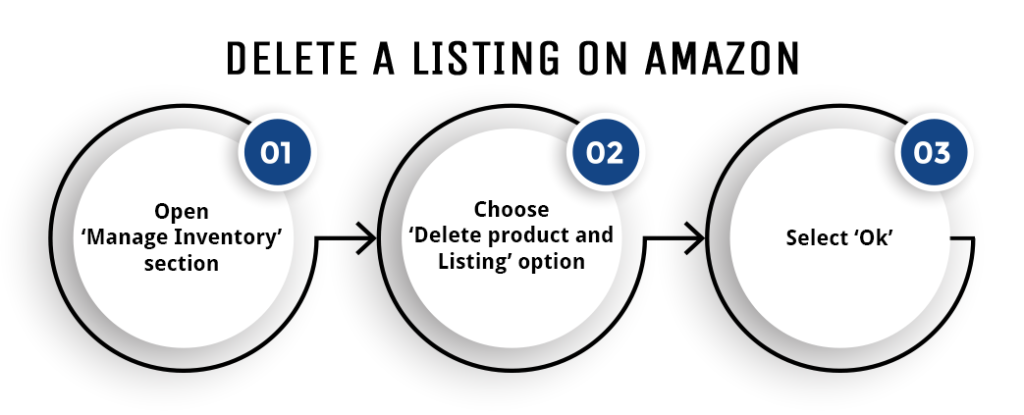 To get a product removed from amazon you can follow the following steps
Open 'Manage Inventory' section from the menu
To delete a listing, select the 'Delete product and Listing' option
Amazon will ask for a confirmation, select 'Ok' to delete the product and listing permanently
To delete bulk listings on Amazon:
Select the products you wish to delete from the provided checkboxes on the left, select 'Delete product and Listing' from the dropdown.

However, to know about the charges for bulk product removal on Amazon FBA you can refer to the price chart
How to relist products on Amazon


Vendors can relist products whose listings were closed by choosing the following options:
Open 'Manage Inventory' page
Use status filter to find the 'Inactive (Closed) Product Listings'
Click 'Relist' from the dropdown menu on right end
Update offer and other details on next page & save the listing
If you want to relist an Amazon listing on Amazon which was deleted, starting from selecting product category the process needs to be exercised from scratch. The online retail giant has introduced Amazon A+ Content for its sellers to exhibit more creativity and make value-adding product descriptions.
To Steer clear of the hassles of Amazon Listing management
What to do with Inactive listings on Amazon
Amazon marks a listing 'Inactive' if it does not hold any stock of the said product in inventory. These out-of-stock listings will remain inactive till you refill the inventory with stock.
It is important to delete inactive listings as they affect your IPI score. IPI is the 'Inventory Performance Index score, which shows how well a vendor is managing its inventory. A low IPI score can affect your work on Amazon seller central. Know more about IPI score

Deleting Inactive listings:

For deleting inactive listings on Amazon you can follow the below simple steps or you could take the help of an Amazon expert.
Go to the 'Inventory Management' page
Select all the listings you want to delete with the help of the checkbox
From the drop-down menu on the 'Actions' button (top of the page) select 'Delete Product and listings'
Now if you wish to remove inactive listings, you can also delete in bulk using the 'Inventory Loader file' method. Here's how to do it:

Vendor can download file template
Fill the list of SKUs you wish to delete in the first column
The second column will be about update-delete, here you have to input values of all the SKUs you wish to delete from the inventory
Save the file in text (Tab delimited) once you are done
Now, go to the upload section of your seller account
Choose 'Inventory Loader file' from the dropdown and upload
This will inform the system about all the SKUs you wish to delete, resulting in their complete removal from inventory.
What is ASIN? How to Delete ASIN on Amazon?

ASIN stands for Amazon Standard Identification Number. As the name suggests, it's a unique code to identify a product that is up for sales on Amazon. Take note, every product on Amazon has an ASIN association, it can be sold by any number of retailers, but the ASIN remains the same.
If you are launching any new product on Amazon you will have to create an ASIN for the same.

Deleting an ASIN

If you delete a product listing, its ASIN too gets deleted from your account. But, once created an ASIN cannot be deleted permanently. It remains on the Amazon servers.

An ASIN is linked to the EAN, UPC, and ISBN. If you are the only seller for the respective product, the ASIN may become inactive after you delete it from your account.
How to delete an Amazon seller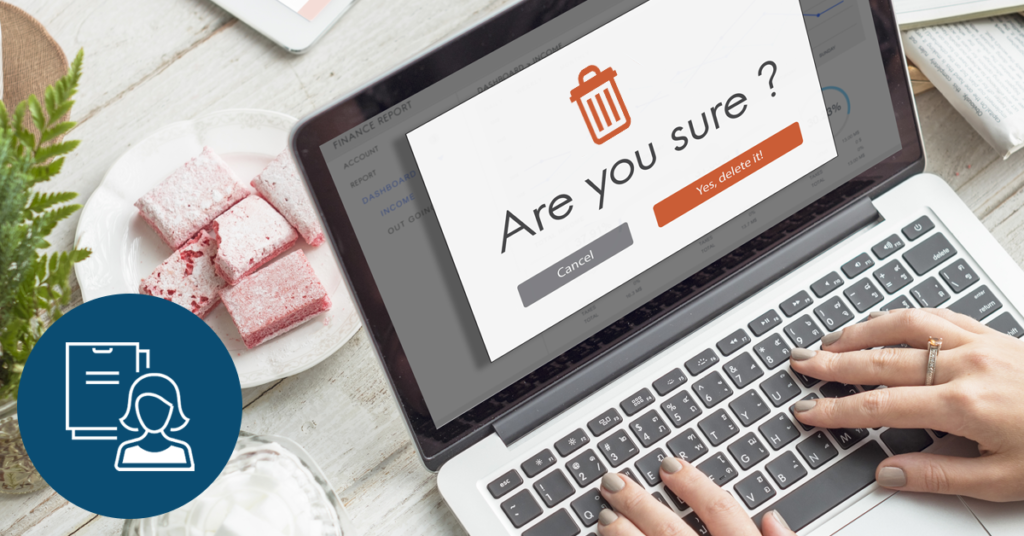 It is not advised to delete an Amazon seller account, as Amazon cannot reinstate a closed account. Instead one can remove listings from an account to keep it accessible for any future use. Still, you can follow these steps to delete an Amazon seller account:
Make sure there are no outstanding orders
Honour the 90 days guarantee period since your last sales
Make sure there is no outstanding transaction with buyers
Make sure your account is not suspended
Confirm a valid account number to clear dues with Amazon
Your Seller account balance should be null
Use the self-service tool to delete Amazon Seller account through customer support's personalized help.
How to Remove an FBA Inventory on Amazon Seller Central
To remove an FBA inventory from Amazon Seller Central you can do the following:
Open 'Manage Inventory' section on the website
Choose the items that you wish to remove
From the dropdown menu of the 'Action' button select 'Create Removal Order'
From 'Recommended Removal Report' select 'Begin Removal Process'
Note – If you don't see the option of 'Begin Removal Process', it means Amazon does not accept your removal selection.

On the 'Removal Order Details' page, under 'Method of Removal' you can select – 'Return' or 'Pick-up' or 'Dispose of' as per your need.
Select further details as per your account
Select the number of items under 'Specify ordered SKUs'. To add more items use the 'Search and Add items' text box
Specify fulfillable units to be removed under 'Fulfillable Quantity'
Similarly specify un-fulfillable units under 'Un-fulfillable Quantity'
Review and place removal order
The Process of removing an FBA inventory is quite detailed. Vendors working with Amazon Virtual Assistants have smooth inventory management.
How to Delete a Product from Draft Amazon Seller Central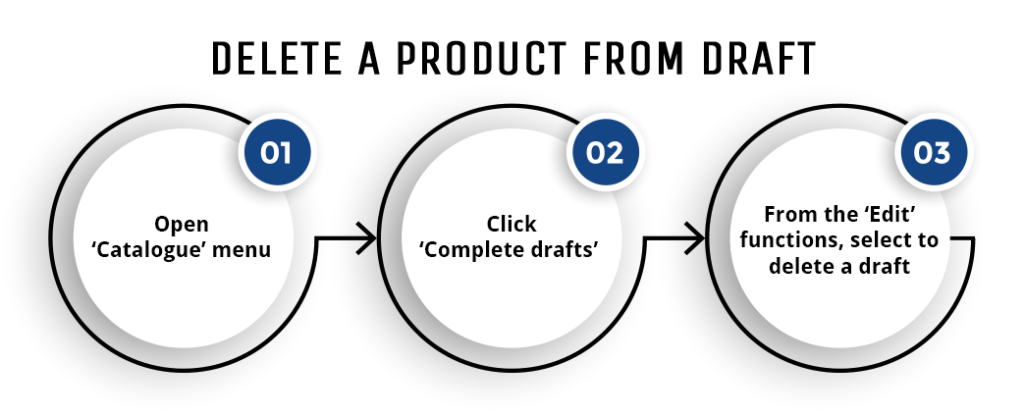 A draft listing is similar to an e-mail draft, any listing prepared and not 'Run' in your storefront will appear as 'Draft-Listing'. If a listing prepared by you does not meet Amazon Listing policies, it is stored as a draft. Sellers can choose whether they want the product to be showcased in Storefront after making policywise corrections, or they want to delete the draft for relevant reasons.
To delete Draft-Listings, one can follow the following steps:
Open 'Catalogue' menu on Seller portal
Click on the 'Complete drafts' section
Now you get the option of – 'Inline Editable fields', 'Add Product tools' and 'Bulk options'
From the 'Edit' functions you can select to delete a respective draft,
However, 'Catalogue' section was recently added to the Amazon Product Listing section, so sellers are facing certain issues dealing with its functions. It is advised to use the draft section to make new listings rather than deleting it.
Manage your Amazon Seller account like a Pro!

Amazon has created a well-researched, multi-functional interface to provide Sellers an excellent experience. But, as a Vendor it's still difficult to multi-task, managing an Amazon Prime Seller account along with the basic and core business needs.
Don't worry! experts can help you manage it like a boss.
Right from setting up your shop to managing inventory and caring for customer satisfaction, we do it all in a professional way.
Some of the unique features of outsourcing your marketplace seller account management to us are

Mass data migration from popular e-store platforms to your Amazon store.
Our Catalogue management experts extract the best features, which positively impact sales after comprehensive Product research. We do well-prepared Product listings.
Huge workforce, versatile talent, upgraded skills, and a clientele from all verticals.
Round-the-clock customer support, which builds your brand.
To get a customized package, specially designed for your business needs
More on topic..

1. What is better for a Seller, deleting an Amazon listing or closing it?
It depends on the seller's need. If the vendor does not wish to deal with the respective product anymore, not even in the future, deleting is a better option. However, if the requirement is temporary 'Closing' is the better option. But, remember too many inactive listings will impact your account negatively.

2. How does IPI score affect a Seller's account?
Sellers are suggested to keep their IPI score above 500. However, inactive listings, buyer complaints, etc, can decrease your IPI, forcing Amazon to start treating your account differently. Vendors should have an idea about Amazon's Marketing services, to generate more sales.
3. Can buyers place orders on the closed listings?
No. Buyers will see the closed listings as 'Unavailable'

4. Does Amazon provide the same ASIN to different models of the same product?
Amazon provides a unique identification number to a product called ASIN. It uses a parent-child system to associate products from the same family. When sellers group products, the prime models are denoted as parents while respective sub-models are called belonging to the children category. Even two similar products with different colors have different ASINs.

5. Can I get my FBA inventory removed and received out of the country?
No, Amazon has restrictions regarding FBA inventory removal – return. Removal order returns cannot be:
Shipped to another fulfillment Center
Used as Customer orders
Shipped outside Country