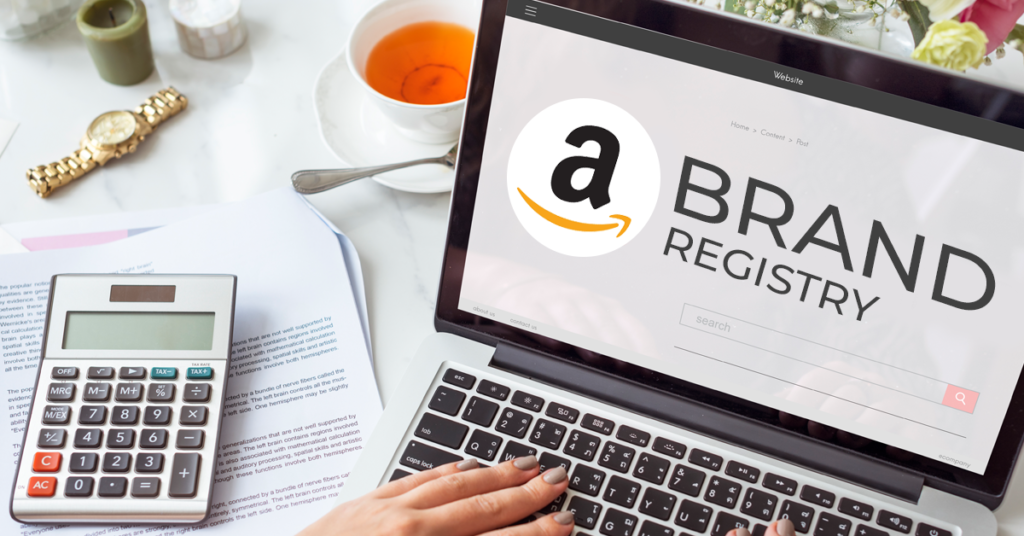 Whether you are a bigger manufacturer or just starting with a small retail business, launching your products on Amazon is always profitable. But, without registering your brand on Amazon you may face some complexities. Moreover, Amazon Seller Brand Registry is not only important for managing online stores on Amazon but also to distinguish yourself from the competition in the market. It is yet another way to make permanent customers. Brand registry on Amazon is the first step towards becoming a huge brand in the eCommerce marketplace.

Let's learn about the Amazon brand registry requirements, how to apply for it, and how to get approval in the quickest time. Besides, also learn what are the benefits you will get from registering your brand on Amazon.

Table of contents

What is Amazon Brand Registry?
Amazon Brand Registry is one of the programs created by Amazon for trademarked brands selling on its marketplace. Whether you wish to sell via Amazon Seller Central or Amazon Vendor Central platform, brand registry on Amazon provides you better control and protection over your brand products and store.

As a seller on Amazon, you are here to maximize your sales and improve your brand impression. Of course, you will not want other sellers to hijack your product and sell on their behalf at their desired cost. To stop this you must register your brand on Amazon. Now, you must be wondering why brand identity is that important for a seller in today's time. Let's learn that as well.

Why is brand identity important?
Ever thought about how incredibly brands like McDonald's and Coca-Cola have left an eternally memorable market in the audience's head? The primary idea of brand registry on Amazon is that only. Some of the other reasons why brand identity is important for every seller irrespective of their business size are mentioned below.

Customers will recognize your product by your brand name or logo and are more likely to stay loyal to your products.
In this digital era, thousands of sellers are selling similar products, and hence, you need your brand identity to stand out in a crowded marketplace.
Sellers or manufacturers with brand identity seem to be more experienced and professional, which results in trust among customers.
After becoming a brand, customers will be ready to pay premium prices irrespective of how competitors are selling the products at a low cost.
The perception of quality will come along with the name of your brand.
Brand identity on Amazon or any other eCommerce platform requires you to make a brand logo, choose the font, product packaging, and many more. So, after you are done with outlining our brand registry on Amazon, let's learn more about the registry program of Amazon.
What is the Amazon Brand Registry Program?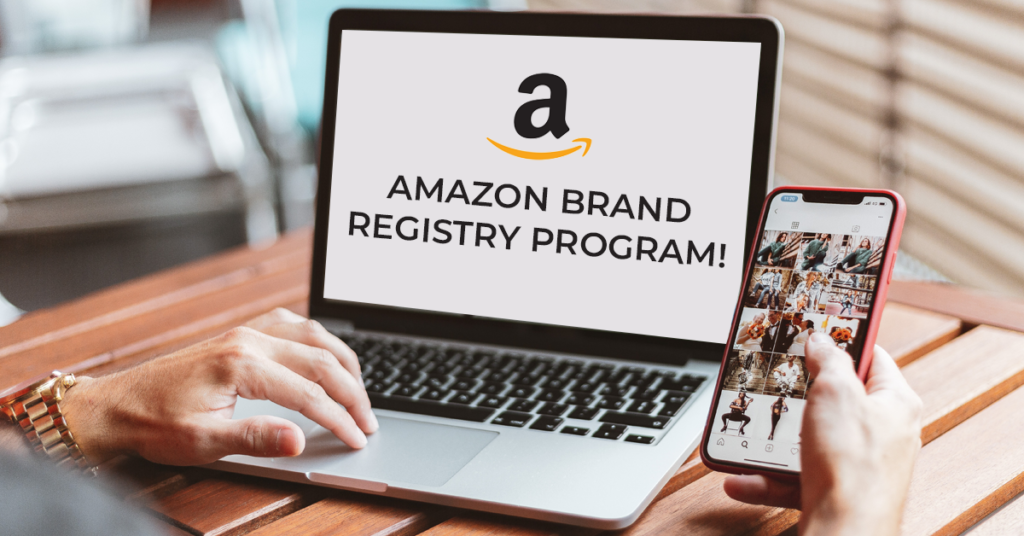 The Amazon Brand Registry Program is intended to assist a brand owner in enrolling his or her brand with the Amazon marketplace in order to gain access to expanded marketing options and complete management over the brand. Brand registry on Amazon program also assists in the protection of a registered trademark on the marketplace. Enrolling in it is a simple and one-time process that is completed at Seller Central or Vendor Central.

Whereas, the process requires to be performed accurately and sellers should be aware of all the Amazon Brand Registry requirements. On successfully registering your brand on the Amazon marketplace, you can do the following tasks efficiently:

Manage your branded products on the Amazon catalog.
Add more products to your Amazon-branded store.
Present only accurate information about your products on Amazon.
Eliminate the products from competitors' pages those who are trying to imitate your style.
The concept of brand registry on Amazon is not new, in the year 2017, Amazon launched this scheme or program to products the trademarks and their products listed on Amazon. Later, the program was improvised and was called Amazon Brand Registry 2.0. Let's learn how it is different from other versions.

Amazon Brand Registry 2.0
Enrolling yourself in an Amazon Brand Registry 2.0 application is very important if an Amazon Seller, Vendor, and Manufacture want to sell under his or her brand on the Amazon marketplace. When you choose to register yourself on the Amazon marketplace with brand registry 2.0, the program provides you with the following

Enhanced support in brand maintenance.
Access to various tools.
Control over your Amazon product listings.
Access to customers to search your product quickly.
Protection of Brand and store.
Copyright of product images.
Do you still need more facts and reasons to get convinced for brand registry on Amazon, never mind! Let us explain the obvious reasons in detail.

Why Should Sellers Register Their Brand on Amazon?


Learn the three main Amazon brand registry benefits which is why sellers should enroll their brand in the Amazon Brand Registry program.

To Have complete control and command of your Amazon product listings
If you sell products on the Amazon marketplace as an ordinary seller or vendor, you can often face complexities in managing your store because of stringent algorithms. Nevertheless, if you get your brand registered with the Amazon program, you will be given complete control over the product titles on the catalog, product descriptions, features, product images, product ID, and not UPCs or EANs. Moreover, with Amazon Brand Registry, you can protect your content and eliminate whatever is a threat to you.

So, one of the most obvious Amazon brand registry benefits is to have complete command of product listings on the Amazon marketplace.

Protect your brand and store from random hijacks
Amazon, being the most preferred online marketplace, sellers have the biggest competition. As an eCommerce seller, what you may fear is being rejected by the customers.
What can be more threatful is getting your product listings hijacked. At times, Amazon fails to recognize the fake sellers and often cannot stop them from conning genuine sellers. In that case, you need to walk an extra mile and sort it out from your end by the brand registry on Amazon.

Another reason why you must register on the Amazon Brand program is it not only helps you build your brand but also allows you to own 'Amazon Buy Box'. With a Brand registry on Amazon, you will have a lower Order Defective Rate (ODR) and a 100% rating of products. Hence, you will be easily qualified for winning Amazon Buy Box.

Decide who can sell your products on Amazon
Ever thought about how come small vendors are also selling products from brands like Puma, Adidas, and more? Well, with the help of Amazon Brand Registry, you can decide who can sell your products. Once you register your brand on the Amazon marketplace, you can qualify the sellers for selling your products on the following basis:

Manufacturers who are making and selling products from the same Amazon category.
While labeling product producers cum sellers.
Sellers who act as distributors and own authority to sell on Amazon as well.
There are many Amazon Brand Registry benefits you will get later on. For now, these aforementioned reasons are enough for registering your brand on Amazon. If you are fully convinced now and want to proceed with registering yourself then let's read about how to apply for the same and Amazon Brand Registry requirements.

How to get a brand registry on Amazon?

For Amazon sellers, especially small business runners, a good brand identity is important. It helps customers to believe that the product they are buying is worth paying for. Brand registry on Amazon will attract more potential customers and prepare them to spend their money on your products. So, let's learn how to submit an Amazon Brand Registry application and get approved finally.

Want Support In The Brand Registry On The Amazon Marketplace?
Amazon Brand Registry requirements
To start with registering your brand on Amazon, you will have to understand the Amazon Brand Registry Requirements first. Let's begin with the same.

1. Trademark
You should have a unique trademarked logo. It could be text-based/ word-based or you can use image-based or visual-based . You can use your brand name, category of product you sell lie shoes, cosmetics, etc., initials of your name, purpose of your brand, and more.
2. Amazon Seller/ Vendor Central Account
Being a Seller or Vendor Central member is yet another Amazon Brand Registry requirement, which is also mandatory. Make sure that you are selling products on Amazon very actively quite a few times.
3. Some country-specific requirements
Some of the Amazon Brand Registry requirements are based on the country you belong to. Visit the Amazon Brand Registry eligibility page and check for yourself.
After you fulfill the requirements from your end, let's begin with the Amazon Brand Registry application and get your brand registered now!
How to apply for the Amazon Brand Registry Program?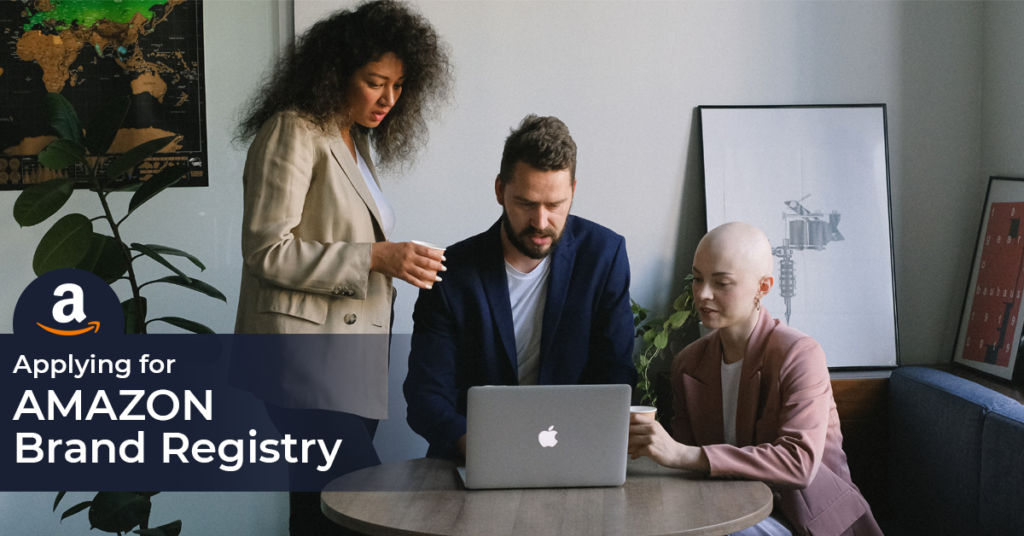 Follow the stepwise procedure mentioned below and register your brand on Amazon to protect your Amazon store and sell more and more products on daily basis.

Step 1: Create a Brand Registry account by using your existing Seller or Vendor Central login credentials
Step 2: Complete the four-step application process.
To complete the aforementioned 4-step Amazon Brand Registry application, you will have to provide the following information:

Your trademarked brand name and logo
The type of your trademark
Details of your trademark registration office
A valid trademark registration number
Multiple images of your product (selling on Amazon)
Images of order inventory and packaging before delivery
URL, details, and images of your website
Your social media handle
Manufacturing information such as where you produce the products or from where you buy
The categories and sub-categories of your products
Step 3: Amazon verification – Amazon will issue a verification number to the individual whose name is associated with the trademark account.
Step 4: Enter the verification code into Seller or Vendor Central and finish submitting the online Amazon Brand Registry application.
Suggested Reading: A Handy Checklist For Optimizing Product Listings On Amazon Marketplace
How long does it take to get approval from Amazon for Brand Registry?

If you already have fulfilled the requirements and already hold a trademark or have applied through the IP Accelerator program, then the complete approval process should take roughly two weeks. You just have to make sure that you submit everything accurately that Amazon requires for your brand the first time.

Also, before submitting the Amazon Brand Registry application, please check all of the eligibility conditions, and keep in mind that your brand must have an active registered trademark in each nation where you wish to participate.

Amazing Amazon Fact:
Within the Brand Registry interface, you can rapidly search for trademark infringement and utilize the forms to report any breaches directly to Amazon.
Benefits of Amazon Brand Registry Program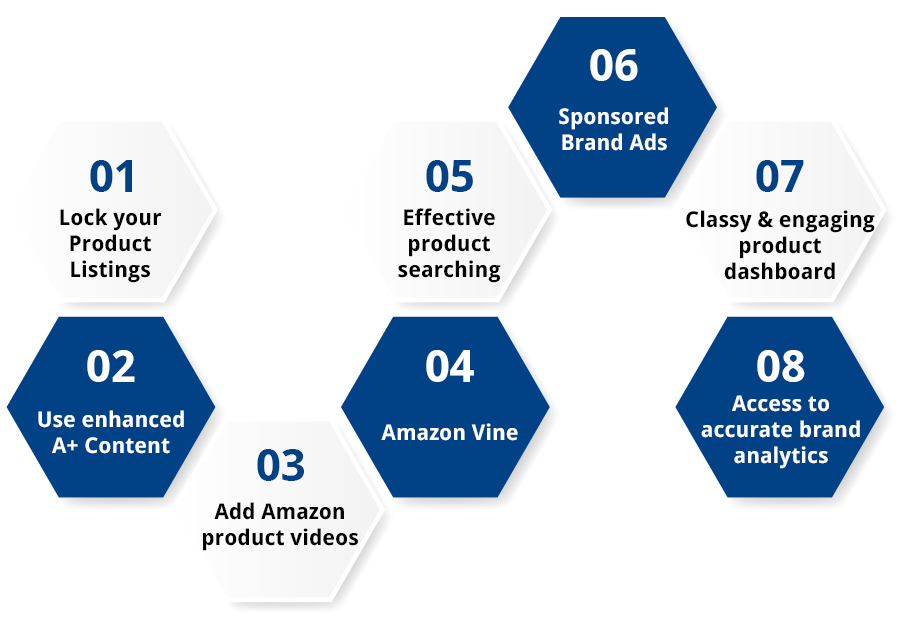 Obtaining access to an extra program that several sellers are unaware of is Amazon Brand Registry. It is no less than a hidden weapon to stay ahead of the competition. Let us take you through some more benefits of Brand registry on Amazon.
1. Lock your Product Listings
In addition to the option to lock your content for product detail pages against changes, you have access to other Seller Central modules that benefit your listings. Please keep in mind that some of these programs are available in Vendor Central even if you do not have a Brand Registry account. By locking your product listings, you can also prevent Amazon suppressed listings and thus no account suspension in the future as well.
2. Use enhanced A+ Content for engaging customers
You may have noticed this on the listings of competitors. This is the supplementary section beneath "From The Manufacturer."
According to the Amazon marketplace, A+ content has been demonstrated to enhance listing conversion by a good percent and allows you to properly display your brand and all of your items' unique selling characteristics. So finally, you investing in Amazon A+ content creation will work more effectively with a registered brand on Amazon.
3. Add Amazon product videos

You can add videos to your Amazon listing directly under the photographs if you have a brand registry.
This can significantly increase your conversion rate because it allows you to demonstrate your product in action.
4. Amazon Vine
With the restrictions for sending messages and emails to Amazon customers becoming increasingly stringent, obtaining evaluations for your products has become increasingly difficult.
Amazon Vine enables you to give products to Amazon-approved purchasers in exchange for a fair evaluation. However, there is one word of caution. This is a completely unbiased review.
Make certain that you have employed programs such as the Early Reviewer Program to ensure that your clients have a favorable experience with your items.
5. Make your product searching more effective
Increasing the number of words for which you are indexed is critical for organic Amazon SEO and listing optimization.
The Search Term Optimizer is a feature of the Brand Dashboard that searches for duplicated backend keywords in order to free up more characters in the index for additional keywords.
6. Advertise products with Sponsored Brand Ads
Several Amazon Brand Registry aspects give you additional advantages such as access to specialized marketing products on Amazon. You can avail of Sponsored Brand Ads from Amazon's in-house marketing strategies. Currently, these adverts are displayed in the form of banners at the top of search result pages on Seller Central.
As a result, they have more screen space than sponsored products. This ad type gives you some creative control over your advertisement.
7. Classy & engaging product dashboard
The Brand Dashboard is a relatively new feature of Seller Central that allows you to access information about your brands such as prime eligibility, pricing competitiveness, and more. You may also access other features, such as Manage My Experiments and manage your customer feedback, from this dashboard.
Brand Registry also enables the use of particular analytic tools in Seller and Vendor Central.
8. Access to accurate brand analytics
This is a great source of previously unavailable data to Amazon vendors. Brand Analytics provides merchants with information on specific search phrases or items. These include the search phrase rank, the most clicked-on product, conversion rates, and other statistics that may be used to make informed judgments.
When you successfully register your brand on Amazon, you get many advantages even more than the mentioned ones. Moreover, with the help of the Brand Registry program, sellers can always improve the customer's shopping experience, product value, and all this result in more sales and long-lasting impression. Whereas, maintaining the standards of being a brand on Amazon is not going to be easy. That is why millions of sellers prefer to have an Amazon Virtual Assistant to look after their brand and store.
Let Us Register Your Brand On Amazon For Maximum Sales And Fame Across The Market Today.
FAQs on Amazon Brand Registry Program – Answered!

If you still have any doubts regarding the brand registry on Amazon, then go through all the answers to the most frequently asked questions by the sellers. In case, you don't find your answer to your query, feel free to contact us.
Ques 1: Can brand registry on Amazon help in engaging customers and how?
Ans: Yes. Registering your brand and store with Amazon can help you engage your customers with your brand. It will add value to your products by creating A+ content such as Videos, Product listings, and more.
Ques 2: Can Amazon Brand Registry provide transparency while selling products?
Ans: Yes. Amazon program offers additional security to the registered brands and stores that are in the transparency program. You can activate the same by enrolling your products with authentic units and setting the potential customers.
Ques 3: How can I get a trademark on Amazon?
Ans: You need to follow the steps mentioned below in order to get a unique trademark:
Check your trademark whether it is unique or not on the USPTO website.
Select a product category and specify your trademark.
Submit the application for the trademark and wait for it to be approved.
Ques 4: How Can I Determine Whether a Competitor Is a Member of Amazon Brand Registry?
Ans: To identify Brand Registered products, Amazon does not provide a customer-facing tool. Whereas, if they have enhanced branded content, Amazon product listing video, or a storefront, you can still recognize them. Which you can only avail of after registering your brand on Amazon.
Conclusion
Brand registered sellers get special access to tools meant to aid in the development and expansion of their brand's presence on Amazon. Enrolling in Brand Registry also gives brands access to extensive statistics and other information that can help them grow sales and create a better experience for Amazon customers. So if you are thinking of registering your brand on Amazon and need some help, connect with our representatives. Leave an email to info@team4ecom.com and let our Amazon experts reach out to you with the best solution.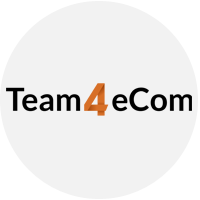 Brought to you by the Marketing & Communications Team at Team4eCom. Stay updated with the latest trends in eCommerce Product Data Management & Support Services along with informed articles, opinions, and interesting bits on the same.