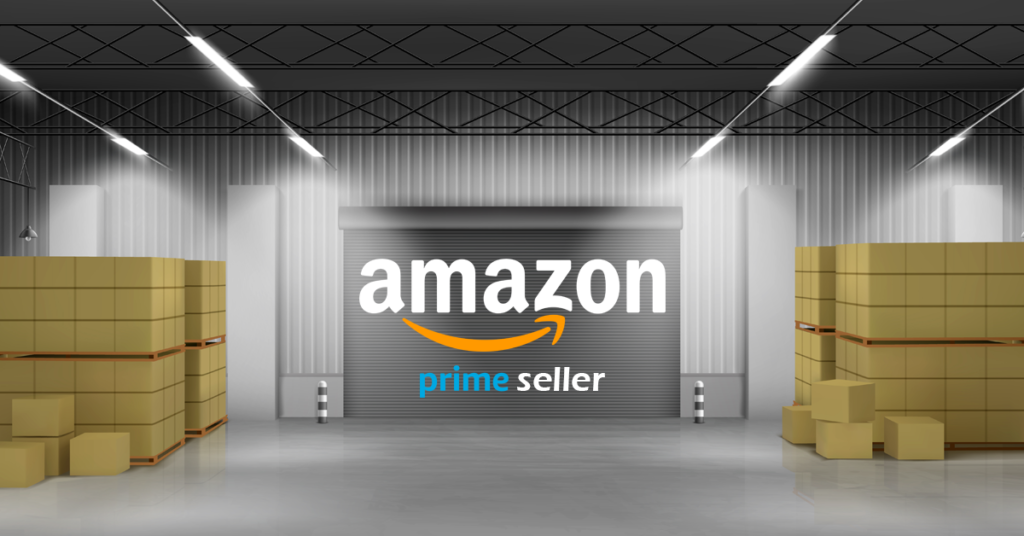 Selling with Amazon Prime is a really profitable idea in today's time. Amazon Prime's range of benefits offers customers enough incentive to subscribe to the platform. The platform's affordable pricing and variety of benefits is the reason over 76.6 million households are expected to subscribe to it by the end of 2022. With an annual fee of just $119 per year ($12.99 per month), users get discounts, quick shipping, exclusive streaming, and lots more.
Besides the benefits mentioned above, shoppers get same-day delivery, Prime Day benefits, quicker opportunity to avail lightning deals, and discounts on Amazon Kindle books. The best thing for sellers is that such amazing offers and add-ons help create brand loyalty among Amazon Prime users. Amazon business Prime sellers need not worry about acquiring customers outside the marketplace, as users usually prefer buying most products from Prime once they start availing the platform's services.
Many users want to know how to become an Amazon Prime seller to generate more profits for their business. The process will be explained to you in a short while, and you will also get to know about other amazing benefits of selling on Amazon Prime. Another important thing is to know how to obtain the Prime badge to assure your customers of quick order fulfillment.
Let us have a look at the best ways to become a member and start selling on Amazon Prime.
How to Become an Amazon Prime seller
How to become an Amazon Prime seller? This is one golden question every seller wants the answer to. Looking at the benefits you and your customers are likely to get, most sellers would love to become a seller on Amazon Prime. However, you would be glad to know that becoming an Amazon business Prime Seller is not all that difficult.

The first step is setting up an Amazon Prime Seller Central account and then deciding on the fulfillment option you want to offer your buyers.
Selling with Amazon Prime is far easier when you have a Prime Badge. There are two ways – two fulfillment options – to get an Amazon Prime badge.

The first is Fulfillment by Amazon (FBA) – which involves letting Amazon take care of your products.
The second method is Seller Fulfilled Prime (SFP), wherein sellers use their own warehouses to ship their products from.
Fulfillment by Amazon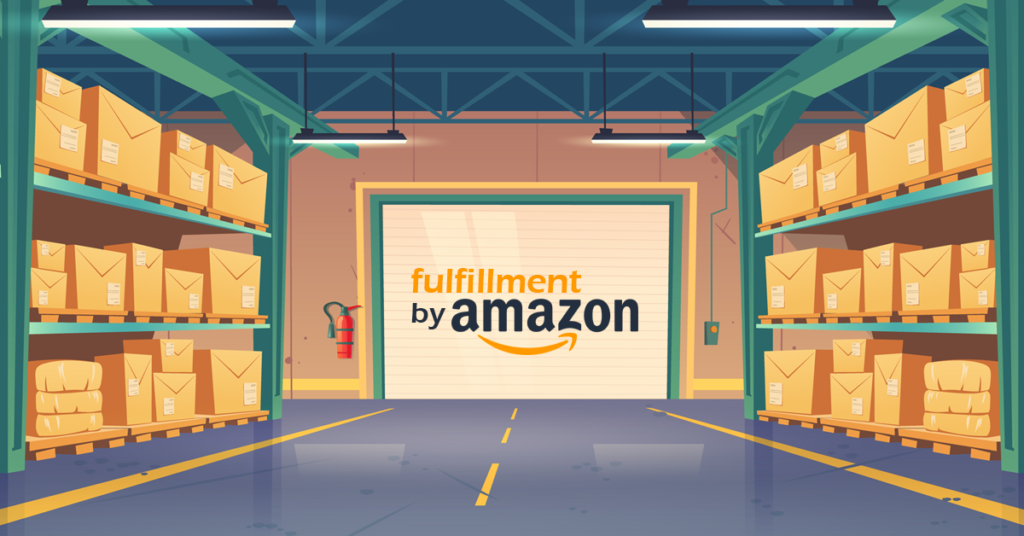 Selling with Amazon prime is quite easy with Fulfillment by Amazon (FBA).

FBA sellers directly qualify for Amazon Prime.
Amazon takes care of the packing and shipping of orders, as well as picking up return orders. Stocks and inventories are managed by trained experts employed by Amazon.
In case of any issue, the Amazon team takes care of the problems and does its best to resolve the issues of Amazon FBA Prime Sellers.
For people who want to sell on Amazon using FBA, customer service is also looked after. Amazon sellers don't need to worry about waiting lists or trial periods.
The main thing Amazon business Prime sellers need to ensure is having a very little order defect rate (preferably less than 1%), adhering to Amazon's inventory storage limits, and also following the listing and product policies of the company.
FBA costs:

Since Amazon manages a lot of your work and reduces your burden, FBA charges are generally high for Amazon Prime sellers, as compared to SFP. However, since Amazon takes care of a substantial amount of services, the effective costs could be less than SFP in many cases.
Amazon charges $39.99/month to those who sell on Amazon prime, along with an additional fee for fulfillment and optional programs.
The company also charges sellers a referral fee between eight and fifteen percent for each item sold. There is not a fixed Amazon Prime Seller fee for all products.
The final fee depends on the product's weight, size tier, and product dimensions.
To ensure your listings are upto the mark for selling on prime, Amazon FBA Prime sellers should avail Amazon product listing services for high-quality content, product categorization, keyword-rich copy, and highly optimized and enhanced images.
Struggling in your Journey as an Amazon Prime Seller?
Seller Fulfilled Prime (SFP) Program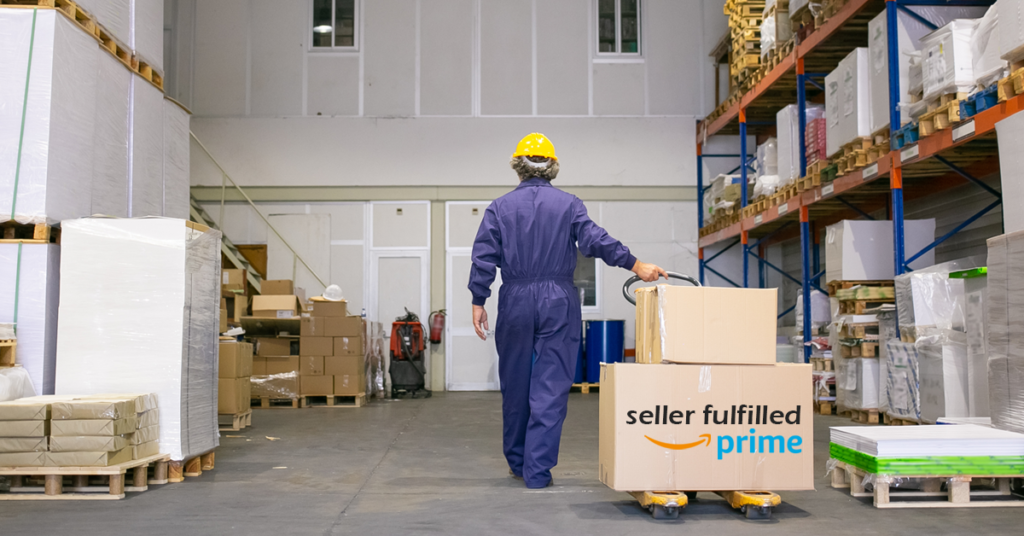 Amazon Prime sellers can also benefit a lot from the Seller Fulfilled Prime (SFP) program.
Product sellers and manufacturers have to ship the products from their own storehouses.
However, being eligible for Seller Fulfilled Prime SFP is slightly challenging for new sellers as their orders have to be delivered on time for 99% of their orders.
The order cancellation rate needs to be less than 0.5% and Amazon disables new applications from time to time.
Other conditions for fulfilling the (Seller Fulfilled Prime)SFP requirements are offering premium shipping options to customers and proving a good record with 'zero-day' handling time.
Selling with Amazon Prime can get initially tough for new players as the inventory needs to be managed and updated very well for this.
If you sell on Amazon Prime as an SFP professional, you are not required to pay extra costs, but you will have to work a lot and probably even invest in additional resources to fulfill the SFP requirements. There is no extra Amazon Prime Seller fee associated with the SFP method.
The Amazing Benefits of Becoming an Amazon Prime Seller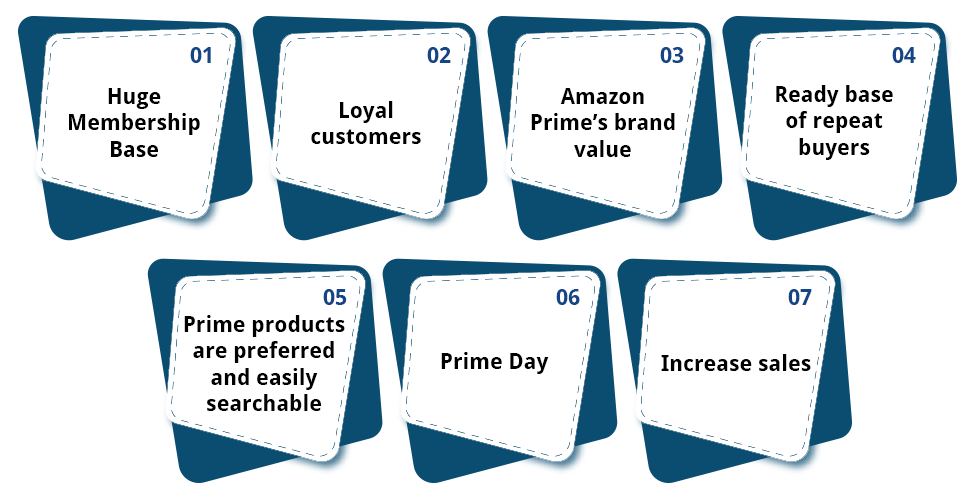 Now that you have understood how to become an Amazon Prime Seller, you would love to know the benefits of selling with Amazon Prime. Amazon Prime's huge and dedicated consumer base is one of the biggest advantages that help drive your sales – leveraging from this consumer base and Amazon's brand value is up to you. Let us have a look at some amazing benefits of becoming an Amazon Prime seller, you are likely to enjoy.
#1: Amazon Prime has the biggest membership base among American marketplaces
With the total number of Prime subscribers in the US estimated to exceed 153 million in 2022, you hardly need to look for any other marketplace as an Amazon Prime seller.
Once you have such a huge consumer base ready to buy your products, you need to have detailed product pages with all the information possible.
Well designed and search engine optimized pages have a high chance of ranking, so ensure your page also includes all the required information and your product's USPs, and is keyword-rich.
You don't need to look for customers elsewhere once you start selling with Amazon Prime yourself.
So make the most of Amazon Prime's large consumer base and register yourself as soon as possible. You can avail Amazon A+ content writing services to create comprehensive pages users just can't resist buying from.
#2: Amazon Prime membership strives in creating loyal customers
The combination of Amazon Prime's principles and the team's efforts manage in creating way more loyal customers than many other online product marketplaces.

Prime customers are pampered so much with quick delivery, discounts, streaming services, and other benefits mentioned above – that they hardly look at other marketplaces. Amazon Prime Sellers should make the most of this.
Product owners and manufacturers that sell on Amazon Prime regularly are more likely to get repeat customers as their ratings and reviews improve.
Highly-rated sellers are always recommended by Amazon for product searches, and their products feature in the 'Buy Box' as well.
Amazon Prime Sellers must focus on product quality, pricing, and product listings on Amazon. You must read this blog to know how Amazon product listing services can be outsourced.
You can also avail Amazon Competitor Analysis services to get your pricing right and know about the strengths of your competitors as well as the opportunity areas for you in your product niche.
#3 Amazon's brand name adds to your own credibility
Amazon Prime Sellers don't need to spend hours explaining to people about their background. Being a Prime seller is enough for many, and reason enough to buy from your store.
Your offline buyers and people who visit your website get a great impression when they know you are a Prime Seller.
This will compel them to buy products from your Amazon Prime store and product pages as well.
A Prime Badge is a mark of Amazon's trust in your brand as a seller, and that is quite a big sign of validation for American as well as international buyers.
Being one of the most renowned and trusted marketplaces in the world, users trust Amazon's sellers – especially ones with the Prime Badge – a lot.
This is one of the major benefits of selling with Amazon Prime, and also quite helpful for new sellers as the Prime Badge is valued as much as numerous reviews.
#4 Amazon Prime has a ready base of frequent buyers
One of the major advantages of selling with Amazon Prime is the tendency of users to search for anything and everything under the sun for Amazon. Just like Google is synonymous for online search and YouTube is for videos, Amazon is the first thing people think of whenever they think of online buying.
People who already own an Amazon Prime account know about its amazing benefits and the comfort Amazon offers its users with.
This is the reason repeat customers rarely contemplate searching other online marketplaces whenever they need a product.
Free shipping is a big incentive for customers to buy using Amazon Prime.
The amount of time and money customers save thanks to Amazon Prime's free shipping really compels them to buy more and make bulk purchases on occasions.
#5 Products eligible for Prime delivery are preferred and easily searchable
The reasons for user's preference for Prime-eligible products were already discussed above in 'how to become an Amazon Prime seller'. The growing number of Prime memberships is indicative of customer's preference for the Prime benefits as well. Customers want free and quick delivery, so they will search for products that are eligible for Prime delivery.
Products eligible for Prime delivery can be searched using the delivery filter.
Even default searches – without setting the filter – rank Prime products frequently.
Just like any good brand, Amazon wants to help its users as much as possible, and hence they rank Prime products high. People planning to sell on Amazon Prime can benefit from the Prime Badge and expect users to buy more from their store.
Products with Prime Badge are likely to generate more sales, so don't waste any more time and get the Prime Badge as soon as you can.
#6 Prime Day benefits sellers as much as it benefits buyers
The early access Prime users get during Prime Day and other sales offers them enough incentive to start planning for the next sale well before it starts. Amazon Prime Sellers also get the chance to start selling Prime users before non-Prime users, and you can let your customers know about the products that you are offering discounts on.
Since the platform deals with a lot of traffic on Prime Day, getting customers on your side well in advance would ensure retention rather than searching for the next seller who has their desired product(s) in stock.
Just like Prime Day, plan discounts for festivals and occasions such as Black Friday and Thanksgiving – when customers are most likely to shop.
Also introduce occasional discounts on all your products, and let your customers know whenever you introduce any such discount.
#7 Increase your sales using the power of Amazon Prime
Selling with Amazon Prime can be fun when your products start selling. With the validation that comes with the Prime Badge, free shipping, same-day delivery, and other discounts, Amazon Prime has created the perfect atmosphere to compel users to buy. Benefit from being a part of this ecosystem, and witness your sales going up.
Amazon Prime is ideal for sellers planning to sell premium products as well as daily-use products.
You can expect bulk buying with daily-use products if the quality and order fulfillment is up to the mark.
Ratings and reviews also matter, so do the best you can to optimize your store and product pages.
Once users identify you as a reliable seller, you can expect an exponential growth in sales. This is one of the biggest benefits of becoming an Amazon Prime Seller.
However, you must manage your stocks efficiently as many sellers get bad ratings when they run out of stocks and don't update their product pages.
So as a seller, make the most of the Amazon Prime Badge advantage and do the best you can to boost your sales.
Amazon Business Reports are great resources that help sellers a lot with valuable insights. Read this blog to know more about the amazing benefits you can avail with the help of Amazon Seller Central business reports.
Start Your Journey Of Unlimited Opportunities With Amazon Prime Selling!
Conclusion
With all the knowledge required, it is high time you start selling on Amazon Prime. Register yourself as a Prime Seller right away, using the method that suits you the best. Once you register and start selling as a Prime Seller, you will learn more about the marketplace and ways to deal with challenges. Also be informed about the latest updates to the platform.
Team4eCom offers end-to-end Amazon Prime Seller services including store setup, Prime registration, product listings, competitor analysis, and Amazon virtual assistant services as well. Having serviced 1000+ clients in 30+ countries over the past two decades, Team4eCom provides high-quality affordable services with the least turnaround time, making selling with Amazon Prime easy. Get a free quote by emailing all your requirements to info@team4ecom.com.
More About Amazon Prime Selling.
1. What are the pros and cons of signing up for Fulfillment by Amazon (FBA) as an Amazon Prime Seller?
The biggest advantage of signing up as a Fulfillment by Amazon (FBA) Amazon Prime seller is that Amazon manages the packing and shipping of orders as well as picks up return orders all by themselves. The only downside is the commission charged by Amazon for every order, although the overall profits can still be higher than Seller Fulfilled Prime (SFP) in many cases as SFP involves additional operational costs.

2. How can Amazon Prime Sellers benefit from the Prime Day sales?
Prime Day is one of the busiest days for Amazon as the gross sales exceed Billions of dollars. While registered Prime members are given preference and early buying options before non-registered members, sellers can reach out to their potential customers well before Prime Day so that customers buy their desired products from your store – leading to huge amounts of profits for Prime Sellers.

3. How does the Prime Badge help Amazon Sellers?
The Amazon Prime Badge is a sign of validation by Amazon and a sign of credibility for buyers. Products that are eligible for Prime delivery are quickly delivered and the shipping costs are the lowest. Sellers with the Prime Badge are considered to be reliable. Also, products eligible for Prime delivery rank high on the search and can also be filtered using a filter.

4. Does Amazon Prime have free shipping for all products?
Most Prime-eligible products have zero shipping costs. Most products with an Amazon Prime Badge are eligible for free shipping. However, Amazon charges minimal shipping costs for specific product types, delivery days, and same-day delivery in certain cases. Check the Amazon Prime delivery charges in detail here.

5. How to qualify for Amazon Prime seller?
Amazon sellers that sell using the Fulfillment by Amazon (FBA) method automatically qualify as Amazon Prime Sellers. Sellers that use the Seller Fulfilled Prime (SFP) method need to ensure that their orders are delivered on time in 99% of the cases.

6. Does bulk data outsourcing help in selling more on Prime?
Bulk data outsourcing indeed helps in selling more on Amazon Prime as experts manage end-to-end services including setting up Amazon Prime Seller Central account, product listings, Amazon content, product descriptions, SEO, social media, and image editing. This saves the overall budget and the time required in setting up the store digitally to a large extent.
7. What are Amazon Prime Selling fees?
Sellers that sell using the Fulfillment by Amazon (FBA) method have to pay a sum of $39.99 per month to Amazon for handling the packaging, shipping, pickup, and return of orders. An additional commission of 8 to 15 percent is charged on each product sold. Sellers that use the Seller Fulfilled Prime (SFP) method don't need to pay extra Amazon Prime Seller fees.