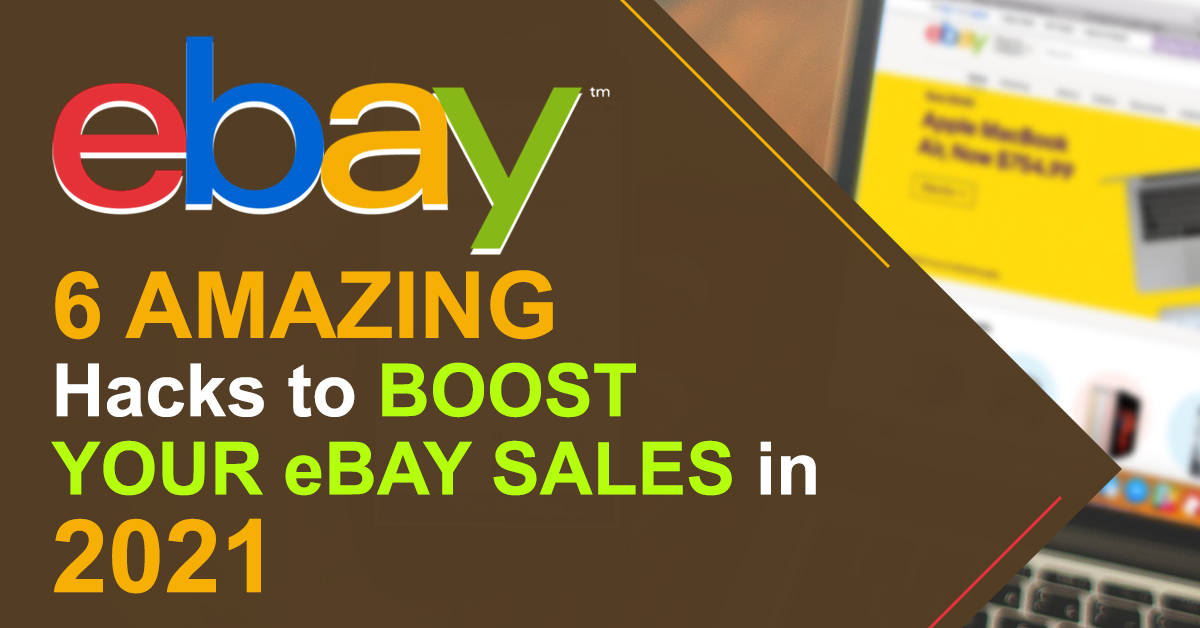 With more than 1.5 bn live listings, eBay marketplace has grown to become the global eCommerce leader wherein you can sell a lot of things such as collectibles, gadgets, jewellery, books, etc. If you are on the lookout to increase sales on this dynamic platform, you must first keep your product listings effectively optimized. This would not only ensure that you stay ahead of your competing counterparts, but also help you sell better.

eBay listing optimization helps your potential buyers easily find you make the shopping experience seamless. Now, let us throw some light on how you can optimize your eBay listings and get the most out of your eBay storefront:

Use High-Resolution, Professional Product Photos
When a prospective customer visits your product detail page, he/she expects it to give him/her a better idea of what the product has to offer before actually clicking on the 'buy' button. He/she can get this clarity by seeing the product photos. And since photos speak a thousand words, it is important that you showcase every product detail with clarity. In addition, though beautification of photos is important, it is equally pivotal to focus on the quality of product photos uploaded.

Capture product photos with a clear view and upload multiple images with different angles on the product page to give a detailed idea to your prospective customers. Also, make sure that you eliminate any distortions present in the image. As eBay allows uploading of 12 product images, make the most of it by adding as many photos as you can.

Include Precise, Easy-To-Understand Descriptions
In order to give your potential customers a better idea about the product they are about to buy, keep the product descriptions lucid, precise and easy to comprehend. Don't make it too wordy or too lengthy.

Product descriptions must answer the queries that a potential buyer might have before making a purchase decision. So, make sure you incorporate all the relevant details and use bullet points to ensure better readability. Also, rather than mentioning the obvious features, focus on highlighting the benefits and uses of the product to garner attention of the right audience and rank high in search results. The descriptions must elaborate how your offerings can help fulfill your prospects' needs. Hire an eBay listing company if need be.

Another thing that must be kept in mind is proofreading. Before you finalize the descriptions, make sure proofread each and everything to ensure error-free content.

Keyword Stuffing Is A Bad Idea
Adding relevant keywords in your content is one thing, and stuffing common, unrelated keywords is another. Incorporating relevant keywords in the content would attract more relevant product searches from your potential audience. A handful of common search terms won't harm, but just don't overdo it. Keyword spamming is something that should be avoided at all times to steer clear of any penalties for violation of eBay's policies.

Around two to three keywords connected to the product are enough to bring in relevant traffic to the product page. Choose them wisely and include them at various places such as page titles, image alt tags, product descriptions, meta tags, and so on. Garner the attention of more viewers on your product page by using well-researched, relevant keywords and phrases.

Right Pricing Is The Key
Pricing is a pivotal part of a product listing, and it depends on a number of factors. The products you offer must be priced appropriately, keeping in mind the competitors' prices of similar products. Surprise your target audience by putting up an incredible price for every product you offer.

Offer Fast & Free Shipping
Offer your customers free, hassle-free and swift shipping. You are bound to increase your eBay sales by rendering an easy shopping experience along with speedy delivery options, such as express delivery, two-day delivery, and so on. In addition, you should go soft on your return policy. It might seem a challenging task, but a generous return policy will go a long way in boosting your eBay listings. For instance, you may offer a minimum 30 days return policy to seal the deal.

Generate Trust
When the products offered by you are the same as the description on the product page, trust is built instantly. Likewise, if you create user-friendly return policies, set apt prices for your products, be responsive to their queries, offer free shipping, etc., it does help!

By building trust of your customers, your product ratings go up on the eBay feedback system, and needless to say, gives you more sales.
eBay listing optimization is essential for getting you found more easily and effectively. The above mentioned aspects will help you effectively optimize your product listings, improve eBay sales and keep you ahead in the game.
Conclusion
It is as good as a dream for sellers to be able to sell what they offer to their prospects online. If you intend to push your eBay store to the top, you must explore various ways to do that. Although by simply optimizing your product listings, it is possible for you, as an eBay seller, to drive more conversions, and that too without much of a hassle. But, it isn't really a five-finger exercise. In such a case, hiring an eBay listing optimization assistant is a viable thing to do.

Seek Professional Help
As one of the notable eBay listing companies, Team4eCom offers high-end, affordable eBay listing services catering to a mass clientele spanning across the globe. We help eCommerce businesses in building strong product listings and rank them higher in product searches. Get in touch with us at info@team4ecom.com to know more about our value-driven services and leverage our vast years of experience.