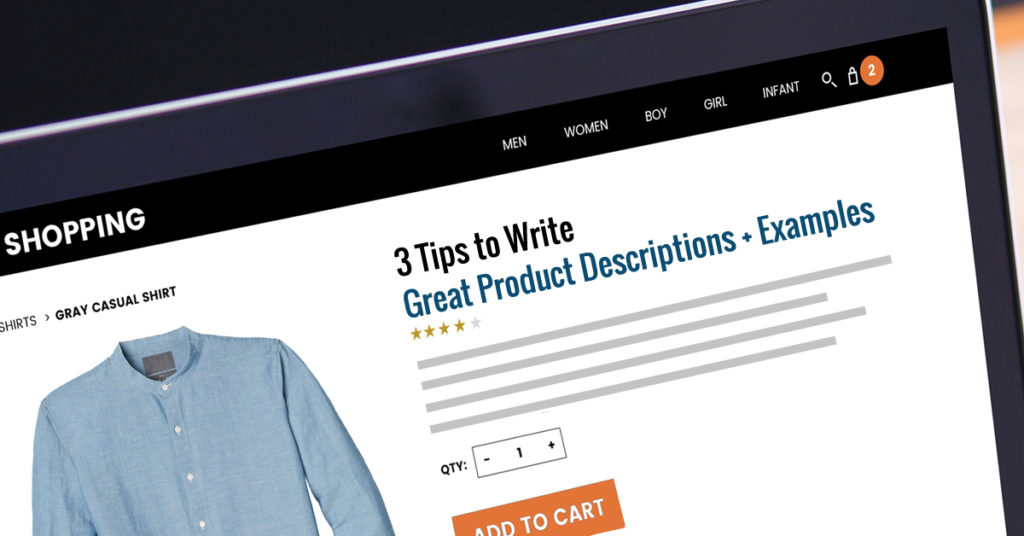 Writing product descriptions is an odd art. It's basically stringing up words that can get you sales. At the same time, it's a balancing act between appeasing a ranking algorithm and solving a customer's query.
Like we said, odd!
And yet, if you don't master this art, your online sales figures are as good as doomed. After all, there's a reason why product content writing services have such a massive fanfare in eCommerce circles!
87% of shoppers consider product content a crucial factor when buying online
50% of customers return products because the item didn't match its descriptions
98% of buyers abort the idea to buy a product because of inaccurate/incomplete description
Clearly, content is critical. Creating original product descriptions that highlight your product's USPs while keeping SEO in mind can help boost sales and conversions. Plus, they can lead to an increase in your eStore's visibility and reputation.
In this space, we will discuss the major aspects of writing product descriptions. You will also see some creative examples from the industry that can inspire you to write better descriptions.
What Is a Product Description?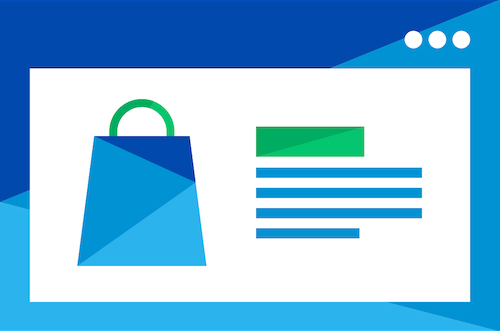 When stripped down to its basics, a product description is a marketing copy written to attract a user's attention and get them to visit your eStore. The primary objective of writing product descriptions is to identify a product, its functions/usage, and the reasons to buy it.
So, ideally, a description should highlight an item's features, benefits, and details. In addition to the text, it can also contain images, videos, reviews, etc.
73% of shoppers prefer a video that explains what the product does
42% of customers want to see more testimonials and reviews in the description area
63% of customers value brands that offer relevant product descriptions
Typically, there are five elements that you need to keep in mind when writing product descriptions.
Title
Images
Bullets [Feature Section]
Description
Reviews & Ratings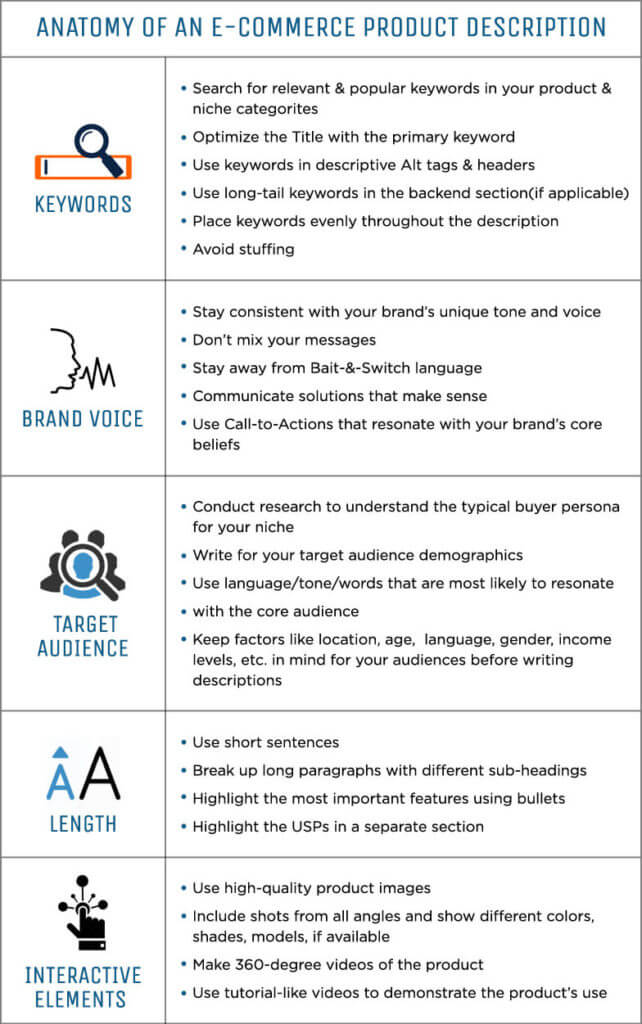 3 Product Description Writing Tips + Examples: Stuff That Works
It is often the case with words that the least obvious ones have the most powerful impact on a reader. In eCommerce, more valid words do not exist!
The central idea behind writing product descriptions is simple- subtle sales. How do you do it? Let's see!
1. Don't State the Features; Talk about the Benefits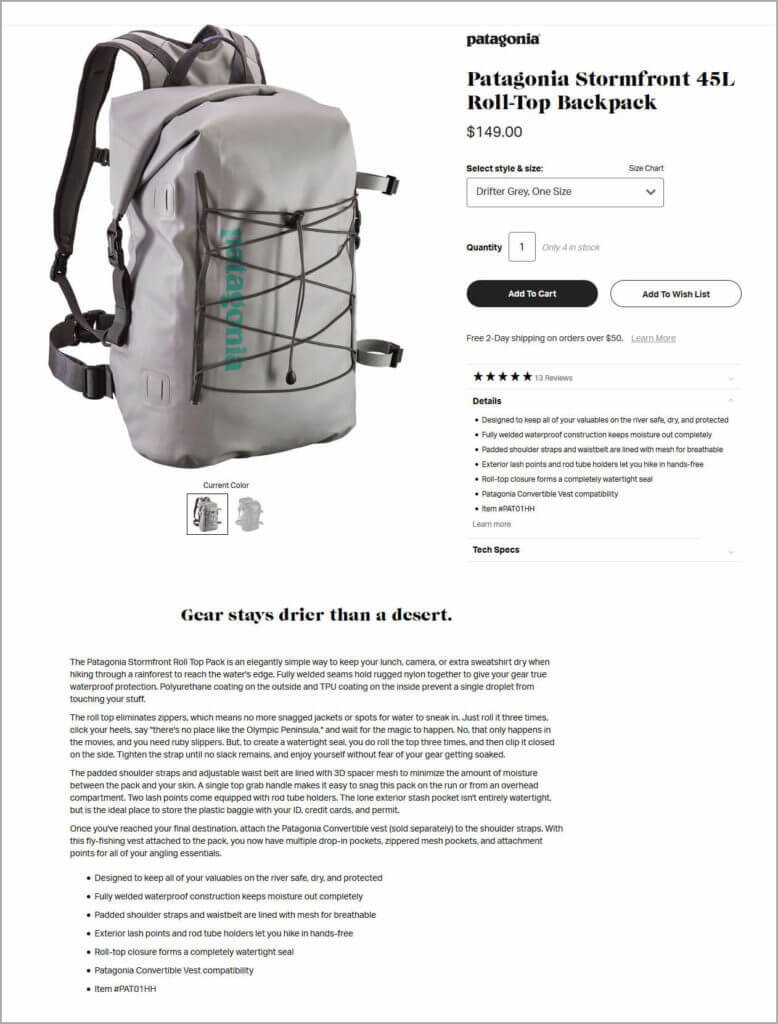 This is a Backcountry product page. And, right below, you can find a part of their product description.
Observe how every feature of the backpack is presented in a way that talks about what the product can achieve. Sentences stress on the usage, benefits, and multi-purpose nature of the product. Notice the use of key terms like 'Designed,' 'lets you,' 'keeps,' 'compatibility,' etc.
Writing product descriptions with these terms can help show the user exactly how the product can benefit them.
Many good Amazon consultants suggest a similar strategy because it serves a central purpose. By using this technique, you can turn a simple explanation of product features into an enticing invitation. Not only does it allow you to list down every trait of the product, but it also makes the text an informative piece.
As opposed to a drab paragraph full of otherwise meaningless details, establishing a context helps customers better understand what you are selling. It helps a customer recognize the value of your products for their needs.
2. Stick to Your Buyer Persona
Do you know what separates a good product description from a bad one?
Information presented in the right context to the right subject.
There are many answers, of course. But this is one of the most fundamental ones.
Context is critical. If you're writing product descriptions that can sell, you must know what to include in the content and what to leave behind. That understanding comes from knowing your target buyer's personality.
A majority of product content writing services usually start their projects by studying the target audience demographic. Once they get a clear definition of what the buyer looks like, communicating the product's value to them becomes easier. They know what the buyer cares about and what they value more. Using that knowledge, they create a product copy that is tailored to the customer's ideal expectations.
Target buyer research can also educate you on the biggest customer pain points. By explaining how your products fight those issues, you can increase its value in the shopper's perception.
Here's an example of a Basic Beard Care Kit from the Mountaineer Brand.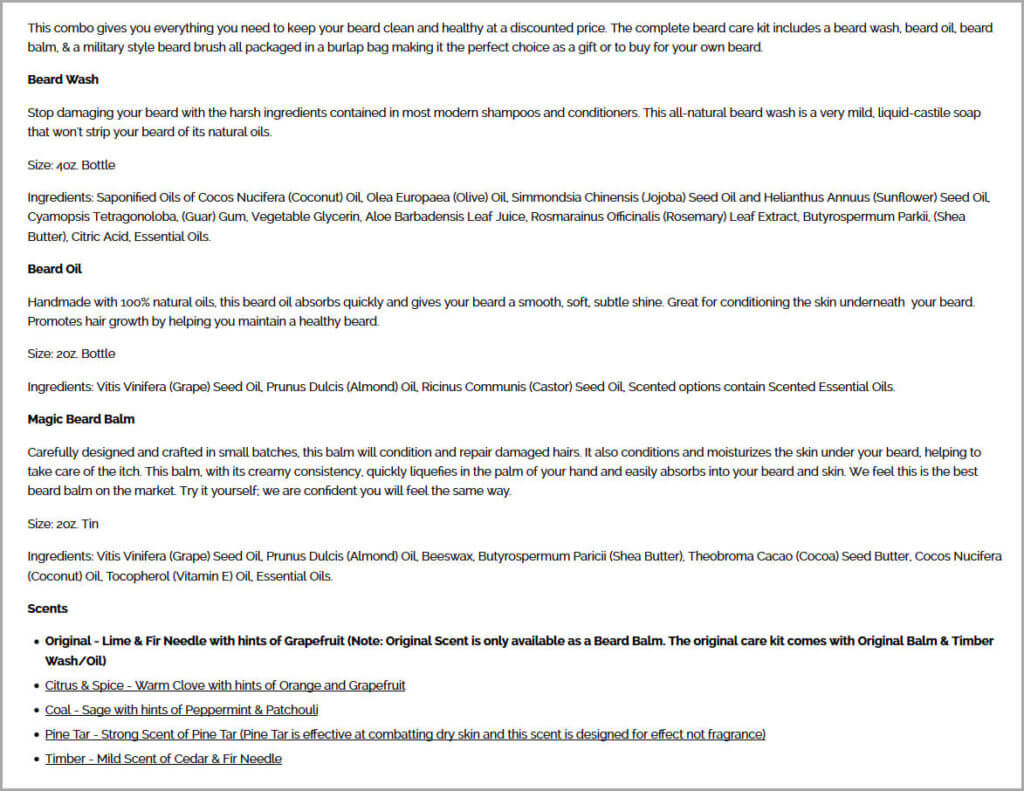 A Beard Care Kit isn't exactly the most in-demand product. It, however, is a critical item for those who are either in need of it or already using a similar product, i.e., the target buyer.
Notice how the description talks about the product, gives detailed information about the contents, what they're made up of, and how to use them. This is an example of a product whose buyer may not be aware that such a product exists or may not know how it can be used. A customer looking for such a product requires information, and here, it's being offered in plenty.
On the other hand, if you look at the product page of a popular product, like Apple's iPhone or Samsung's TV, the difference is stark. They only list technical specifications because they already dedicate a full page to talk about the product's benefits on their website.
Take another example from Nike.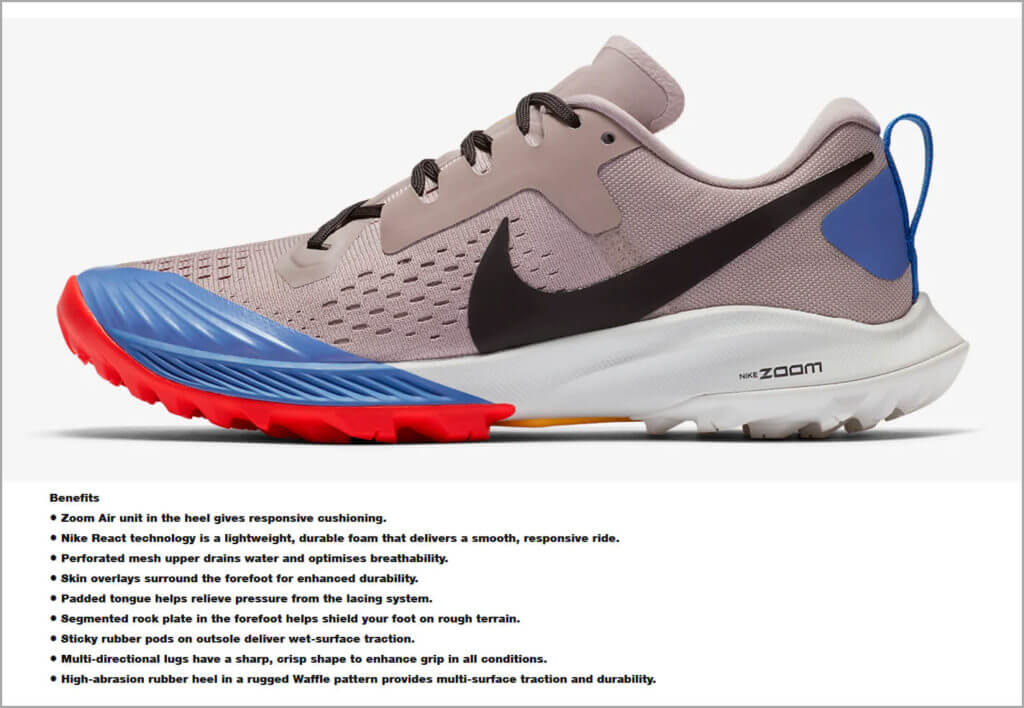 Focus on terms like 'responsive cushioning,' 'optimizes breathability,' 'relieves pressure,' etc. These phrases talk about solving the problem. As we discussed earlier, this is an example of tackling the buyer's pain points in your product descriptions.
Ergo, it's critical to stick to your target buyer's persona when writing product descriptions. You must conduct good-enough research before creating copies. Of course, you can and should hire Amazon consultants for this purpose, since it is a time-taking process.
3. Make It Skimmable
Fifty milliseconds– that's how much time a user takes to make up their mind about any website. It's only reasonable then that most people scan online pages, looking only at the titles, headlines, and opening sentences.
People only read every word if they are very interested in the subject. Even then, text-heavy, long paragraphs can deter them from going further. That is why short, succinct sentences are so famous in eCommerce product description writing practices.
Skimmable product pages can help eSellers in many ways-
The product description clearly conveys the purpose of the page
The user doesn't need to work very hard to locate the information they are looking for
Increases user retention
Here's an example of Loaf, a high-street retailer with all the right tick marks when it comes to scannable content descriptions.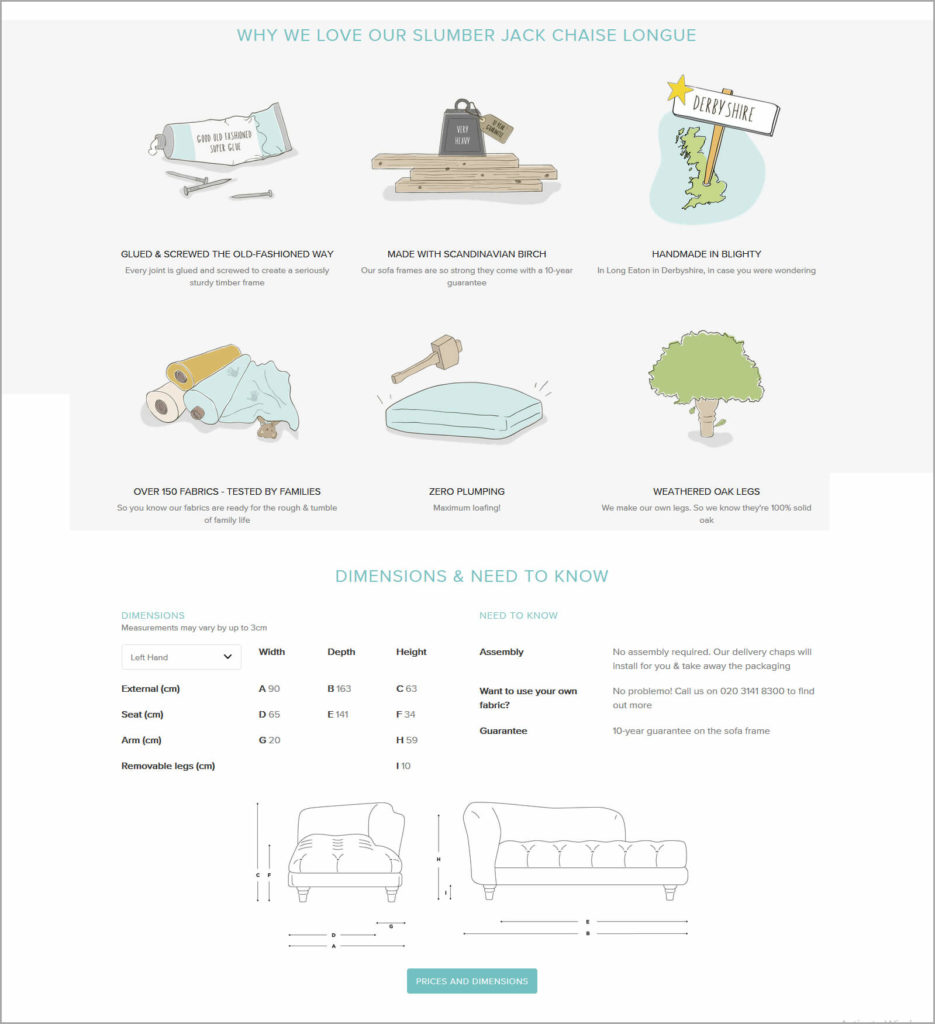 You can see how the description is grouped into relevant categories. Images and illustrations have been used in plenty. Every detail a customer might require is right there, displayed as precisely as possible.
That should be your aim when writing product descriptions– a page that's too easy to browse.
Here's how you can create skimmable content for your product pages.
Keep the paragraphs short
Utilize white spaces when grouping relevant content to avoid a cluttered look
Use fonts that readable on different screens without causing eye-strain
Keep the sentences brief, the language simple
Use several subheaders & bullets to break down the flow of the content
Use images and videos to reduce the weight of text on your product page
Use a conversational style that shoppers can easily relate to
Additionally, you can also play with the page design to make the content appear more well-spaced and scannable.
Additional Quick Tips for Writing Great Product Descriptions
Highlight the most valuable features and USPs
Include user-generated content in the description(user's photos) to add a relatable touch to the product page
Use videos, creative guides, demos, etc. to further intrigue the visitor
Use original copies that resonate with your brand's personality
Throw some focus on the best reviews your product has got
Avoid unnecessary use of Jargons
Use emotive words that can bring a sentence to life
Let Your Descriptions Sell Your Products
Writing product descriptions is a creative matter. Any reasonably good Amazon consultant will tell you so. That's why trying to follow a set of rules instead of experimenting with different ideas might not always work.
However, letting your words amok without paying attention to what works in the industry is just as bad!
So, establish a balance. Follow the latest trends to understand where the leading brands are going. Follow the rules we just discussed in the context of your product. And then, watch the magic of great product descriptions unfold.
We Can Help
Team4eCom is an Amazon listing company with a comprehensive suite of product content writing services. We've supported several eCommerce businesses across the globe with original, SEO-friendly product descriptions and attractive copies. With our polished team of niche-specific writers, researchers, and editors, we can create unmatched descriptions for your brand. Get in touch with us at info@team4ecom.com, and let's discuss how we can help you!