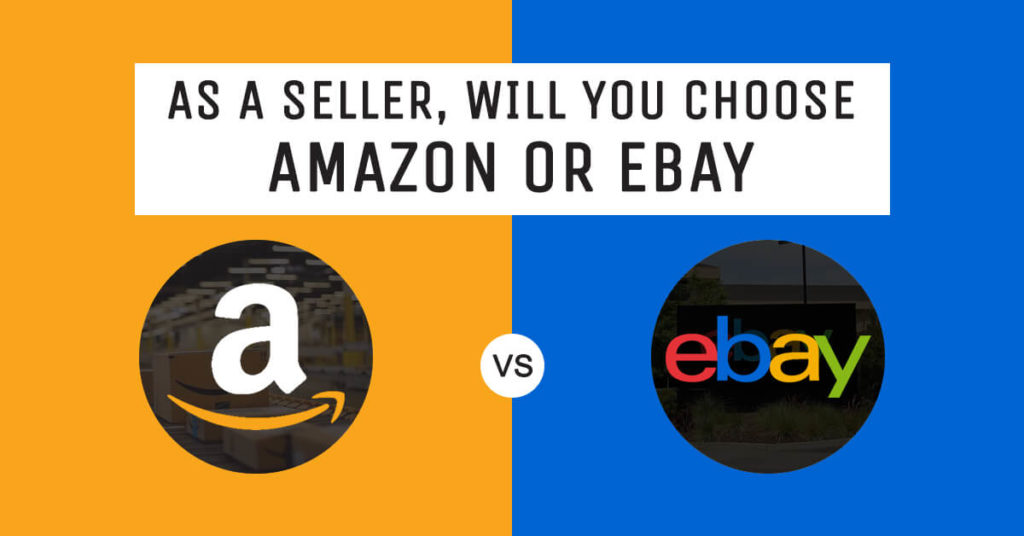 Since the debut of e-Commerce in the 90s, Amazon and eBay have been two most sought after marketplaces. In their battle for market supremacy Amazon has emerged the winner of late, leaving eBay way behind.

In early days, eBay was the dominant company, reinventing itself as a clearinghouse for resellers from an auction house. However, Amazon later emerged as a retailer of gigantic proportions.

Having said that, talks of Amazon eclipsing eBay are all hogwash. They still have 25 million sellers globally.

As an online merchant looking to get going with Amazon and eBay SEO, you may be wanting to know how these marketplaces are different and which one will be better to sell your goods. Let us compare these marketplaces based on different parameters:

Retail Marketplace vs Auction Website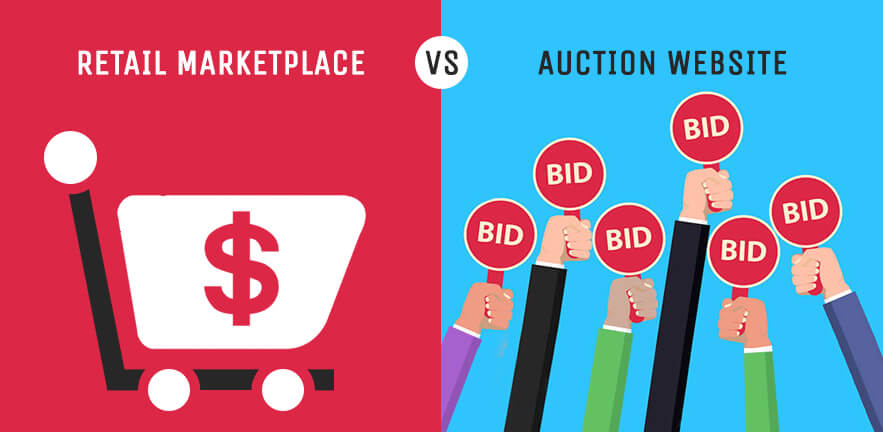 Well, the foremost difference between them is that Amazon is a retail marketplace, while eBay is basically an auction website, though it deals in retailing merchandise as well. But on Amazon, you won't find auctions.

On eBay though, the old, good auction bidding system allows your customers to bid on items they prefer. The 'Best Offer' option enables them to make an offer for an eBay product listing of their preference.
eBay also offers Detailed Seller Ratings, enabling buyers to see just how well sellers perform in different categories.

Both platforms ask sellers to refrain from practices like

encouraging visitors to click on a link that lands them on a different website
fabricating or falsifying product features
rolling out heavy discounts
posting negative content on the profiles of competitors
hiring people to put fake positive reviews on your products
Prices
On eBay, the number of bids influences price listings. If there are more aggressive buyers bidding on a specific product, the price band will go up. Someone working in an eBay listing company will be able to explain it better, in case you want to learn more.

On Amazon, however, the price is affected by factors like uniqueness & quality of products, competition, and brand awareness.

Competitiveness
While both the platforms work on free market model, Amazon directly competes with third party sellers on its site. Very often, they would use small sellers to gauge the trends and meet their own interests. Amazon itself conducts itself as seller on its own marketplace and many sellers don't ever realize that the biggest seller among them all is Amazon itself.

Here is some data comparing sale of products by Amazon itself and third party retailers:

Year
Amazon
Third Party Retailers
2007
74%
26%
2015
56%
44%
2017
Approx. 50%
Approx. 50%
2018
48%
52%
Amazon has even restricted sellers from selling products of certain brands unless they pay a fee. Often, sellers would find that a product working in favor of larger brands and retailers with deep pockets. In such a case, eBay may be a more lucrative platform for the seller. eBay is a genuine eCommerce platform. They have no interest in trying and selling stuff, or using sellers for picking the trends, so if you are just starting, eBay may actually be a better platform for you!

Feedback
eBay has designed a system to provide the buyers with more accumulated feedback of the sellers. The marketplace uses email reminders to push its seller feedback, while Amazon has put product reviews in place to help buyers. A feedback generated via email reminders is likely to be more in depth, giving the buyers more confidence when making a purchase decision.

Amazon, on the other hand, offers you an active and huge community of professional sellers who can help you out in almost every case.

Item Descriptions & Images
Merchants who prefer to sell on eBay have complete control over their listings. This encourages them to post better item descriptions and images on eBay product listing. On Amazon, sellers may have little interest in presenting their product, as multiple merchants are competing under the same product page. Amazon third party sellers may not have a reason to make product pages better as their efforts would end up strengthening competition.

How Do Both Platforms Work for Sellers

Amazon as a Marketplace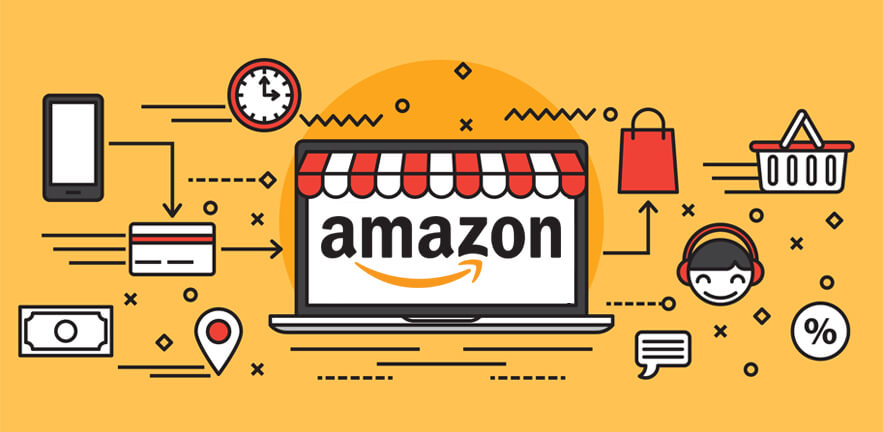 Amazon allows third-party sellers to sell their products with a commission-based payment system. Termed FBA (Fulfillment by Amazon) it enables anyone to set up a seller account and begin selling.

The process can be described in five simple steps –
Select the 'Fulfillment by Amazon' option when listing products
Dispatch your stuff to an Amazon Fulfillment Center where these will be stored.
Eligible offers are accorded the Prime badge.
Products are packed and shipped to customers.
Amazon localizes customer service and handles returns.
It is not as hard as it seems. Once you have an understanding of how it works, you can do it with ease.

For sellers who have not opted for FBA, their account comes enabled with Easy Ship. Amazon would pick products from customers and deliver them to the customer.

Customer tracking is a stronghold of Amazon and they have the technical ability to personalize buyer experience to the hilt. This explains how they have become a retail monolith and came in a position to help sellers dish out their goods across the globe.

Amazon has implemented a multi-level e-commerce strategy, allowing you to sell almost anything via the marketplace.

Though there are several ways to earn on Amazon – Retail Arbitrage, Merch by Amazon, Amazon Affiliates, Amazon Handmade – among others.

eBay as a Marketplace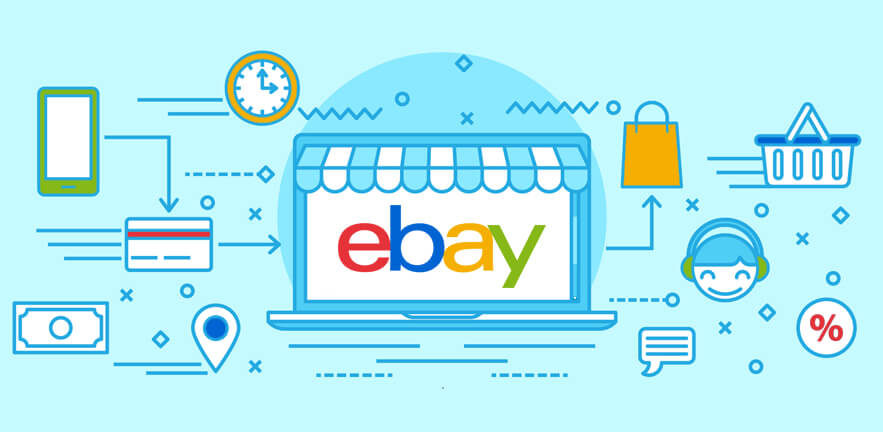 eBay gained the reputation of being a marketplace which mostly sold used items. However, you may find surprising that more than 80% of items sold on eBay are new!
Moreover, when you sell on eBay, you have no competition with the company itself for selling goods. It is just an e-Commerce platform that facilitates sales. The process of beginning your business as eBay seller is simple:

Set up your eBay account.
Set up your PayPal account and link your eBay account with it.
List your items for sale.
Put up titles and impressive product images.
Describe your items.
Older sellers can integrate their order management software with eBay incorporating auto-updation of tracking numbers, label printing and linking to multiple shipping carriers.

Fees
When selling on Amazon, you set a fixed price for your products, giving you full control. On eBay, however, you can't really control prices if you are using the auction model. Though you may execute fixed-price listings on eBay too, you need to remember eBay shoppers want bargains.
Fee you deposit with eBay is generally cheaper than what you pay to Amazon when using FBA. Here are a few points when starting as an eBay seller:

You generally get 50 free insertions per month. Thereafter you have to cough up an insertion fee.
You share 8% of the final sale price for items of $50 and less. For items on higher price band, you pay an extra 5%.
eBay doesn't charge closing fees.
PayPal charges a flat rate of $0.45 and thereafter an added 2.9% of the transaction.
If you want to have a standout eBay listing then you will have to pay listing upgrade fees.
Sellers doling out free shipping to customers have to absorb shipping costs as well.

On Amazon, the fees setup is on the following lines:

Amazon charges 15% Final Value Fee (FVF).
Amazon takes a closing fee based on the type of item sold.
Amazon doesn't charge PayPal fees while eBay does.
Billing is intricate on both the sites and what meets the eye may not always be correct. Any of the sites may emerge winner in given circumstances, depending on the chosen product line.

Summing Up
Amazon comes across as a far more competitive market for individual sellers, while eBay generally works wonderfully well for the sellers who want to build their brand identity. However, nothing can be predicted in bold letters and you need to make your own decision depending upon your business model and strategy.

What you need to do is to have a 360 degree view of the scenario and decide on a marketplace that serves your needs the best.

Partner With Team4eCom For eBay Listing Services
Trust Team4eCom for eBay listing, competitor listing, virtual assistant, store design and photo editing services. Let the experts take care of these jobs while you focus on expanding your business.

For any questions regarding these services or eBay marketing, have a chat with our experts. Just drop an email to info@team4ecom and one of our experts will get in touch with you at the earliest.